Credit analysts study financial information to determine the risk of providing credit or loans to a person or company. In this role a credit analyst will examine credit information, complete risk profiles, analyze client records, fill out loan applications, communicate with clients and exchange credit information. A career in this field requires a bachelor's degree in finance, accounting or business. Credit analysts must be attentive, communicative, patient, and understand mathematics, finance, statistics, economics, accounting and risk analysis.
A good resume is well-written and concise. It should be neat and easy to read, listing previous experience in a logical order.
Our resume samples will provide you with multiple examples of what you can include when writing your resume.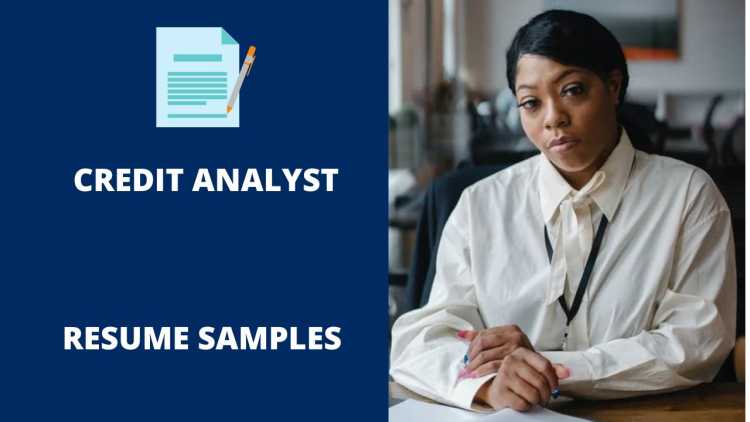 The Best Credit Analyst Resume Samples
These are some examples of accomplishments we have handpicked from real Credit Analyst resumes for your reference.
Credit Analyst
Within the first ninety days I was able to resolve issues, and collect over 51% percent of the outstanding revenue in the 90 to 120 day buckets, lowering the DSO by 18%.
Working with the sales and dispatch departments to have all necessary documents signed, (contracts, proposals, and change orders), before starting the projects.
Worked tickets signed upon completion of regular service calls to lower the percentage of disputes.
Recently presented a payment analysis for the top ten customer payment histories over the last twelve, and twenty four months.
Designed and maintained systems and procedures that ensured timely, accurate, and complete capture of real-time information in the financial system.
Credit Analyst
Responsible for the monitoring of 15 – 20 corporate and project finance accounts in the Aviation, Commodities and Energy industries.
Successfully executed more than 15 Transactions, resulting in ~ $750m worth of loans.
Including: Primary & Secondary Syndicated or Bi-lateral term loans, Revolving credit facilities, Time deposits, and Letters of Credit.
Responsible for facilitating the terms and closing the transaction, by working with Administrative Agents (Arrangers), Intermediaries, and Lawyers.
Repaired systems with minimal downtime after major system failures.
Credit Analyst
Collect on all outstanding balances for a specific group of payers to assure maximum reimbursement.
Excel within a service-oriented company, demonstrating a talent for ➢ communicating effectively with customers from diverse backgrounds.
Strive for quick complaint resolution; commended by supervisor for the ability to resolve problems on the first call and avoid escalation of issues.
Utilized expertise to analyze trade reports for anomalies and recommended appropriate actions.
Maintained documentation of a program to monitor and control cash receipts for various financial institutions.
Credit Analyst
Analyze risk of portfolio loans assessing appropriate risk rating, identify trends and root cases, and trouble shoot problem areas for the trouble loans, and created plans of actions.
Contributed to Bank risk assessment projects such as "Bank Concentration Loan Stress Testing".
Assisted Regulators and FDIC during examination period by consolidate and provide documents as required and respond to posted question in a professional manner.
Tracking emerging risks and other variables through analytic of loans, identifying any factor which impacts business on a daily basis.
Developed policy documents outlining credit requirements for various financial institutions to ensure that policies were optimized for new business opportunities and compliance with credit laws.
Credit Analyst
Assigned credit ratings to companies through credit evaluation using financial analysis, sensitivity analysis and financial modeling.
Presented risk analysis for each loan proposal to the credit sanctioning committee.
Handled Debt Restructuring for distressed accounts – from appraisal to post-restructuring reviews.
Monitored portfolio for potential credit downgrade through client-site visits, stress-testing for likely changes in macroeconomic factors, and performance variance analysis.
Supervised entry-level analysts in a highly contested account.
Credit Analyst
Process credits for government, commercial and small business accounts up to $50K.
Review monthly usage for international and domestic billed charges for discrepancies.
Adjust applicable duplicate fees and/or remove duplicate adjustments.
Advise business on appropriate packages to reduce overage fees and assist with courtesy credits.
Placed, monitored, and closed twenty-six transactions per day.
Credit Analyst
Maintain correspondence via Outlook with brokers & sales representatives.
Coordinate with the sales department to ensure accuracy and timeliness of submitted deals.
Performed initial credit review on merchants during the screening process.
Conduct research, analyze and review financial statements for over 30 businesses each day to determine areas of risk and detect potential fraud.
Earned recognition as a key contributor to teamwork development; taught subordinates to be respectful of customers' time by working within their timetables, not theirs.
Credit Analyst
Prepared spreads, checked credit, reviewed and analyzed financial statements to underwrite both Commercial Real Estate, Construction, and Commercial &Industrial Loans.
Made initial judgements on feasibility of transactions and solicited additional information if needed from clients and loan officers.
Prepared detailed financial analysis' via loan presentations to evaluate trends, projections, ratios, cash flow, debt servicing adequacy, and global cash flows in recommending loans for approval.
Trained to perform an independent analysis of credit reports.
Correctly reinvestigated discrepancies between the loan data on the application and the documents presented for verification during verification process.
Credit Analyst
Compared liquidity, profitability and credit histories of existing broker relationships on a consolidated or standalone basis.
Analyze and project financial data for income growth, quality of internal management.
Worked closely with a team of credit analysts and loan processing associates to address credit resolutions to distressed accounts.
Determined credit risk, loss of assets holding, and financial stability in a timely matter for the diverse population of clients at the Orange County Credit Union.
Provided a new approach to credit services by establishing sound criteria for credit analysis.
Credit Analyst
Successfully processed 25-30 loans per month with a defect ratio of less than 10%; increased revenue of my team by 35%.
Analyzed credit risks based on varied financial criteria including debt to income ratio, asset verification, collateral review, and credit score.
Utilized artificial intelligence technology to run an automated underwriting system that augments the traditional risk analysis process.
Completed 3-month credit training program that covered accounting, credit, risk, underwriting, loan structuring and financial statement.
Recognized for outstanding performance by the Credit Union Board and Central Office management; fostered a cooperative relationship with bank loan officers and loan processors.
Credit Analyst
Utilized documents including financial statements, credit reports, prior loan history, mortgage statements, asset valuation, and title reports for cash flow modeling, ratio analysis, and risk analysis.
Personally conduct final face-to-face interview with each client to discuss debt capacity, key loan conditions, and desired loan structure.
Present developed loan recommendation for approval to investment committee containing WBL's CEO, COO, and managing directors for credit discussion.
Collaborate with all departments including sales, valuation, title, administration and closing to gather key information.
Earned award for the best-performing branch in branch performance control as an analyst.
Credit Analyst
Prepared and manage credit applications in accordance with bank guidelines.
Monitor the performance of assigned accounts by conducting periodic and annual reviews.
Participating in new transactions, refinancing, amendments and coordinate with internal/external parties.
Developed six months of historical data on loan application submissions in order to display trends based on industries, demographic groups, geographic areas, and economic conditions that may be beneficial in assessing future lending needs.
Dealt with high-risk credit risks by developing a plan to accurately turn delinquent accounts into viable assets.
Wrap Up
You need to make sure your resume stands out amongst the other candidates. It is the first impression that employers have of your work experience and skills. Use the samples above to put together a resume that best suits your needs and helps you get the job you want.