A Creative Director helps their company invent creative campaigns to increase sales. Your duties would include thinking up new ways to use the products of your company, explaining to clients the new uses, working with other team members, prioritizing projects, making sure of quality of projects, and investigating new creative technologies. Educational requirements are a BA in visual communications or a similar field. Skills needed include excellent writing skills, oral skills, creativity, design skills, self-starter, and leadership skills.
A good resume is well-written and concise. It should be neat and easy to read, listing previous experience in a logical order.
Our resume samples will provide you with multiple examples of what you can include when writing your resume.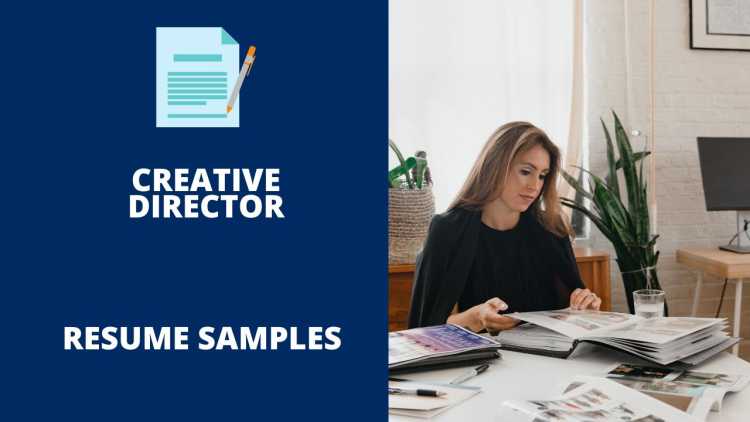 The Best Creative Director Resume Samples
These are some examples of accomplishments we have handpicked from real Creative Director resumes for your reference.
Creative Director
Responsible for concepts and execution of overall consistent global branding including product photography, lifestyle imagery and copy.
Managed team in the Creative Department in growth strategy from a retail presence three countries (2004) to global leader in twenty-four countries (2013).
Key point person in Creative Services for not only the core Retail Luxury brand but also the Wholesale Division and Licensing Division including eye wear, footwear and jewelry.
Developed a team and methodology that continually enhanced their roles and abilities to align with the brand's rapid growth.
Performed multiple design tasks including layout, copy writing, web development, marketing strategies, and content generation.
Creative Director
Responsible for design and photography of Working Mother magazine and other brand and marketing materials for Working Mother Media.
Created custom publication research reports, presentations, executive summaries, and infographics for the Working Mother Research Initiative.
Created interactive digital edition, tablet edition and augmented reality elements.
Collaborated with designers to create material that is in line with the company's branding.
Maintained a proactive approach to creativity by implementing ideas and solutions that were in accordance with client needs.
Creative Director
Instrumental in the successful redesign and rebranding of corporate sales and marketing materials.
Partner with marketing team on a daily basis to created deliverables for digital and print.
Collaborate with production manager to plan products and follow-through.
Conduct strategic and tactical meetings with publishers and account team to develop effective advertising campaigns.
Accomplished project objectives through the application of creative thinking and problem-solving techniques to achieve excellence within design parameters.
Creative Director
Creative team lead serving all internal creative, marketing, event and facilities needs for the nation's 4th largest real estate brokerage.
Grew the national creative team from a handful of designers into a robust, interdisciplinary team providing an exceptional, expanded service offering to the corporation and agents alike.
Provided design and marketing direction for multiple DE business divisions: Commercial, Relocation, Customer Service, C-suite, regional offices.
Achieved award for leadership and initiative for creating for producing a top-selling brochure series; guided team members to reach success during the final presentation.
Performed and created commissioned art for over 230 exhibits at customer locations.
Creative Director
Monitored and reviewed all projects to make sure there on time and on budget.
Developed interpersonal relationships with other creatives and guided them in cultivating the perfect solutions for clients.
Provided project coordination and managed all creative projects from concept to completion.
Promoted awareness of customer products and services through custom photography at events including healthcare, mortgage, jewelry, fashion, and computer software expositions.
Created marketing material for the "Best in Show" Award winner's dog; crafted a video highlighting the dog's future potentials as a service animal to enhance its public image.
Creative Director
Led projects from definition to completion & foster innovation within the creative team.
Guide development and execution of creative advertising projects/campaigns within pre-defined client objectives required.
Collaborate with the digital team to develop concepts for interactive client advertising campaigns, mobile applications, and new business proposals (RFP'S) and presentations.
Maintained creative standards while demonstrating leadership on both personal and professional levels.
Designed campaign materials, such as promotional pamphlets and stickers, for national and international corporations.
Creative Director
Responsible for all phases of design from conception to press check in this user-generated photography magazine.
Developed InDesign templates and character/paragraph styles for the magazine.
Progressed the visual identity of the magazine by redesigning both front and back-of-book.
Developed marketing campaigns, including advertising illustrations, to promote and broadcast events.
Conceptualized, designed, & developed concept designs for a national award-winning greeting card company.
Creative Director
Updated the look and feel of digital and print customer-facing assets for the largest plus size fashion retailer, totally revamping layout design, photography, hair and make-up.
Led a large team of senior art directors, freelance designers and senior content editors in new strategic concepts that resulted in improved productivity and growth – consistently carried across refreshes, emails, social media, magazines and print catalogs.
Curated the campaign for the first-ever lingerie Bravolution for plus size support that included proprietary and marketplace leaders.
Created theatre and event designs to install on stage sets; costumes were created by theatrical costumer in-house seamstress.
Designed t-shirts with a logo design that garnered attention from national press outlets; won two awards at national art competitions sponsored by National Geographic Society.
Creative Director
Assists in overseeing creative, marketing and design concepts for the hotel.
Upholds brand aesthetic and ensures creative output adheres to consistent look.
Drive and develop innovation throughout all digital and print media campaigns.
Developed and maintained a personal website that showcased my artistic genius.
Managed JPG graphics and artistic direction of a multi-media marketing campaign, facilitated the development and launch of a four-part comic book series.
Creative Director
Proficient in informing, educating and promoting clients on products and hair care procedure.
Knowledgeable in business operations including: sales, promotion, management of salon and client relations.
Expert at providing in-depth consultation for clients, communicating effectively regarding color and hairstyle decisions.
Highly developed sense of color; experienced in mixing of colors for all stages of application, highlights and color correction.
Organized and managed the creative direction of an international garden show, demonstrating superior skills in publicity, promotion, communications, and organization.
Creative Director
Conceptualize and produce print and web advertisements, marketing booklets and brochures, billboards, package design, the design and navigation of website projects.
Actively work with coworkers as a team on larger projects.
Contribute to the initial concept of projects, marketing/branding campaigns, to completing design components of each piece.
Efficient and productive in all tasks: organizing client files, press checks, set-up of equipment and products for photo shoots.
Recruited five highly accomplished artists including illustrator Peter David for a media campaign to create posters for Hollywood's annual "comic con" convention.
Creative Director
Created and maintained website, e-commerce platform and broad digital presence.
Developed & executed e-commerce & digital marketing strategies, including campaigns and day-to-day activities focusing on driving awareness, traffic & sales.
Implemented creative direction for all branded content for print and digital materials including; brochures, business cards, pamphlets, packaging, website design, logo, typography, and product design.
Produced and managed all communication/copy assets including promotional materials, marketing collateral, company blog, social media content and newsletter.
Co-authored two self-help books.
Wrap Up
You need to make sure your resume stands out amongst the other candidates. It is the first impression that employers have of your work experience and skills. Use the samples above to put together a resume that best suits your needs and helps you get the job you want.