Interior Designers are responsible for the design and reconstruction of interior space for companies or individuals. Their duties include understanding clients' goals, sketching and designing a plan, ensuring functionality and safety of the design, finding and buying materials, making a timeline, overseeing construction, and ensuring client satisfaction. To become an Interior Designer, a bachelor's degree in interior design or a related field is required; some states require a license and 3-5 years of interior design or related experience required. Interior designers must have strong organizational skills, artistic ability, detail-oriented, creative, problem-solving, strong communication, time management, and management.
A good resume is well-written and concise. It should be neat and easy to read, listing previous experience in a logical order.
Our resume samples will provide you with multiple examples of what you can include when writing your resume.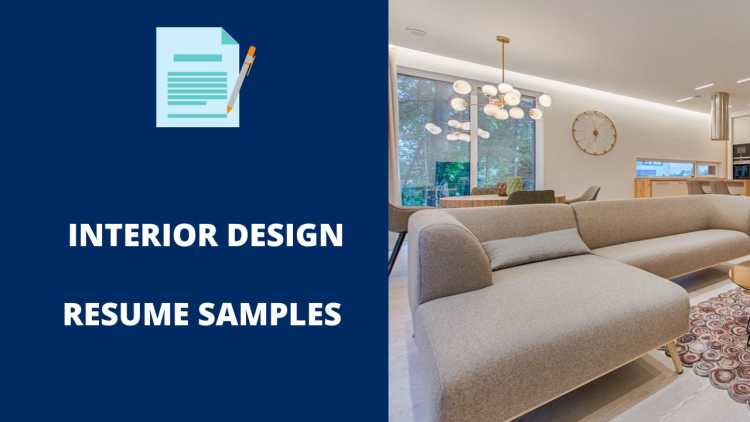 The Best Interior Design Resume Samples
These are some examples of accomplishments we have handpicked from real Interior Design resumes for your reference.
Interior Design Assistant
Provided assistance in the creation of preliminary plans and design concepts as well as administrative support to interior design office and principal designer.
Assisted in analyzing design objectives in accordance with clients' needs.
Created specifications manuals such as room layouts and provided input in creation of design concept statements.
Assisted in sample selections, sketches, schedules and boards as well as order samples from vendors.
Interior Design Consultant
Meet with clients to establish décor needs, budget, tastes, and timeframes Living Room, Nashville, TN Glass House Concept 3D Rendering.
Develop entire design concepts to created custom project proposals, with experience in scaled drawings, InDesign, PPT, and SketchUp.
Completed 50+ design projects, including fixture/furniture selection,space planning, and fabrics and finishes selections.
Interior Design Consultant
Meeting and confer with clients to determine factors affecting planning interior environments such as budget, architectual preferences, and purpose and function .
Advise clients on interior design factor such as space planning, layout and uses fiinishing materials equipment and color coordination.
Coordinate with other professionals such as contractors, electricians, plumbers, architects, to ensure job success.
Interior Design Instructor
Evaluates student space planning applications, color selections, lighting applications, drafting techniques and trends.
Implements sustainable industry technology and universal design practices into every course instruction presentation.
Responsible for curriculum development and revisions based upon industry innovations and trends.
Interior Design Consultant
Designed consultations: fabric selections, custom decorative window treatments, & furniture.
Assisted in full remodeling projects, finish selections, coordinating subcontractors schedules & building relations.
Retail sales, Hunter Douglas privacy shades, Space planning, Flooring, Paint, Wallpaper.
Interior Decorator
Coordinate with other professionals, such as contractors, architects, engineers, and lumbers, to ensure job success.
Advise clients on interior design factors such as space planning, layout and utilization of furnishing or equipment, and color coordination.
Confer with client to determine factors affecting planning interior environments, such as budget, architectural preferences, and purpose and function.
Interior Designer
Ability to provide exceptional service to clients through extensive knowledge of the furniture and design industry, excellent listening ability, being responsive to client needs and providing design solutions.
Excellent communication and organizational skills and attention to detail.
Creative design ability, flair for color and space planning; knowledge of fashion furniture trends and styles.
Experienced in consulting with private clients, architects, builders and vendors from conception through completion of project.
Interior Designer
Worked with project manager and designed hotel room aesthetics such as wall texture, paint color, crown molding, and rug color.
Order and kept inventory of material when supplies arrived.
Dealt with various supply vendors to manage shipping and logistics.
Interior Designer
Managed and design multiple high-end residential projects ranging from new construction and builder model homes, to complete renovation construction.
Worked with clients and/or builders to select flooring, tile, plumbing fixtures, appliances, paint, cabinetry, hardware, slabs and various exterior background selections.
Collaborate with designers, project managers, purchasing agents, builders, superintendents, architects, general contractors, subcontractors from project commencement through completion to meet clients' needs.
Interior Designer
Results driven with proven flare for discerning clients' needs and achieving desired outcome.
Exceptional interpersonal skills, creative and focused with executing all tasks.
Professional sound judgment in dealing with the daily operations of the firm.
Maintained library and helped manage extensive fabric lines, wall coverings and samples.
Interior Design Assistant
Responsible for all accounting duties in QuickBooks for the company and interior designers.
Answer all incoming calls, mail, and to assist interior designers with my design knowledge as well as customer service needs.
In charge of hosting showroom events and seminars for our new lines, design students, and well known interior designers.
Interior Design
Consulted with clients to determine interior architectural preferences, project scopes of work, including space planning, layout, FF&E utilization, and color schemes.
Prepared sketches of ideas, detailed rendered drawings, illustrations, artwork, and blueprints, using drafting instruments paints and brushes and computer-aided autoCAD design software.
Created and presented design concepts using detailed color boards and tabletop presentations.
Sourced local and overseas suppliers to select cost-effective products and fostered relationships with vendors to maintain supply chain and meet purchasing goals.
Wrap Up
You need to make sure your resume stands out amongst the other candidates. It is the first impression that employers have of your work experience and skills. Use the samples above to put together a resume that best suits your needs and helps you get the job you want.