A line cook prepares and cooks food. Duties include keeping a clean kitchen area, including the counters and cooking equipment and the floors, ordering ingredients, making sure ingredients are well-stocked, mixing recipes, baking food, cooking food, and packaging food for companies. Educational requirements are a high school diploma or equivalent. Skills needed are a love for cooking, excellent math skills, attention to detail, a strong back, ability to work well with other people, basic computer skills, and ability to focus.
A good resume is well-written and concise. It should be neat and easy to read, listing previous experience in a logical order.
Our resume samples will provide you with multiple examples of what you can include when writing your resume.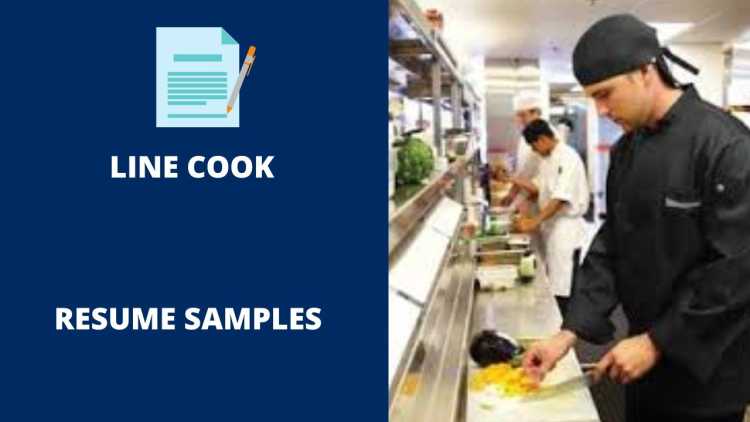 The Best Line Cook Resume Samples
These are some examples of accomplishments we have handpicked from real Line Cook resumes for your reference.
Line Cook
Including cooking food on the grill, working the fryer for chicken and fries, assembling sandwiches and making modifications for special orders.
Preparing foods, including breading chicken, cutting fruit and assisting with baking cookies.
Additional duties include unloading deliveries, and maintaining a clean.
store environment. Ensuring adherence to all safety policies and health regulations.
Accomplished the highest point credit for perfect food quality and presentation on all-new dishes during the initial three weeks of training.
Line Cook
Highly mobile business meant good communication was key to preparing for events.
Worked crowded and extremely busy events from a small kitchen with consistently fast ticket times.
Worked private catering events with specialized menu options.
Worked well with a team, building plates "assembly line" style to ensure fast output of food.
Received award for developing innovative, delicious recipes for the restaurant menu; became a department trainer.
Line Cook
During dinner our rush I operated a flat top grill, multi-tasking between grill fryier and plating.
Proper food handling and re-stocking stations prior to busy times.
I was responsible for cleaning grill and vents daily.
I also changed oil and cleaning deep fryer weekly.
I restocked inventory and cleaned walk-in and dry storage twice weekly.
Line Cook
Set up stations and collect all necessary supplies to prepare menu for service.
Prepared a variety of food; meats, seafood, poultry, vegetables and cold food items.
Arrange sauces and supplementary garnishes for allocated station.
Cover, date and correctly store all bits and pieces and food prep items.
Reformed bar supplies inventory from more than 50% overage to ten percent.
Line Cook
Prepared basic components of each dish on the menu using Ono recipes.
Memorize and utilize serving portion sizes and all basic meal prep procedures used in the kitchen.
Ensure kitchen, food prep areas, and all food storage areas meet cleaning standards.
Overcame customer complaints about substandard French fries by evaluating preparation, ingredients, and timing; managed potato shipments to ensure four-day freshness.
Trained at six different restaurants in three states to learn business operations and offer expertise as a consultant in corporate foodservice chains.
Line Cook
Roles included preparing food for the lunch and dinner.
Preforming the correct sanitation procedures.
Keeping good organization in the kitchen as well as rotating food daily.
Preforming opening and closing duties and helping where needed.
Performed duties of an entry position at a fast-food establishment, maintaining standards of cleanliness, speed, and accuracy in orders.
Line Cook
Led line cook for high volume Asian fusion kitchen, executed recipes from scratch.
Baking and preparing traditional sauces, as well as working the line through the evening.
Training new employees making sure hygiene and food safety standards were met.
Maintain a positive and professional atmosphere when approach with coworkers and customers.
Successfully demonstrated the ability to keep twenty clams inline (fourteen hours) and to maintain a standard of excellence.
Line Cook
Able to work all four stations in the kitchen that include salad station, hot appetizers, grill, and pizza oven.
Always having to keep the kitchen and surrounding areas as clean as possible.
Responsible for making food orders for the next day delivery.
Achieved production goals without fail through the creation of efficient workflows, proper merchandise repositioning, and adherence to established policies and procedures.
Developed exceptional time management skills while helping ensure a smooth flow of operations.
Line Cook
Set up stations and collect all necessary supplies to prepare menu for service.
Prepared a variety of foods; meat, seafood, poultry, vegetable, and cold food items.
Arrange sauces and supplementary garnishes for allocated station.
Inspected inbound and outbound containers to insure compliance with federal and State regulations.
Validated equipment for shortages by performing extensive audits.
Line Cook
Set up, restocks and maintained food preparation areas, while following to recipes including specific knife cuts and correct cooking procedures.
Cook meals according to individual tickets according to specification.
Follow all procedures in sanitation and sanitary food handling.
Keep work area clean and organize using soaps and sanitizing agents.
Inspected equipment for cleaning, maintenance, oiling, and repair.
Line Cook
My position is responsible for cooking grill or fryers while serving and taking orders.
We cook to order so everything is fresh no hot holding, also responsible for staging certain foods for up to a week in advance also janitorial/prep work at starting and end of shift.
My accomplishments at this job have been learning to also be a server while cooking.
Developed detailed procedures for quality assurance inspections in the warehouse and shipping department of a distribution center.
Coordinated laboratory personnel utilizing quality control on a daily basis.
Line Cook
Collaborate within a team of 5, prepare different kinds of food items in a hygienic and timely manner which increase patron's satisfaction 50%.
Set up station in keeping with restaurant guidelines, increasing efficiency by 100%.
Place uncompromising focus on cleaning and maintenance of service station.
Maintain hygienic and fully-organized kitchen and storage areas.
Follow recipes, piece controls and presentation specifications as set by the restaurant management.
Wrap Up
You need to make sure your resume stands out amongst the other candidates. It is the first impression that employers have of your work experience and skills. Use the samples above to put together a resume that best suits your needs and helps you get the job you want.