Warehouse managers ensure that materials and products are available where and when needed. They work closely with their teams to make sure all operations go smoothly. Warehouse managers must be able to solve problems, prioritize tasks, instruct employees on how to complete complex assignments, meet production deadlines, and communicate effectively. To become a warehouse manager, you must have at least 5 years of experience in logistics management or its related fields such as supply chain or inventory control.
A good resume is well-written and concise. It should be neat and easy to read, listing previous experience in a logical order.
Our resume samples will provide you with multiple examples of what you can include when writing your resume.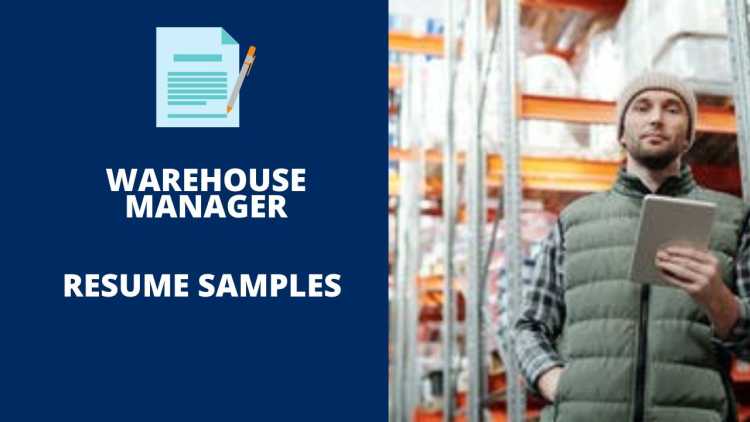 The Best Warehouse Manager Resume Samples
These are some examples of accomplishments we have handpicked from real Warehouse Manager resumes for your reference.
Warehouse Manager
Analysis of reports to ensure the accurate and timely shipping of inventory.
Prepared and manage timelines and work schedules according to company needs.
Properly maintain inventory records and detail-oriented.
Develop employees and train staff on roles and responsibilities and safety standards.
Led a cross-functional team of four individuals, including shipping and receiving personnel, to deliver 16.9 million pounds of freight in less than three days.
Warehouse Manager
Supervised the warehouse of over 25 employees in different departments.
This includes receiving, shipping, warehouse, and quality control.
Make sure product is received with minimal problems including quality, shortages, and receiving issues.
Oversee warehouse maintenance and safety throughout the facility.
Daily analysis of workflow and resource deployment; making recommendations when more or less support is required in Shipping to manage the daily volume.
Warehouse Manager
Conducting team huddles, training exercises, ensuring safety and compliance with policies and initiatives.
Implementing an auditing program, which decreased misshipments by 30%.
Licensed operator and trainer of Crown MHE – Reach truck, counterbalance, pallet rider, and stock picker.
Achieved cutting-edge inventory visibility and accuracy level that led to increased customer satisfaction and improved operational margins.
Balanced orders for seven automotive suppliers for the Ford Motor Company and reduced rework cost by $2.5 million annually due to supplier schedule changes exacerbated by the supply chain.
Warehouse Manager
Led warehouse crew in daily operations and logistics duties, assigned associates to other areas of the warehouse when needed.
Maintained tight inventory control and handling procedures to ensure inventory accuracy and warehouse safety.
Responsible for stocking and distribution of merchandise for seven departments in four area stores.
An authored system for online order processing that has been used by two global suppliers as a baseline system for their North American operations.
Supervised five full-time associates while maintaining a warehouse that maintained inventory levels and received, dispatched, and shipped items on time.
Warehouse Manager
Directed all warehouse functions including receiving, inventory, shipping, and scheduling in a 65,000 square foot warehouse.
Managed inventory in multiple sites including a 150,000 square foot warehouse.
Order and confirm all raw material requirements in SAP/Roadrunner for scheduled production releases. Oversee inter-company logistics.
Performed all warehouse staffing on three shifts providing coaching, training, evaluation, safety awareness, and discipline.
Developed retail strategies to drive sales by creating positive relationships with clients, improving client satisfaction through prompt service, and developing successful sales strategies.
Warehouse Manager
Maintains receiving, warehousing, and distribution operations by initiating, coordinating, and enforcing program, operational, and personnel policies and procedures.
Safeguards warehouse operations and contents by establishing and monitoring security procedures and protocols.
Controls inventory levels by conducting physical counts; reconciling with data storage system by using Quickbooks.
Acquired multiple areas of corporate knowledge that led to novel solutions for design challenges facing manufacturing companies.
Developed comprehensive warehouse solutions including storage capacities for future growth and efficiencies; reduced cost of operations by implementing intelligent processes.
Warehouse Manager
Interacted with trucking companies – from dispatch to schedule all containers deliveries to the warehouse, (approximately 20 to 25 containers per week).
In charge of all branch requests and customer requests delivered at the warehouse.
Worked closely with Sales Department to ensure accuracy for daily shipments, priorities, customer accommodation, returns, and credits.
Trained management team in specific parts of the business; secured new accounts within the supply chain industry; innovated to avoid losses due to vendor failure in competitive markets.
Managed a 48,000 sq. ft. warehouse and 100 employees to ensure supplies were delivered on time and in good condition.
Warehouse Manager
Maintains receiving, warehousing, and distribution operations by initiating, coordinating, and enforcing program, operational, and personnel policies and procedures.
Safeguards warehouse operations and contents by establishing and monitoring security procedures and protocols.
Controls inventory levels by conducting physical counts; reconciling with warehouse data storage system.
Maintained accurate records of materials deliveries, including labor as well as receipt.
Effectively communicate information to the field employees; made sure all work orders were completed accurately and on time.
Warehouse Manager
Managed all inventory, consisting of over 100 different brands of wine, spirits, and cordials coming in and out of the warehouse.
Assisted sales personnel with product inventory and availability to ensure customer satisfaction.
Handle the majority of deliveries and all product pickups on a daily basis.
Utilized strict quality control guidelines to prevent delivery issues such as damaged products, damaged boxes, outdated or obsolete products, or any other delivery issues that could have occurred in the supply chain.
Supervised warehouse operations throughout the month, planned and executed a three-week project for rare earth metals.
Warehouse Manager
Streamlined the receiving and shipping departments using process outlines followed by all employees.
Integrated the supply chain by creating fluid communication processes between purchasing and the warehouse.
Implemented disciplinary guidelines for all warehouse employees.
Developed Route Maintenance manual processes and developed a systemic plug-in for existing WMS.
Participated in a one-month project to implement new tools and techniques with customers' suppliers.
Warehouse Manager
Managed the warehouse inventory, responded to incoming and outgoing deliveries.
Moved freight, stock, and other materials to and from storage and production areas and loading docks.
Established and monitored security procedures and protocols.
Contributed to team efforts by collaborating as needed and offering suggestions.
Increased warehouse net profits by 25% by increasing sales and maximizing efficiency.
Warehouse Manager
Supervise shipping/receiving of booths, supplies, packages for trade shows, Retail, and events.
Establish, monitor, and enforce timelines for onsite and offsite field crews.
Efficient setup of events with specific attention to labor efficiency.
Train warehouse staff and all operations to achieve safety and productivity goals.
Suggest and resource new inventory and equipment based on client need, price, delivery, and stock levels.
Wrap Up
You need to make sure your resume stands out amongst the other candidates. It is the first impression that employers have of your work experience and skills. Use the samples above to put together a resume that best suits your needs and helps you get the job you want.