Logistics Coordinators manage the operations of the supply chain process in a company. Their duties include supervising the lifecycle of products, organizing and managing product movement, resolving operational issues, updating and entering data, analyzing data, and creating reports. This position requires a high school diploma/GED; a Bachelor's degree in Business Analytics, Logistics, or Supply Chain is preferred, with 5+ years of experience in customer service or logistics. This job uses skills such as strong oral and written communication, problem-solving, customer service-oriented, organizational, leadership, proficient in MS office, excellent attention to detail, and ability to work under pressure.
A good resume is well-written and concise. It should be neat and easy to read, listing previous experience in a logical order.
Our resume samples will provide you with multiple examples of what you can include when writing your resume.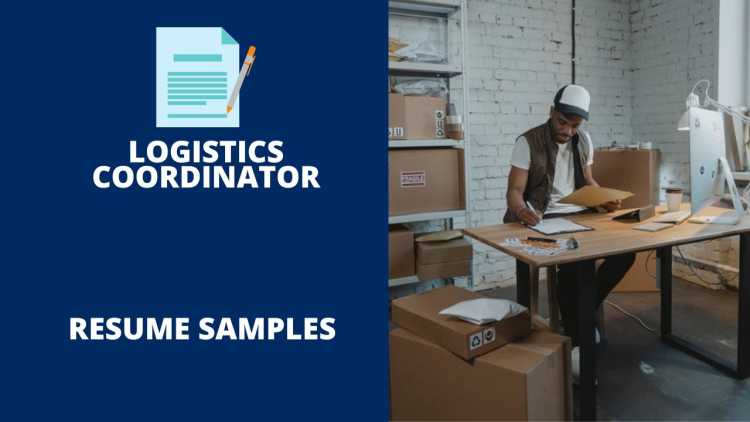 The Best Logistics Coordinator Resume Samples
These are some examples of accomplishments we have handpicked from real Logistics Coordinator resumes for your reference.
Logistics Coordinator
Responsible for the storage and accountability of high valued stock and equipment inventory, conducted; daily, monthly, and quarterly.
Coordinate and expedite flow of goods and equipment between sections or departments according to shipping schedules or department priorities.
Managed the inventory management system to provide real-time transparency to customers on several activities including but not limited to; multi-client order management, multi-client inventory management, bulk inbound, stock control, and billing management.
Initiated, directed, coordinated, and monitored all aspects of the logistics of a multitude of missions; including the use of networked information systems to facilitate the shipping of equipment.
Directly supervised two full-time logistic staff; developing their experts in various mission areas.
Logistics Coordinator
Forecasted and ordered production and shipment of over $20 million annual sales, analyzed sales data to accurately meet delivery windows and emergency orders.
Maximized manufacturing and distribution efficiency for multiple fashion designers, U.S. based distribution centers, and department stores.
Processed and handled all EDI orders with the internal WMS system, reviewed the reports and fixed issues by correcting data if there are discrepancies.
Designed, implemented, and administered a standard operating procedure (SOP), and implemented a "day-to-day operation effectiveness" review process.
Excelled as an instructor in foreign languages; simultaneously developing personal self-confidence in Arabic, Chinese and Spanish.
Logistics Coordinator
Ensured customs broker receives proper documentation, such as bill of ladings, arrival notices, rail manifests, and commercial invoices for customs clearing purposes.
Monitored and coordinate email conversations between customs broker, carriers and any party involved in the inbound logistics process.
Supported the Finance Department with the processing of weekly custom brokerage invoices and the payment of monthly duties and taxes (GST) to Canada Border Services Agency.
Managed the strategic direction, operations oversight, logistical operation implementation, and material support for military combat commands.
Tracked carrier delivery; completed paperwork in a timely manner.
Logistics Coordinator
Adjusted production schedule with upper management based on inventory records and upcoming wholesale orders.
Determined appropriate packaging based on final destination, length of transit and regional weather conditions.
Negotiated parcel and freight prices for all international and domestic shipments.
Evaluated all purchasing of equipment and supplies for the shipping and production departments.
Developed and implemented a real-time delivery management system, which reduced the time to deliver by 20%.
Logistics Coordinator
Reduced freight expenses by 20% in first 12 months, saving $1.7M for the year to effectively offset a reduction in sales commitments and achieve business goal of decreasing overall freight expenses by 5%.
Accomplished 100% inventory compliance through warehouse reorganization and process optimization in first eight months.
Decreased customer final document submission by five days to improve cash to cash cycle.
Secured the Logistics Manager position through determination, professionalism, and competence.
Reduced errors in order processing by 50% compared to the previous year.
Logistics Coordinator
Handle the monthly processing of over 200 containers, from custom clearance to final port of arrival.
Take charge of filing the information security form (ISF) through the TRG system 10+2 customs compliance.
Assume responsibility in maintaining ocean freight and truck building spreadsheets.
Oversee negotiations with carriers for trucking rates as well as new warehouses for bonded cargo.
Submit broker notifications with proper documentation into the company database advising customs broker and warehouse of incoming shipments.
Logistics Coordinator
Processed orders from Amazon and provided customer service to incoming inquiries for a small ecommerce company that specializes in large customized stuffed toys.
Serve as liaison between fulfillment, screen printing, embroidery, and shipping and receiving departments.
Created and edited inventory and generated shipping labels on Amazon Seller Central.
Monitor ecommerce fraud detection software (Signified) for incoming orders.
Awarded the "Most Improved Logistics Professional" award after achieving a 500% improvement over three years with no errors reported or complaints received from customers.
Logistics Coordinator
Coordinate route movement of outgoing and incoming freight shipments at train, trucking, airline terminals and shipping docks.
Plan and track shipments of final products based on customer needs.
Monitor deliveries, ensuring customer satisfaction and maintaining accurate logs of all transportation and goods.
Communicate and work with warehouse and freight forwarders to plan and deliver containers to final destinations.
Successfully assisted in the movement of $15 million worth of goods, services, and people through the US and abroad.
Logistics Coordinator
Capitalized on the opportunity to direct forward-thinking pre-shipment, freight negotiations, shipping, and follow-up initiatives with overseas garment factories and respective shipping lines for onboard container loading.
Coordinated efforts with internal production / sales departments for final shipping samples' approval and confirmed shipment departures and arrivals, along with coordinating activities with warehouse and custom broker.
Approved freight invoices and set up the wire transfer to the respective shipping lines and shipping agents, including handling original shipping documents released from bank, L / C request set ups for overseas factories, and coordinating and managing efforts with the finance department for overseas factories export payments.
Created a comprehensive logistics system to handle all demands, demands within an 18-month time period.
Strategically planned and implemented international, domestic, and domestic freight shipping operations while exceeding customer expectations.
Logistics Coordinator
Communicate with multiple parties such as freight forwarder, custom broker, trucker and warehouse to ensure and enforce a timely delivery of goods.
Monitoring deadlines for customer sales orders and Invoicing customers in a timely manner.
Processing invoices from our 3rd party service providers such as freight forwarder, customs broker and trucker.
Directed the development of a customer service strategy that resulted in increased sales revenues through joint ventures with customers.
Provided 24-hour multi-tasking with little or no supervision on cross-functional teams by keeping track of all aspects of supply chains in accordance with established policies.
Logistics Coordinator
Oversaw the entire small package shipping for all ecommerce orders upwards of 500+ packages a day during specific seasons.
Consumer trade in program administration including day-to-day operations and payment processing.
Dealt with all international freight including scheduling and handling proper paperwork for all customs dealing.
Light dealings in wholesale with international and domestic purchasers.
Created daily, weekly, and seasonal inventory management and distribution plans.
Logistics Coordinator
Grow our customer, carrier and owner operator department while also managing current accounts.
Order entry to created BOL's for proper documentation when picking up FTL, LTL or export drayage containers.
Scan POD's and invoice customer directly to authorize payment to carrier and/or Owner Operator.
Managed logistics supplies by receiving orders from vendors, ordering and storing stock on site, issuing invoices to customers, and completing deliveries of goods when necessary.
Reimbursed warehouse employees based on requirements of the purchasing department; maintained appropriate inventory levels to support daily business activity.
Wrap Up
You need to make sure your resume stands out amongst the other candidates. It is the first impression that employers have of your work experience and skills. Use the samples above to put together a resume that best suits your needs and helps you get the job you want.