General warehouse workers perform many tasks to support warehouse operation. They track and receive shipments, stock products, prepare orders, label merchandise, take inventory, record damaged items and operate warehouse machinery. A high school diploma and driver's license is preferred to become a general warehouse worker. Necessary skills include physical fitness, organization, stamina, time-management, problem-solving and the ability to follow directions and be a team player.
A good resume is well-written and concise. It should be neat and easy to read, listing previous experience in a logical order.
Our resume samples will provide you with multiple examples of what you can include when writing your resume.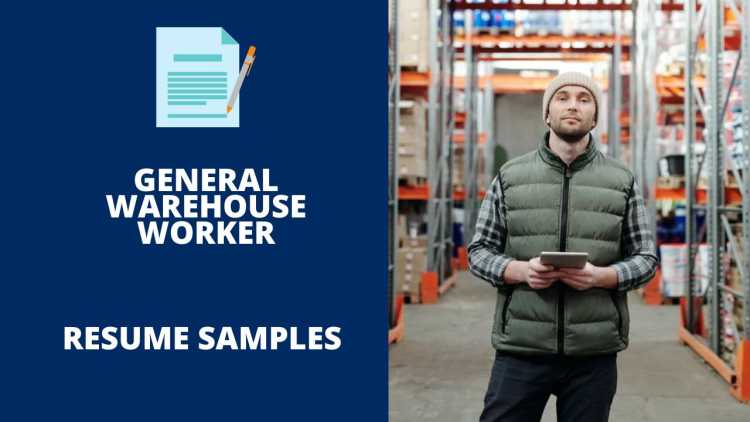 The Best General Warehouse Worker Resume Samples
These are some examples of accomplishments we have handpicked from real General Warehouse Worker resumes for your reference.
Warehouse Worker
Forecasted manpower requirements based on daily workload and company targets.
Moved freight, stock and other materials to and from storage and production areas and loading docks.
Led warehouse improvement initiatives to advance operational efficiencies.
Taught students how to handle and care for their own health conditions and situations.
Produced a training DVD on first aid treatment and assisted with the production of another DVD on the proper handling of insects and small animals as pets.
Warehouse Worker
Read order to determine catalog number, size, color, and amount of goods.
Ensured that the accurate number and type of product was loaded and shipped.
Maintained security of the merchandise in warehouse Packer.
Assisted in producing educational videos, books, surveys, flashcards, and numerous other projects to encourage young adults to pursue their education to reach their goals.
Operated lifting equipment to transport, load, and unload thousands of packages daily.
Warehouse Worker
Performs whatever duties needed to be done within the warehouse.
Moves and organizes pallets with use of a pallet jack.
Often builds different products to be presented on the sales floor.
Required to created manifests for different products as well as present a total cost.
Responsible for keeping current prices on different items within the warehouse.
Warehouse Worker
Collaborated in ensuring the correct fulfillment of orders and properly located inventory of products while in a warehouse environment
Ensured proper delegation of trailers and product load for deliveries which ensured correct and timely product delivery.
Conferred with department supervisors or other personnel to assess progress and discuss needed changes which resulted in better warehouse functionality.
Maintained that the warehouse and equipment are functioning at optimal levels to ensure high quality productivity and minimal stagnation.
Responsible for inventory control and labeling of retail products.
Warehouse Worker
Receive product deliveries from manufacturing units and ensure that they are properly stored.
Arrange items in an organized manner to avoid damage or premature wear and tear.
Created delivery and shipment reports and ensure that all information is keyed into the company database.
Ensure cleanliness and maintenance of equipment and tools used in the delivery or loading processes.
Received award for excellent inventory accuracy; after a physical inventory revealed an absolute value of only $0.04 discrepancy from computerized records, out of $200,000 worth of merchandise in stock.
Warehouse Worker
As a member, my daily duties included riding alongside a driver to various groceries around the metroplex and picking up excess food.
Loading and unloading sprinter-style vans and storing goods in warehouse.
Next, we made meal boxes, weighing up to 50lbs and loaded anywhere from 40-100 completed boxes onto the vans.
We then delivered the prepared boxes to low-income families in various apartment complexes.
Exceeded daily and monthly productivity quotas. Monitored and maintained equipment and safety conditions.
Warehouse Worker
Unloaded an weighed various shipments from trucks as they docked using a forklift.
Recorded and verified all shipments and prepared them to be inputted by the office techs.
Put up all freight on front dock into their designated areas throughout the warehouse.
Replenished inventory in a timely manner and managed storage space according to federal regulations.
Contracted for hazardous material clean-up after an accident that resulted in the release of radioactive materials into the air, water, and soil.
Warehouse Worker
Repair damaged or defective whirlpool/hot tubs checking for cracks or scratches on inventory items.
Inspected and clean completed products for compliance for defects.
Unload trucks, check in merchandise, distribute received inventory to designated production areas.
Maintained a safe, clean warehouse environment; reduced waste materials by an average of 25% during the first year.
"Tracked and eliminated workflow bottlenecks," resulting in an increase of efficiency and productivity by 62%.
Warehouse Worker
Load and unload products form trailers, using forklifts, and other material handling equipment.
Clean work area and equipment regularly by removing empty pallets, wood and plastic.
Maintain material handling equipment by recharging, cleaning, oiling, refueling and other necessary actions, and record all the information on a log sheet.
Achieved recognition for the highest quality work standards; received an exceptional employee service award for correcting errors made by management.
Received high praise for outstanding performance in the warehouse for exceeding the established customer service, performance, and accountability guidelines.
Warehouse Worker
Responsible for routine picking, receiving, shipping and packing functions in accordance with established work processes.
Maintained operating equipment and work area. Consistently meet and/or exceed supervisor expectations.
Organized and processed customer orders on nigh shift making sure that truck departure timelines were met.
Assembled and processed multi-ton shipments of recycled metals and plastic raw materials.
Expedited inventory to save shipments and the company hundreds of thousands of dollars.
Warehouse Worker
Processed orders for material and merchandise received by mail, telephone, and personally from customers and company employees.
Informed customers of unit prices, shipping date, anticipated delays and any additional information needed by customers, using mail or telephone.
Typed order forms and entered data into computer to determine total cost for customers.
Recorded and filed copies of orders received according to expected delivery date.
Checked inventory control and notified stock control departments of orders that would deplete stock.
Warehouse Worker
Assisted management with blueprints to establish work load.
Sort through all inbound product and maintain paperwork.
Then build cabinets or what is posted on the blueprint in a timely manner.
Finally proceed to load finished product to be delivered to work site.
Valued employee; recognized by the manager for outstanding contributions to team productivity and customer service.
Wrap Up
You need to make sure your resume stands out amongst the other candidates. It is the first impression that employers have of your work experience and skills. Use the samples above to put together a resume that best suits your needs and helps you get the job you want.