A general contractor manages logistics and provides the labor force required in order to complete construction projects to their client's specifications. Their duties include bidding works, drafting estimates, drawing and reviewing plans, providing labor, materials, and equipment, hiring and managing subcontractors, and ensuring the completed project fits local code, as well as the client's schedule and budget. Many general contractors, have bachelor's degrees in construction or civil engineering, but to legally work as a general contractor, you only need to pass a test and earn a license, though the exact requirements vary heavily from state to state. General contractors must demonstrate organizational skills, an eye for detail, plan reading, budgeting, computer literacy, clear communication, and knowledge of the construction industry.
A good resume is well-written and concise. It should be neat and easy to read, listing previous experience in a logical order.
Our resume samples will provide you with multiple examples of what you can include when writing your resume.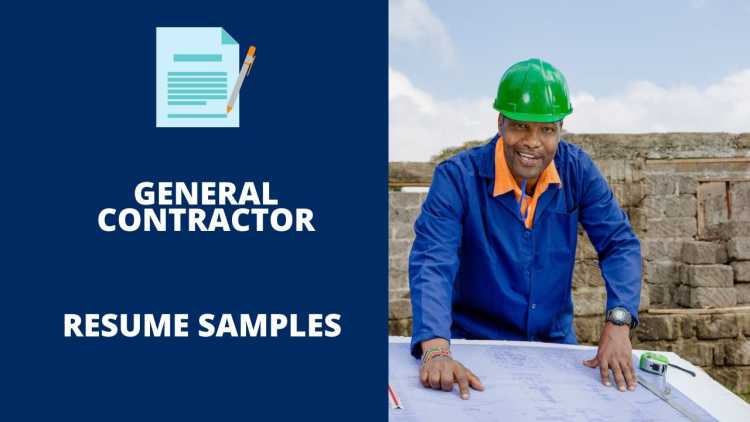 The Best General Contractor Resume Samples
These are some examples of accomplishments we have handpicked from real General Contractor resumes for your reference.
General Contractor
Assisted with variety of masonry tasks which include installation and finishing of concrete block, brick and sidewalk.
Unload raw materials at job site and arrange according to plan.
Keep work site clean and organized; free of debris and safety hazards.
Brought vision and vitality to a deteriorating architectural structure by its restoration into a modern business-friendly hacienda.
Successfully completed multiple projects within budget and in timely manner.
General Contractor
Provided complete administrative support to company President, as well as Vice President of Finance.
Conduct all office accounting, including accounts payable and receivable, and payroll.
Reconcile business accounts and maintain thorough recordkeeping.
Document client projects, from bid proposals, to purchase orders, change orders, and invoices.
Supervised workers on construction jobs during out of town business activity and prepared project reports to management.
General Contractor
Analyzed incoming invoices of up to $1 million, ensuring accuracy, completeness and proper payment of all vendors and subsidiaries using Sage Timberline.
Customized several spreadsheets to help improve productivity and accuracy of accounting documents.
Processed weekly payroll for subsidiary employees to make sure all documentation were in accordance with SCA guidelines.
Worked periodically with the bookkeeper to ensure the accurate maintenance and balancing of accounting records.
Managed commercial property acquisition and development.
General Contractor
Oversee project phases including design development, construction documentation, construction, punch list and closeout.
Establish work scope, procedures and goals and ensure communicate said goals to consultants, contractors and client vendors.
Utilized appropriate reporting controls to track and communicate status of project budget and schedule.
Established a professional relationship with our lender by providing quick action plans to meet deadlines, correctly anticipating their requirements, and assessing client satisfaction through customer surveys.
Appeared on the floor of a national trade show displaying our construction products, including residential home building equipment in excess of 8 feet tall; we won several awards that year as the most profitable company at the event.
General Contractor
Installation, repair and construction of windows, doors, cabinets, furniture, shelves, etc.
Planned work using blueprints, drawings, sketches, space measurements and layouts.
Using latest tools to evaluate project scales, finish time and informing project managers when there are conflicts.
Comfortable with process for material requisition and preparing reports on use of raw materials.
Quickly and accurately integrated all project details into a cohesive design to meet federal, state and local building regulations.
General Contractor
Negotiate per item price and ensure that total costs of materials and equipment falls within the given budget.
Oversee work duties to ensure compliance with master plan and safety requirements.
Explain the purpose of each project module and clients' requirements to workers to ensure work conformity.
Ascertain that all construction workers (masons, electricians, carpenters, architects and engineers) are working in sync with each other.
Led a crew of five carpenters to complete construction of a three-bedroom, two-bathroom residence in less than ninety days.
General Contractor
Handle general maintenance and repairs of company-owned machinery and tools.
Interface with customers, at times serving as a bilingual liaison between clients and other contractors.
Ability to multitask on various simultaneous projects include "odd jobs" such as minor electrical fixes, building showroom displays and transfer/storage of furniture and warehouse supplies.
Oversaw a construction staff of ten during housing rehabilitation projects. Invented new, cost-cutting techniques for improved quality control on site.
Tracked production, profitability and safety records for subcontractors; led crews to exceed expectations for funding requests from municipal government officials.
General Contractor
Actively pursue and acquire new customers through networking and centers of influence.
Generate project estimates which include; time, materials, labor costs and job overhead for residential and commercial spaces.
Skilled in performing kitchen and bathroom renovations, exterior makeovers and maintenance for large commercial and residential spaces, roof replacement and repair, removal and replacement of concrete sidewalks, driveways, and patios, and sheet rock and plaster repair.
Earned recognition for architectural designs submitted for approval; the resulting building plans were selected as the first choice of all property owners within the community who had sought bids for their home's upgrades.
Documented and executed construction projects in accordance with blueprints, specifications, and plans.
General Contractor
Conducted weekly production and operations contractor meetings, which facilitated stronger communication and the ability to resolve critical issues.
Led a variety of projects from start to finish, including garages, residential homes and additions.
Constructed safety provisions, including scaffolding, gang ladders, perimeter railings, fall protection and Temporary covers.
Completed alterations and additions for clients' homes or business facilities; successfully directed project to completion.
Conducted site surveys for new construction of homes, business facilities, and commercial buildings.
General Contractor
Understand current situations, predict probable course of action and then develop alternative support strategies.
Engineer property infrastructure so that buildings are able to have electrical power, city water, and septic services.
Schedule and maintain communication with various subcontractors and ensure each phase of the project is completed on-time and on budget.
Encouraged the use of natural building materials such as wood and stone.
Worked with public agencies on municipality's improvement projects; delivered projects within deadline while maintaining client satisfaction.
General Contractor
Performed property preservation duties on bank foreclosed properties including things such as debris removal, make ready, landscaping, and general repairs.
Also worked for national single family rental companies performing everything from rental turnovers to full rehabs.
I am well versed in all aspects of home repairs and have a thorough understanding of what's required to get them into rent ready condition.
Developed and implemented on-site construction components in accordance with architectural plans.
Maintained buildings in top condition.
General Contractor
Remodeled commercial and residential properties per customers' requests.
Read blueprints to ensure proper location, size and shape specifications.
Provided room addition, painting, siding, fencing, flooring, plumbing, make ready, and electrical services.
Measured materials and length and width of areas utilizing squares, saws, and hand and power tools.
Received excellent performance ratings from building owner.
Wrap Up
You need to make sure your resume stands out amongst the other candidates. It is the first impression that employers have of your work experience and skills. Use the samples above to put together a resume that best suits your needs and helps you get the job you want.