A Finance Officer is in charge of developing financial policies that help an organization use its money efficiently. Duties include developing budgets, reviewing accounting practices, managing cash controls, making sure subsidiary ledgers are maintained, tracking investments, maintaining cash reserves, making sure general ledger is up to date, and preparing financial documents. To be a finance officer you must earn a bachelor's degree in a finance-related field, plus have 5 years of experience in a financial field. Skills needed to become a finance officer include decision-making, compliance, investing experience, organizational skills, math and computer proficiency, management, and cash reconciliation skills.
A good resume is well-written and concise. It should be neat and easy to read, listing previous experience in a logical order.
Our resume samples will provide you with multiple examples of what you can include when writing your resume.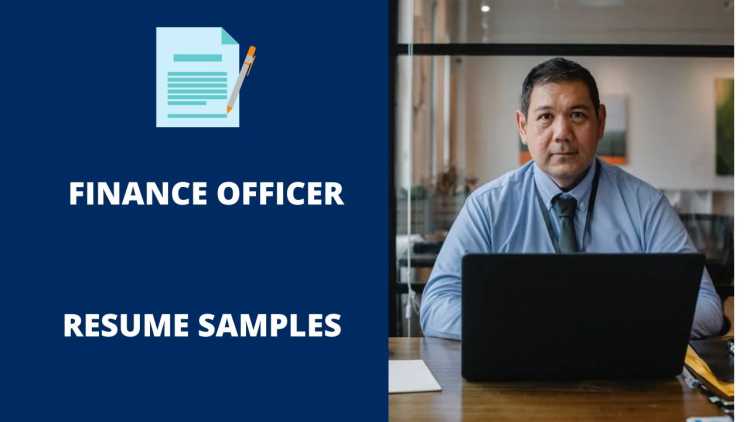 The Best Finance Examples Resume Samples
These are some examples of accomplishments we have handpicked from real Finance Examples resumes for your reference.
Financial Officer
Responsible for presenting and reporting accurate and timely financial information.
Supervise the accounting department to ensure proper maintenance of all accounting systems and internal controls.
Mentor the accounting team, work allocation, problem resolutions and year end evaluations.
Successfully negotiated a seven-figure financial settlement and prevented a two million dollar lawsuit against the county sheriff's office.
Supervised accounting and financial management operations.
Financial Officer
Responsible for all financial and administrative functions and third-party relationships; accounting, auditing, taxes, treasury, financial reporting, international reporting, legal, recruiting and human resources, information technology, business tools/applications, and administration.
Serve as 401(k) Plan Administrator; investment portfolio management, Plan compliance/design.
Implementing shift to Plan expense model, saving participants 60% in Plan fees.
Maintained state and local accounts payable, including entering large payments, managing invoices with multiple payees, and maintaining records of payments by check and electronic transfer.
Tracked state revenues to ensure that they were processed within state time frames.
Financial Officer
Managed daily operations for owner/developer/manager of approximately 750,000 square feet of commercial space – and 2,500 market, low income and stabilized housing apartment units.
Develop and maintain a financial infrastructure that operates with the efficiency and flexibility to respond to the demands of a growth-oriented real estate development company.
Ensure accurate and timely financial reporting, as well as interpreting the financial results.
Managed the preparation of monthly financial statements, analyses, and management reports.
Handled compliance issues related to governmental payments, including reporting changes in payees electronically on a daily basis.
Financial Officer
In charge of Bank Refinancing for all portfolio properties and arranges all financing for Insurance policies.
In charge of all aspects of Cash Management including approving wire transfers, signing checks and monitoring cash activity daily.
Develop and implement all accounting policies and procedures including proper internal controls.
Reported security breaches at two different locations to local law enforcement and government agencies.
Worked in conjunction with a third party IT vendor as part of the process for investigating security breaches and a possible backup data breach at our corporate location.
Financial Officer
Managed the day to day responsibilities for the Finance department, which includes the general ledger, subsidiary ledgers, chart of accounts, product control, regulatory, payroll, accounts payable and accounts receivable across all entities.
Prepared and maintain monthly management and regulatory financial reports for the broker/dealer, the finance technology company and the holding company.
Oversee month-end accounting close and review, approve and file all monthly, quarterly and annual regulatory reporting filings (including SEC Rule 15c3-1 and 15c3-3 reporting) and act as the primary liaison between technology, trade support (operations), traders and senior management with regards to all financial matters.
Enjoyed a potential-maximizing position as an insurance agent by providing customer service training and leadership.
Obtained a position with the County Sheriff/Detention Facility for over seven years, completing tasks relating to law enforcement, detention, and customer service.
Financial Officer
Engineering, procurement, and construction of solar systems for commercial and residential properties.
Introduced programs to reduce costs while directing budget generation, month end closes, percentage-of-completion GAAP financial reporting, banking, auditing, risk and cash flow management, and federal tax grants.
Secured project and business financing in a maturing industry with lenders and strategic growth partners.
Engaged the board around issues and trends requiring changes to the operating model and drove action plans.
Provided security for personalities, celebrities, and events; safely transported the public to destinations in public transportation vehicles after hours.
Financial Officer
Served as a member of the Board of Directors for four state owned electricity companies. Presented arguments and justifications for various strategies and actions which resulted in the supply of reliable energy, within budgets and timelines.
Served as NICIL's project manager for the world's sixth longest floating bridge, Berbice River Bridge.
Successfully commissioned at a cost of over US$40M.
Directed the timely and accurate compilation of monthly financial statements for Board of Directors and external auditors.
Won membership through completion of the rigorous selection process of a Federal Law Enforcement Agency; served eight years as Officer in charge of protective services for personalities and dignitaries visiting the United States.
Financial Officer
Leader of the Finance Function and Key Strategic Partner to the General Manager and all Department Heads. Charged with P&L ownership in a competitive and rapidly changing industry.
Oversee the Strategic Planning and Budgeting process; Partner with the General Manager to created and present the plan to the President of the Broadcast Division. Insure planned budgets across departments directly support the Strategic Plan.
Responsible for the financial evaluation of Content Profitability, the lifeblood of P&L performance.
Ensured compliance by management, staff, patrons, and the community with all applicable laws.
Verified and kept updated on legal requirements of entity's charter and bylaws.
Financial Officer
Financial statements, payroll based journal, census & cost reports and budgeting for all facilities.
Federal and state weekly, quarterly and annual tax payments and filings, incl. W-2, 1099 and 1095s.
Billing, accounts payable, weekly payroll, general ledger and bank reconciliations.
Cleaned up, organized and consolidated company's entire financial system, resulting in more efficient work, and an increase in revenues and net profits.
Directed work of management, staff, and security personnel to ensure safe working conditions.
Financial Officer
Developing, instituting and enforcing plans, policies, procedures, and controls governing all financial and administrative aspects of operations and ensuring quality control over same.
Responsible for preparing and analyzing financial reports for the Company's operations on a consolidated basis, generating month and year end financial statements for management.
Managing all accounting depts. including A/P, A/R, and payroll.
Established guidelines for public safety officers' conduct in the performance of their duties and reviewed daily transaction reports for completeness.
Summoned potential troublemakers to manager's office for a formal reprimand or expulsion from facility.
Financial Officer
Created the entire accounting and finance process with reports and internal controls for the Business.
Revamped the accounting and business processes, improved reporting and internal controls.
Responsible for accounts payable, accounts receivable, journal entries, compilation and reconciliation of general ledger.
Preparation of document flow charts, cycle maps, test scripts and process daily, weekly, and month end reports.
Analyzed and evaluated financial systems to support departmental and project initiatives.
Conducted cost-benefit analyses of departmental systems.
Financial Officer
Completed the successful refinancing of an Asset Based Line of credit resulting in an increased line limit as well as a rate reduction of more than 50% and flexible financial covenants.
Introduced a new 'Success Based' sales incentive compensation plan incorporating incentives for increased margin achievement, new customers, special product sales and accounts receivable management resulting in a higher profit focused, new business driven sales team.
Developed and installed a quarterly forecasting tool to track the companies progress compared to budget as well as forecasting the requirement to borrow from the companies revolving line of credit.
Trained over 1500 military officers on customer service, ethics, and discipline.
Supervised a security force of 30 officers in a high-rise building at the San Francisco Federal Building headquarters.
Wrap Up
You need to make sure your resume stands out amongst the other candidates. It is the first impression that employers have of your work experience and skills. Use the samples above to put together a resume that best suits your needs and helps you get the job you want.