An Unarmed Security Guard is paid to protect property or people. Their duties include detaining a person if needed, recognizing terrorist threats or activity, public relations, observing and reporting unwanted activity, receiving guests and maintaining order. To work as an Unarmed Security Guard most states require a certification or guard card, to have a clean criminal record, be eighteen years old and have graduated high school. Unarmed Security Guards must demonstrate alertness, calmness, critical thinking, resilience, quick decision-making, fairness and not be biased toward any one type of person or group.
A good resume is well-written and concise. It should be neat and easy to read, listing previous experience in a logical order.
Our resume samples will provide you with multiple examples of what you can include when writing your resume.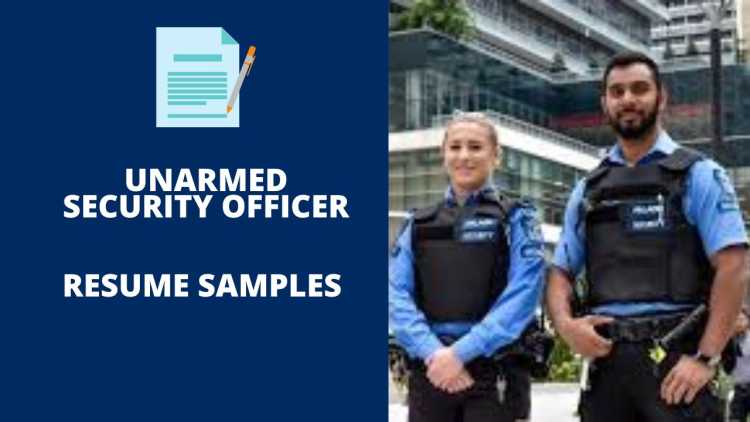 The Best Unarmed Security Officer Resume Samples
These are some examples of accomplishments we have handpicked from real Unarmed Security Officer resumes for your reference.
Unarmed Security Officer
Reported irregularities such as fire hazards, leaking water pipes, and security doors left unlocked.
Called police or fire department by telephone in case of fire or presence of unauthorized persons.
Registered record time of inspection trips at watch stations.
Impressively beaten, arrested, and subdued violent criminals.
Helped in the suppression of major crimes; assisted police officers and other law enforcement personnel in arresting suspects in felony cases.
Unarmed Security Officer
Secured premises and personnel monitoring property and access point permitting entry.
Prevented losses by reporting irregularities or suspicious behavior as well as informing my clients of any trespassers.
Completed day and night logs of observations and occurrences.
Obtained outstanding performance ratings from supervisors; received commendations for superior performance.
Proven initiative, initiative, and resourcefulness as a member of the special-response team; provided security during protests, riots, and civil disturbances.
Unarmed Security Officer
Wrote reports of daily activities and irregularities, such as equipment or property damage, theft, presence of unauthorized persons, or unusual occurrences.
Call police or fire departments in cases of emergency, such as fire or the presence of unauthorized persons.
Circulate among visitors, patrons, and employees to preserve order and protect property.
Trained extensively to attain proficiency in various martial arts styles including Brazilian Jiu-Jitsu, Filipino Kali Kali Escrima (Escrima/Kali Escrima), and Boxing.
Received outstanding quality award; successfully conducted investigations by interviewing eyewitnesses, suspects, and victims.
Unarmed Security Officer
Ensured the safety of visitors, staff, artifacts, and displays.
Provided emergency assistance to visitors and staff through radio communication.
Facilitated visitor experience by becoming familiar with museum policies, general information, and some information on exhibits.
Received in-depth 4-day training in C.Cure 8000.
Negotiated successful hostage situations in less than 60 seconds remaining in self-defense training due to ability to maintain cool and collect evidence for investigation.
Unarmed Security Officer
Access control security, monitoring parking lots, monitoring exterior of building and hallways.
Record information relating to the security of people, products, and vehicles that may have affected the day-to-day operations of a facility and report this to the security supervisor or the client's representative. (Incident Report).
Protects buildings and grounds, including all contents, occupants, customers, and visitors, by enforcing rules and regulations related to security at the location.
Promoted wellness program by monitoring weight limits of new hires.
Resolved conflict with coworkers through compromise instead of reprimand; earned superior rating after 20 years of service to the department.
Unarmed Security Officer
Patrolled facility and manned post as instructed by security management.
Examined doors, windows, and gates to determine that they were secured.
Regulated vehicle and pedestrian traffic at the access point to maintain orderly flow.
Reported irregularities such as fire hazards, leaking water pipes and security doors left unlocked.
Won the national championship in firearms qualifications and won the international tournament with distinction.
Unarmed Security Officer
To ensure and keep the integrity of my post and the employees on-site during my shift.
To maintain the safety and count of all employees at all times during my shift.
To log in and out all persons/vehicles entering and or leaving my post at all times during my shift.
To use a three+ way radio, telephone, computer(clock in/out employees and company email pass down the system), and emergency broadcast system at all times during my shift.
Competently received first aid, fire, and police reports; provided public assistance for three (3) years.
Unarmed Security Officer
I was responsible for controlling access to the facility ensuring only authorized personnel are permitted on site.
Maintain surveillance of the site to ensure the perimeter and or buildings remain secure.
Conducts routine patrols of the property to identify security risks, safety hazards, and maintenance issues.
Completes daily activity reports, Incident reports, and other mandated reports per the job assignment and post orders.
Aided in training a police department academy cadet in law enforcement and self-defense tactics; as well as assistance with crime scene evidence collection.
Unarmed Security Officer
Responsible for securing premises and personnel by patrolling the property.
Prevent losses and damage by reporting and monitoring any irregularities; informing violators of policy and procedures, restraining trespassers.
Responsible for letting authorities know of everything that is going on within the premises.
Comply and work with the company contracted to help better assist and know what is expected.
Deployed at a high-rise apartment building during times of riots, fires, and natural disasters.
Unarmed Security Officer
Circulated among visitors, patrons, and employees to preserve order and protect property.
Wrote reports on property damage, theft, the presence of unauthorized persons, and unusual occurrences.
Warned offenders about rule infractions and violations and verbally evicted violators from premises.
Successfully apprehended drug users and the mentally ill within neighborhoods; saved lives by administering emergency first aid.
Served as a private investigator conducting surveillance to identify embezzlement within an organization.
Unarmed Security Officer
Efficiently interfaces with district and support staff and negotiates realistic deadlines for needed services.
Training new officers; Coordinates and client-specific training, and annual refresher training for security personnel as well as meets Securiguard corporate training standards.
Develops staff in both technical and professional skills through performance management (coaching, counseling, disciplining, annual formal performance evaluations, recognition, etc.).
Most orders are always available for emergency reference by the security staff.
Uniform security incident report writing; review incident reports prior to submitting to the client and coordinate preliminary investigations.
Unarmed Security Officer
To assist the pharmacist in serving patients and performing a variety of tasks under the supervision of the pharmacist.
Verifying drug deliveries, storing drugs, rotating stock, ordering drugs, and maintaining inventory records.
Filling prescription, labeling prescription, filling of compounding, and filling of medication order for the final pharmacist checkup and etc.
Exhibited expert marksmanship on weapons both concealed and visible, effectively reacting to areas and situations in which civilians are threatened.
Led the team through a major phase of transition and training in security techniques, weapons proficiency, and investigative techniques.
Wrap Up
You need to make sure your resume stands out amongst the other candidates. It is the first impression that employers have of your work experience and skills. Use the samples above to put together a resume that best suits your needs and helps you get the job you want.