Police Officers enforce the laws of a town, city or state and protect the citizens where they work. Their duties include maintaining order, responding to emergencies, enforcing traffic laws, writing tickets, appearing in court, reviewing facts and recording details of incidents. To work as a Police Officer you must be twenty-one years old, have a high school degree, have a clean criminal record and attend a police academy. Police Officers must demonstrate fairness, ethical behavior, physical ability and endurance, professionalism, knowledge of how to use of a firearm, writing skills, risk assessment and apprehension techniques.
A good resume is well-written and concise. It should be neat and easy to read, listing previous experience in a logical order.
Our resume samples will provide you with multiple examples of what you can include when writing your resume.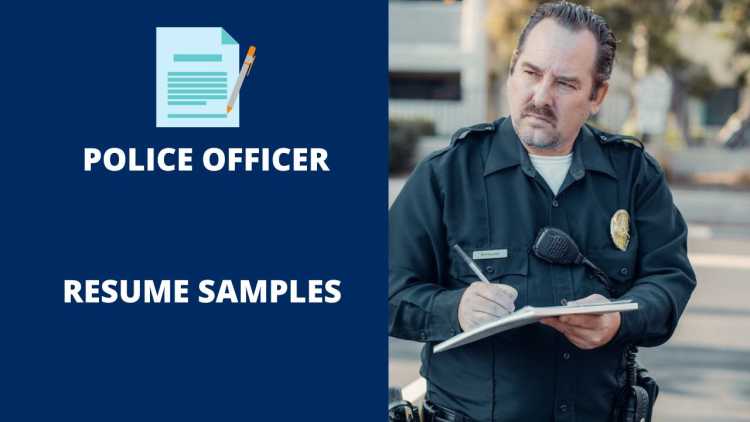 The Best Police Officer Resume Samples
These are some examples of accomplishments we have handpicked from real Police Officer resumes for your reference.
Police Officer
Enforced parking and traffic regulations and as per the necessity issued citations.
Take actions for the calls of first aid and medical assistance.
Processed, filed reports and made court appearance as per city requirements.
Aggressively participated in departmentally sponsored Crime Prevention and Community policing programs.
Led Project Lifesaver team, a program designed to protect the elderly from injury or death due to wandering.
Police Officer
I was hired as a Motorcycle Officer for traffic enforcement and accident investigation.
My duties were to enforce traffic laws and investigate minor/major and fatality crashes.
I also assisted in patrol calls for service and back up for other Officers.
My other duties were to investigate and follow up on criminal activity.
Installed concealed poles at numerous locations around the city to assist in locating missing persons.
Police Officer
Conductor of traffic surveys used to determine motoring problems within a city.
Field Sobriety Instructor used to perform testing to detect intoxication.
Author of "Drive Safe" Seminar used to bring awareness of driving habits, teaching over 20,000 motorists.
Located a missing person by utilizing the search parameters of the canine unit. The individual was located and transported to a hospital for psychiatric observation.
Thwarted an assassination attempt upon a visiting dignitary; subject apprehended with initiative by following individual for over two hours, then apprehending subject upon weapon recovery.
Police Officer
Gives information to pedestrians and motorists; Checks for any law violations; Writes citations; directs traffic and escorts convoys.
Responds to radio calls and investigates complaints, disturbances, collisions, administers first aid in emergencies.
Watches for suspicious cars, curfew violators and wanted persons; make arrests for violations of laws and ordinances.
Serves warrants and subpoenas; transports prisoners and assists in booking and jailing prisoners; appears in court.
Informed local businesses of fraudulent activity on three different occasions; businesses recognized my efforts with letters of appreciation and promises of future cooperation in investigations.
Police Officer
Develop relationship with District Attorney's office, local judges and other local law enforcement agencies.
Generate detailed reports for criminal investigation and crash investigations.
Study current state laws and stay current with department policy.
Developed outstanding communication skills throughout 30 months of training at the Police Academy.
Earned Non-Commissioned Officer (NCO) rank; organized Orientation for new recruits at the Police Academy.
Police Officer
Monitor, note, report, and investigate suspicious persons and situations, safety hazards, and unusual or illegal activity in patrol areas as well as gather preliminary investigation information to input into computer systems.
Organize and record facts to prepare incident reports as well as write probable cause affidavits, reports on arrests made, activities performed and unusual incidents observed.
Demonstrated abilities in civil leadership and enforce felony law/penal code and institutional policies, enhance public relations through community outreach, and adept at crime scrutiny to include loss avoidance and disorderly conduct.
Demonstrated superior weapon handling skills and maintained a clean record in over 500 hours of firearms training.
Earned respect from co-workers and civilians through written commendation for efforts to defuse a situation involving an armed civilian who was threatening a police officer, public official, and public safety.
Police Officer
Serves warrants and subpoenas; transports prisoners and assists in booking and jailing prisoners; appears in court.
Investigates conditions hazardous to life or property; conducts initial investigations of crime and crime scenes; may assist detectives in criminal investigation work. Collect and preserve evidence.
Writes reports, reads bulletins, reports, orders and implements indicated changes as appropriate.
Performed on-the-spot traffic control during unexpected civil disorder; directed traffic without any incidents or injuries to civilians or policemen.
Purchased and installed numerous public safety equipment items in patrol vehicles, including, but not limited to, audible and visual signaling equipment, portable radios, rifles, shotguns, transport cages for animals or people.
Police Officer
Carried out numerous law enforcement tasks including patrolling assigned areas, responding to calls for police service, investigating motor vehicle crashes, enforcing traffic laws, investigating crimes, and arresting offenders.
Wrote and prepared reports for the police department and district attorney's office with the accurateness of the reports assisted the district attorney's office in setting up cases against offenders.
Interviewed citizens, both suspects and victims, on a daily basis using different interview techniques.
Completed over 120 hours of training to maintain certifications of Officer Safety Tactics II, CPR Level C-AED (Cardiac Arrest), First Aid Level C-AED (Cardiac Arrest), and Chemical Agent Training.
Received commendation for business practices during one year of employment as retail store loss prevention specialist; documented the details of over 17 criminal cases involving shoplifting and falsified receipts.
Police Officer
Responsible for providing the same level of protection to persons on this facility as is provided to persons in the local community and performs a wide range of police duties to enforce Federal and state criminal codes and VA regulations.
Plan, organize and apply the Crime Prevention Program within the guidelines prescribed by the Assistant Administrator.
Develops measures for the protection of property under the jurisdiction of the Medical Center against theft and damage.
Resolved a tense domestic dispute without the use of deadly force by deftly handling a sight-unseen, cross-dressing, diabetic man with a 1950s .357 Magnum pistol.
Captured a fugitive for high treason against the state after an extensive manhunt throughout 45 square miles of rural wilderness.
Police Officer
Conduct complex criminal investigations involving persons and property for a department with over 1,000 sworn officers.
Managed a heavy violent crime caseload.
Investigate cases involving murder, rape, robbery, unattended death, abduction, child sexual abuse, and computer crimes involving persons.
Worked on critical cases that receive media attention.
Testify before juries, courts and administrative hearing regarding investigation results.
Police Officer
I currently work in patrol on foot and in patrol car ensuring the safety of visitors, employees and patients apprehending criminals and enforcing department policies and laws of the municipality.
I provide a professional presence and a courteous one.
I assist visitors and employees with demographics and ensure their safety and mine.
Dispatched an armed robber who had shot four people during his escape attempt with eighteen 9mm rounds from my Glock 19 pistol.
Hand-reared and reunited two young orphans who had been separated by their parents' death in a tragic car accident; gained their trust by fully caring for them while they were hospitalized.
Police Officer
Provided for public safety by maintaining order, responding to emergencies, protecting people and property, enforcing motor vehicle and criminal laws, and promoting good community relations.
Record facts to prepare reports that document incidents and activities.
Review facts of incidents to determine if criminal act or statute violations were involved.
Patrol specific area responding promptly to calls for assistance.
Monitor, note, report, and investigate suspicious persons and situations, safety hazards, and unusual or illegal activity in patrol area.
Wrap Up
You need to make sure your resume stands out amongst the other candidates. It is the first impression that employers have of your work experience and skills. Use the samples above to put together a resume that best suits your needs and helps you get the job you want.