Research Assistants help research in science-related jobs. Their job duties include conducting research, performing tests, interviewing, gathering information, presenting findings, and data entry. To work as a Research Assistant, you need to have a high school diploma/GED or in some cases an Associate or Bachelor's Degree. Research Assistants need to be detail-oriented, independent, efficient, self-motivated, have excellent written/verbal communication, have critical thinking skills, and time management skills to be successful.
A good resume is well-written and concise. It should be neat and easy to read, listing previous experience in a logical order.
Our resume samples will provide you with multiple examples of what you can include when writing your resume.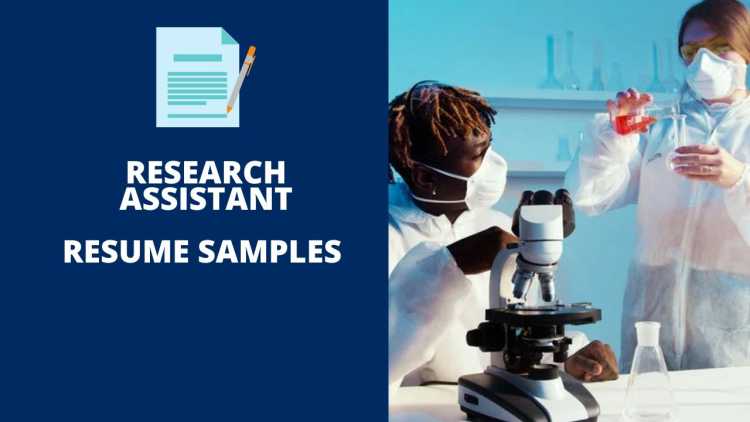 The Best Research Assistant Resume Samples
These are some examples of accomplishments we have handpicked from real Research Assistant resumes for your reference.
Research Assistant
Developed Graphical User Interface for Orthopedic Rehab device using LabVIEW.
Optimized Arduino C program to increase the controller efficiency.
Improvised the design of a Rehab controller and documented the supporting DFMEA for the device.
Assembled the rehab controller circuit and performed quality assurance testing.
Aided in grant writing, conducting market analyses, and compiling information on financing programs available through the Small Business Administration.
Research Assistant
Analysis of Protein structure by running Molecular dynamics simulations with the help of NAMD & VMD.
Molecular dynamics (MD) simulations are conducted to compute atomic trajectories by solving equations of motion numerically using empirical force fields, such as the CHARMM force field, that approximate the actual atomic force in biopolymer systems the prime focus is particularly on Steered Molecular Dynamics by which elastic properties of the protein subjected to simulation is determined, mainly on Tau Protein.
The Research objectives are to Obtain tensile stress-strain response of tau protein at different strain rate and Establish a viscoelastic model using simulation data.
Gathered required data for two research projects; successfully completed both projects by 10/30/2011.Commented project management techniques to a colleague during a meeting.
Accurately evaluated a colleague's performance during a meeting.
Research Assistant
Investigated and developed applications of the coated SWCNTs on Photovoltaic cell/Ambient light sensor/Proximity sensor.
Modified the fabrication processing of OPVs device and sensor based on SWCNTs materials with efficient patterning by photolithography and e-beam lithography to increase the conductivity.
Prepared Technical Documents-Operation Manuals and Standard Operating Procedure within the laboratory.
Co-authored papers for the quarterly publication of a research team.
Analyzed data, created spreadsheets, and aided in data entry to a variety of projects.
Research Assistant
Helped with the research on improving currently designed algorithms used for GPS tracking on urban areas.
Designed and documentation of algorithm functionality with reports explaining the improved runtime.
Unit testing and function testing after changing the implementation.
Designed and analyze the data structures according to the time and space efficiency usage.
Conducted email and telephone interviews with experts.
Research Assistant
Assisted research professor in identifying and analyzing tobacco advertisements in current media.
Conduct literature reviews relating to advertising and its influence on health care outcomes.
Organize data collection for submission to tobacco regulation administrations.
Created database entries to keep project tracking apprised of documents that needed attention.
Commented on various aspects of research reports as requested by project supervisors in order to ensure accuracy and be understood by all.
Research Assistant
Built a time series catalog of galaxies with the current longest time baselines using large sky survey data.
Intensively ran data selections using SQL, data analysis and visualization using Python for astronomical catalogs and images.
Created a more reliable method to search periodic variations from astronomical time-series data and successfully detected the signals of Black Hole Binaries.
Implemented Monte Carlo method to simulate the observations; numerically investigated the biases in the periodic signal selections.
Performed well-designed simulations to guide further arrangement of observations.
Research Assistant
Produce a matrix for the Implementation plan of Point Source and Nonpoint Source Best Management Practices/Management Measures.
Identify all educational programs available to stakeholders.
Calculate the Geomean of Bacteria Impaired River segments by sorting through water sample data taken from the Surface Water Quality Web. Reporting Tool and compile into a readable file by using Excel software.
Develop and maintain a positive approach and attitude by being aware of the State and Nations goals for each watershed.
Organized files and documented correspondence for dissemination as the project was completed.
Research Assistant
Model multidimensional PDE using pseudospectral numerical methods and adaptive RungeKutta solver, written in C++.
Wrote and maintain complex code from scratch, integrating open source FFTW package.
Optimize code for large systems and ensembles using MPI on the Maneframe supercomputer.
Coordinated the collection, evaluation, and organization of research data for a team of medical researchers.
Maintained accuracy and consistency in the recording of research participants' data.
Research Assistant
Created reports as per user requirement using SQL Server reporting services ( SSRS) which delivers enterprise & Web-enabled reports.
Expert in creating Calculated Measures and Dimension Members using SSAS, Mathematical Formulas, and User-defined functions.
Analyzed the dataset to find the best investment opportunities among 1000 potentially interesting startups.
Worked with static set, dynamic set, parameters, reference lines to find the startup companies with High revenue, Low expense.
Researched grant opportunities to finance our research activities.
Research Assistant
Developed a procedure for studying the effect of blood rheology on cholesterol deposition.
Modeling the blood behavior under the presence of stenosis in the capillary.
Developed a procedure for modeling different geometries of micromixers.
Modeling of the velocity profile and electrostatic potential in annular geometry.
Assisted in writing confidential correspondence with local and national foundations to secure funding for our seminar work.
Research Assistant
Assists in collecting, documenting, and logging clinical research data according to the study protocol, sponsor guidelines and FDA requirements.
Schedules patients visits, performs all administrative tasks for entire study and sets up for all future visits.
Obtains manual vital signs, ECGs, and Blood specimens.
Packs and ships specimens daily or monthly according to protocol.
Responsible for meetings with sponsors and monitors to discuss study progress.
Research Assistant
Developed recruitment and retention strategies that yielded a survey response rate almost 10% above goal and interview retention of more than 95% for second wave re-contact.
Streamlined first wave data analysis and second wave data collection process to eliminate redundant steps, reduce time to complete tasks, and improve second wave preparation procedure.
Prepared written reports including peer-reviewed publications, department reports, and grant proposals.
Founded and directed an international community health awareness organization by coordinating volunteer researchers from several nations.
Performed duties necessary to ensure the continuity of activities in the medical research laboratory.
Wrap Up
You need to make sure your resume stands out amongst the other candidates. It is the first impression that employers have of your work experience and skills. Use the samples above to put together a resume that best suits your needs and helps you get the job you want.