A senior account manager oversees other account managers and heads cost negotiation and supply agreements. Their duties include attracting clients, building and maintaining client relationships, internally coordinating their team, workflow optimization, reporting sales results, and ensuring their team hits performance milestones. To work as a senior account manager you need a bachelor's degree in business administration, sales, or a related field. Senior account managers must demonstrate knowledge of the industry, leadership, team management, collaboration, customer service, relationship building, analytical and organizational skills, problem-solving, and computer literacy.
A good resume is well-written and concise. It should be neat and easy to read, listing previous experience in a logical order.
Our resume samples will provide you with multiple examples of what you can include when writing your resume.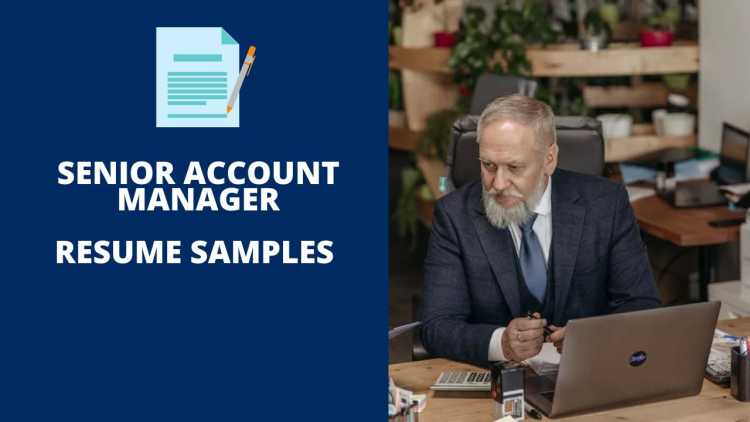 The Best Senior Account Manager Resume Samples
These are some examples of accomplishments we have handpicked from real Senior Account Manager resumes for your reference.
Senior Account Manager
Leader of team of Account Mangers which manage multiple accounts.
2nd level contact for key clients & brokers of varied sizes and across different industries.
Managed complex accounts by providing long and short-term strategies that met or exceeded client/broker expectations.
Provided high level of service & strategic solutions to assigned accounts to support client retention.
Increased productivity and efficiency in the office through honest, professional, and ethical behavior.
Account Manager
Collect payments from customers, make sure every account is current and in order.
Daily call through as well as collecting/repossessing past due accounts.
Able to de escalate situations as well as dissection of past due files. Ect.
Able to deliver and lift 300lbs + with dolly/floor dolly/ etc.
Demonstrated professionalism through the consistent accuracy and timeliness of financial information reporting.
Account Manager
As an account manager I was responsible for direct sales and membership follow up of all my clients.
I made extensive phone calls to hot leads and potential members on a daily basis.
I tracked and logged paper work and kept records of all my efforts to reach out to clients and made extensive notes about all my new members as to make sure they were connected in all the departments of the club.
Achieved a leadership position, overseeing a staff of 14 employees and managing client accounts exceeding $10 million.
Worked closely with both internal and external clients to coordinate auditing procedures for loans under audit, loan servicing, accounting records, and loan servicing metrics.
Account Manager
Responsible for all facets of medical billing and accounts receivable management including charge entry, payment posting, customer service and follow-up in accordance with practice protocol with an emphasis on maximizing patient satisfaction and profitability.
Manage system at the time of charge entry to ensure accuracy and to provide feedback to the other front office staff regarding patient registration.
Responsible for reviewing the physician's coding at the time of charge entry to ensure accuracy, timely payments, and to maximize revenue.
Developed effective relationships with clients to maintain trust in light of honesty and fairness during auditing procedures; achieved an excellent ranking in client satisfaction surveys.
Accountable for R&D (Research & Development) cost analysis and large account fee structure analysis.
Account Manager
Establishing financial status by developing and implementing systems for collecting, analyzing, verifying, and reporting financial information, and managing staff.
Managing a sales team, customer service departments, and account executives to ensure that operations are running smoothly, clients are satisfied, and funds are being spent properly.
Creates budgets, forecasts, and schedules to make sure that products and projects are ready on time and running correctly.
Responsible for keeping clients pleased by solving account problems, while obtaining a thorough knowledge of the company's products and services.
Led a team of twenty-two bookkeepers; defined their roles and responsibilities, planned work schedules, and directed the effectiveness of the accounts payable process.
Account Manager
Establishing and managing ongoing relationships with customers and local businesses, with a focus on building rapport.
Ensuring all compliance standards for conduct, confidentiality, and accurate reporting are met.
Improving marketing initiatives by segmenting customers based on purchase behavior to increase.
Handled the entire post-closing audit cycle for corporate clients in a timely manner to meet auditing deadlines.
Increased overall efficiency of the account payable department by 20%; managed to cut down on errors in voucher issuance and streamline electronic payment processing.
Account Manager
Answering service calls by helping current customers with needs policy changes, help understanding invoices , solving problems quickly and efficiently.
Run lists for potential multi-line opportunities within current customer database to expand business. Utilizing sales promotions and discounts to expand and achieve greater customer product adoption.
Ability to explain to customers, in-depth products details to verify they have a firm understanding of what their policy actually covers.
Ability to communicate with multiple internal and external individuals to verify in a constructive manner issues that may affect product offerings.
Trained subordinates to take on added responsibilities; motivated them to continuously improve processes by evaluating workflow and cost-cutting methods.
Account Manager
Increase account penetration with strategic sales of products and services.
Communicate proactively with all customers to strengthen and expand relationships.
Persuade current customers to sign written agreements by providing ongoing information of contract details and use of strong negotiation skills.
Generate revenue growth by utilizing consultative selling skills in conjunction with value propositions.
Achieved new business development of over $1M in annual revenue, delivering superior results as a part of a team that made the company one of the top firms in the industry.
Account Manager
Identifies and implements tactics aimed at influencing run rate associated sales such as overall pricing strategy, custom opportunities.
Map out key contacts, key labs, key decision makers, to prioritize prospecting efforts, accounts and opportunities.
Utilizes all internal resources and systems to provide quotations and/or negotiate long term pricing for continued and incremental growth of the territory.
Achieved maximum reduction in fees and the largest increase in revenue for a client over a five-year period, adding $5M to their bottom line.
Efficient processing and turnaround for complex audit requests for IRS, assisted corporations through tough times, increased profits by identifying high-risk clients, and exploring cost-saving measures.
Account Manager
Managed a client portfolio of 20-25 clients at one time, with an open position list ranging from 50 – 150 open positions at one time.
Conducted weekly phone calls with each client to review open positions, candidate status and feedback.
Managed a Vendor Partnership with other Recruiting Agencies nationwide.
Managed an internal staff of 10 Recruiters, as well as the Contingent Employees located at clients nationwide.
Developed current and past clients who reported growth rate increases from 15%–27% and more.
Account Manager
Directed IT Sales Staff in prospecting, sales meeting, proposal creation, RFI/RFP completion and new client MSA execution, client job order intake calls.
Directed IT Recruiting Staff on allocation, understanding of open client requirements, contractor questions, on/off boarding requirements.
Directed Administrative Staff on contractor on/offboarding requirements (background and drug test administration, new hire paperwork, time sheet reporting, expense and payroll check administration).
Head of a large accounting staff; responsible for coordinating all financial responsibilities related to the department.
Responsible for developing internal controls and preparing annual audit reports.
Account Manager
Independently manage and grow relationships with 35 different accounts.
Maintain constant contact with clients to develop offering and answer needs.
Conducted performance audits on a regular basis and as needed with customers and carriers.
Oversaw maintenance and updating of client communication logs.
Managed project budgets by supervising staff and establishing work schedules.
Wrap Up
You need to make sure your resume stands out amongst the other candidates. It is the first impression that employers have of your work experience and skills. Use the samples above to put together a resume that best suits your needs and helps you get the job you want.