An Accounts Payable Specialist is responsible for making sure all payments to vendors are handled properly. Their duties include opening mailed invoices, opening e-mailed invoices, matching purchase orders with invoices, verifying the accuracy of invoices, entering invoices into the system, tracking down discrepancies, verifying cash availability, and preparing check runs. Educational requirements to be an accounts payable specialist are a high school diploma or equivalent, but many employers would prefer an associate's degree in business administration. Skills needed are excellent documentation skills, communication, team-oriented thinking, accounting skills, math, and computer proficiency, ability to meet deadlines, organizational skills, and attention to detail.
A good resume is well-written and concise. It should be neat and easy to read, listing previous experience in a logical order.
Our resume samples will provide you with multiple examples of what you can include when writing your resume.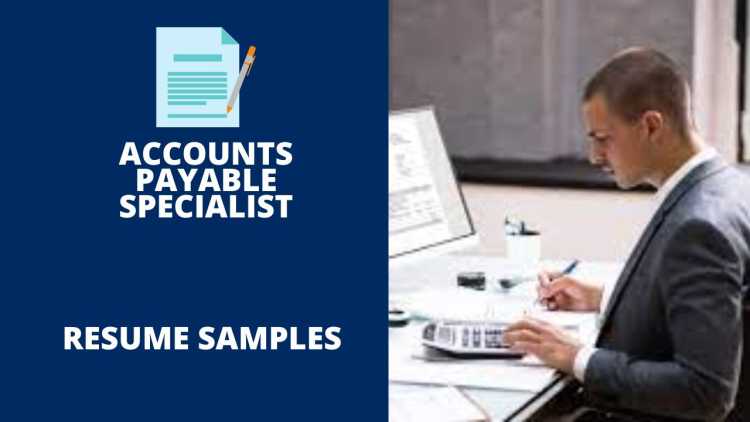 The Best Accounts Payable Specialist Resume Samples
These are some examples of accomplishments we have handpicked from real Accounts Payable Specialist resumes for your reference.
Accounts Payable Specialist
Proper coding to projects and per diem payment are made into Costpoint to meet payroll processing on a bi-weekly basis.
Billing and requisition review for procurement – assign requisition numbers and enter data for quick billing turnaround and to make sure costs are entered against the correct project in a timely manner.
Performed timely and proper data entry for project costs for monthly reconciliation and closing for billing.
Verify FSS shared services unallowable charges are correct, and informed correction team of any errors which required resolution in a 24 hour time period.
Recognized for exceeding all performance expectations for four consecutive quarters; received the highest rating possible for customer service.
Accounts Payable Specialist
Follow up on account statements and other discrepancies regarding payment of accounts, and serve as liaison between departments and vendors in the resolution of administration problems and inquires.
Attach the corresponding purchase orders to incoming invoices with all supporting documentation.
Receive, research and resolve a variety of routine internal and external inquiries concerning account status, including communicating the resolution of discrepancies to appropriate people.
Isolated and translated client questions, issues, and concerns into standardized job tickets.
Produced accurate, timely, and compliant financial reports by completing rework orders on time every quarter.
Accounts Payable Specialist
Managed and responsible for entire accounts payable cycle for Corporate office and 30 branches.
Review, codes and enters all invoices daily to include: travel expense, check request, rent for 38 buildings, insurance, and vendor invoices.
Distribute invoices to appropriate branch managers for authorization.
Isolated accounts payable errors in existing invoices and completed them on time.
Assisted clients with new accounts to ensure they were set up correctly prior to the start of business.
Accounts Payable Specialist
Efficiently and effectively verified payment accounts, entered information into systems to ensure printed checks and contact with customers, while also reconciles processed work by verifying entries and comparing system reports to balances.
Consistently decreased the monthly expense accruals from $300,000 to $120,000 thru scrutinizing of why we have unbilled payables but received in our system.
Proficiently processed accounts and incoming payments in compliance with financial policies and procedures.
Worked with General Accounting outsourcing firm to implement and maintain Accounts Payable and Accounts Receivable modules for business clients.
Employed a 160-day timeline to optimize AP processing through new computer interfaces, cross-departmental communication, and workflow management.
Accounts Payable Specialist
Obtained all signatures for checks, attached remittances to checks, and distributed checks accordingly.
Addressed escalated issues from employees and vendors regarding accounts payable.
Maintained files and documentation thoroughly and accurately, in accordance with company policy and accepted accounting practices.
Streamlined cost analysis processes by eliminating manual data entry errors and saving $20,000 in annual email messaging costs.
Achieved award as an ASPP Certified Professional after completing the training requirements at Northland Community College.
Accounts Payable Specialist
Assisted with bi-monthly payroll processing, including manual checks, benefit adjustments, personnel information maintenance, bonus and commission payments and salary adjustments.
Researched all invoice inquiries for vendors and departments within the company.
Process monthly bank and A/P reconciliations, manage weekly and daily check runs, process wires and journal entries.
Spearheaded real-time information retrieval systems by researching the business process flow of an acquisition and implementing new AP software.
Established agency-wide Accounts Payable guidelines for cash management and timely payments.
Accounts Payable Specialist
Researched billing discrepancies, review and record monthly billing adjustments and maintain up-to-date billing system.
Serve as the liaison to clients and management, ensuring that billings are done correctly and on a timely basis and answer client inquires on a timely basis including customer communication via phone, email, mail and in person.
Support the defined needs of the Accounting department and the organization, including serving as backup to other Staff Accountants.
Managed cash flow with direct deposit, credit cards, wire transfers, and manual check payments.
Trained Accounting & Finance Manager in auditing practices.
Accounts Payable Specialist
Streamline all accounts payable contract payments through Cost Point avaeraging 300 payments daily.
Engineer reconciliation process for any discrepancies, researched the cause and indentified the primary solution.
Frequently initiate any verifications and updates of vendor information accounts to maintain accurate payments.
Interacted with the President's Office in a positive manner during the implementation of new bank policies and procedures.
Lesioned on the payroll and bankcard processing systems with other departments to ensure proper payments were processed.
Accounts Payable Specialist
Enter invoices in accounting systems ensuring appropriate approval requirements, coding and matching are met.
Process journal entries needed for inter-company transactions, error corrections, and other necessary entries.
Coordinate with vendors regarding invoicing and payment inquiries and discrepancies.
Coordinated the timely completion and submission of pay inquiries for employees.
Maintained all business computer hardware, software, and peripherals; which included five laptop computers, three desktop computers, two printer/copier terminals, and a wireless network.
Accounts Payable Specialist
Processing check runs to print checks, match to backup, obtain signature before dispatching to customers.
Maintain electronic vendor files including setting up new vendors.
Communicate and resolve discrepancies or inquires with company vendors while maintaining positive relationships.
Maintain Accounts Payable reports, spreadsheets and Corporate Accounts Payable files.
Knowledgeable of all business financial reporting requirements; to include COBOL programming techniques and all business accounting processes.
Accounts Payable Specialist
Reviewed purchase orders/invoices, and expensed to the appropriate general ledger expense accounts.
Reconciled purchase orders, invoices, and payments totaling $150,000.00 per week with monthly statements.
Inspected all purchase orders to ensure all purchases were authorized by appropriate personnel.
Implemented QA, QC, GMP (Good Manufacturing Practices), ISO 9001:2000 certification requirements for the entire manufacturing process at the end of shifts.
Focused on the timely processing, compiling and mailing of invoices to ensure the company's accounts payable were current.
Accounts Payable Specialist
Review, verify, and process payment for all Accounts Payable invoices and Check Requests.
Maintain Accounts Payable files and documentation with accurate General Ledger information.
Complete and Maintain Fixed Assets and Leasehold Improvement files monthly.
Assisted CFO and Accounting Manager and perform general office duties as needed.
Worked as a member of the Accounts Payable group, making payments to hundreds of vendors, performing bank deposits, and obtaining monthly reports.
Wrap Up
You need to make sure your resume stands out amongst the other candidates. It is the first impression that employers have of your work experience and skills. Use the samples above to put together a resume that best suits your needs and helps you get the job you want.