A store manager controls how a store runs and makes sure the business stays effective. Their duties include managing money, encouraging work staff, creating promotional items, training new employees, developing business ideas, and decorating the store. To become a store manager, you may need a BS degree in Business Administration or relevant field. A store manager must demonstrate success as a retail manager, customer service skills, leadership skills, organization skills, delegation skills, communication skills, and interpersonal skills.
A good resume is well-written and concise. It should be neat and easy to read, listing previous experience in a logical order.
Our resume samples will provide you with multiple examples of what you can include when writing your resume.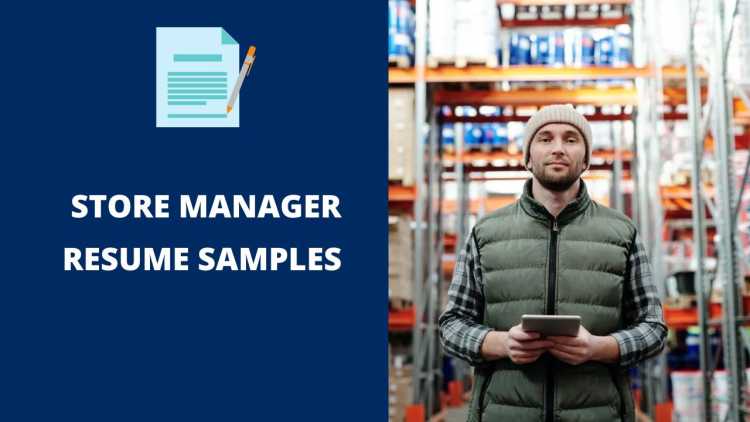 The Best Store Manager Resume Samples
These are some examples of accomplishments we have handpicked from real Store Manager resumes for your reference.
Store Manager
Directed all merchandising, inventory control, ordering, cash control and maintenance.
Reduced shrinkage to less than 5% of total stock.
Led drive for top talent acquisition and developed three assistant managers.
Installed a customer oriented culture that promoted personal development and managing the customer experience.
Assumed managerial responsibilities of an underperforming store; successfully increased sales by 67% within six months.
Store Manager
Actual sales to goal were recorded at 100.9%, as well as a 0.94% increase over previous fiscal year sales.
Accountable for two annual comprehensive physical inventories, maintaining accurate inventory results throughout the year by analyzing weekly shipment reports and merchandise transfers.
Managed the store and provided exceptional customer service while maintaining full compliance with a variety of operational requirements such as interviewing, hiring, and training, maintaining teammate performance, and managing payroll.
Provided excellent customer service and trained personnel in proper retail techniques; achieved top sales per square foot in the state during 2001.
Introduced new merchandising techniques to the assigned store such as window displays, seasonal sales, and theme days; realized a 40% increase in overall revenues.
Store Manager
Planning and implementation of all store processes, including ordering, stocking, receiving, presentation, selling, staffing and support.
Training all new employees, ordering to ensure that we meet or exceed of stock targets, evaluate operating procedures, receiving statements to identify business trends including sales profitability and turn.
Maintained accurate inventory levels by controlling damages, markdowns, scanning.
Also, knowledge of office procedures and cash handlings.
Recognized as an excellent employee by District Manager for rapid improvement of store performance and positive contributions to corporate financial results.
Store Manager
Motivating the store team to reinforce customer service and ensure the store consistently executes all operational functions to company standards.
Essential Functions: Help achieve and/or exceed all financial goals established for the store.
To build and develop a team of qualified Sales Associates who can achieve established goals and objectives.
Developed and trained personnel on Customer Service Excellence program which resulted in a 90% customer satisfaction rating; number one rated store out of five in District.
Presided over three profitable stores which recorded increases in sales and profits from fiscal year to fiscal year.
Store Manager
Authorize and sign for refunds and overrides; count register; deposit money in bank.
Assisted in ensuring the financial integrity of the store through strict cashier accountability, key control, and adherence to company security practices and cash control procedures.
Scheduling employees; enter payroll information into computer.
Review operating statements to identify business trends (including sales, profitability, and turn), expense control opportunities, potential shrink, and vendors.
Trained over twenty staff members, including how to accurately run the point of sale register system, use the POS inventory system, and scan UPC codes for accurate inventory count.
Store Manager
Highest point of contact within this location. Responsible for day-to-day operations of the entire facility.
Directed supervisor of staff; leadership & staff development, training, hiring, and corrective action.
Customer service advocate, manage customer satisfaction.
Maintain daily transaction records, weekly reporting, profit & loss, & inventory control.
Received top awards for cost savings and performance at two of three locations.
Store Manager
Overseeing staff including hiring, ongoing training, and making sure staff is exceeding goals.
Great customer service and driving sales.
Opening and closing store while maintaining daily operations.
Setting store planogram (visuals) and marketing.
Managed operations at four locations which received 80 percent repeat clientele, including food/beverage services like flash-frozen Yogurt drinks.
Store Manager
Professionally performed all activities and duties to operate and maintain store operations, which included employee management, staff scheduling, money and bank transactions, inventory control and stock rotations.
Responsible for store opening and closing procedures, correct distribution of cash, cash register procedures, making nightly bank deposits, accurately completing the daily sales report.
Managed employee scheduling, time cards, and payroll.
Increased sales among customers by providing new products during a time when all competitors were reducing stock to retain cash flow.
Purchased, maintained, and sold the inventory at the rate of $150 an hour.
Store Manager
Facilitated training employees in engaging customers, packaging items, and operating the shipment and cash register systems to minimize expenses and maximize revenues.
Responsible for handling UPS claims' processes for lost or damaged shipments in an efficient manner.
Opened store house accounts and gained clients by using friendly and personal sales tactics.
Educated more than 300 sales associates and the management staff on sales techniques to triple store revenues in one year.
Maintained an excellent customer base by implementing weekly point-of-sale reports and maintaining a 5% discount for repeat business.
Store Manager
Results-driven Store Manager 10+ years experience working in a diverse, fast paced, and demanding retail industry.
Excellent communicator with ability to establish rapport in a highly skilled management environment.
Ambitious manager with motivation to exceed customer satisfaction and positively lead teams that contribute to company success.
Won the "Dollar A Minute" award.
Won outstanding service award by exceeding delivery schedules while maintaining quality standards in merchandise as well as sales points of sale.
Store Manager
Daily duties include generating sales, building customer relationships, and performing outstanding customer service.
Recruit, train and supervise as well as coach and develop employees.
Always had an energetic, motivating demeanor; detail oriented with exceptional follow-through and possess superior leadership and communication skills.
Distinguished myself as a store manager for my positive attitude, leadership skills, and hard work.
Highly respected by all employees. Always found a way to overcome any obstacle in order to make customer's life easier.
Store Manager
Operated the shipment and cash register systems to minimize expenses and maximize revenues.
Facilitated training employees in engaging customers and packaging items.
Resolved customer complaints and issues with empathy and efficiency.
Increased over-all sales almost 10% from 2016-2017 at one of the most top-rated stores in the region.
Went above and beyond the call of duty to ensure the continuity of mindset, customer service, and food quality.
Wrap Up
You need to make sure your resume stands out amongst the other candidates. It is the first impression that employers have of your work experience and skills. Use the samples above to put together a resume that best suits your needs and helps you get the job you want.