Summer Camp Counselors supervise and plan camper activities at a Summer Camp. They oversee and teach outdoor activities like swimming, hiking, zipline, etc. and are in charge of camper safety, equipment, and meals. There are no formal education requirements; a high school diploma or GED is preferred, especially with CPR and First Aid Certification. Applicants must have strong teamwork, leadership, organization, and decision-making skills, have excellent sportsmanship, and be good with children.
A good resume is well-written and concise. It should be neat and easy to read, listing previous experience in a logical order.
Our resume samples will provide you with multiple examples of what you can include when writing your resume.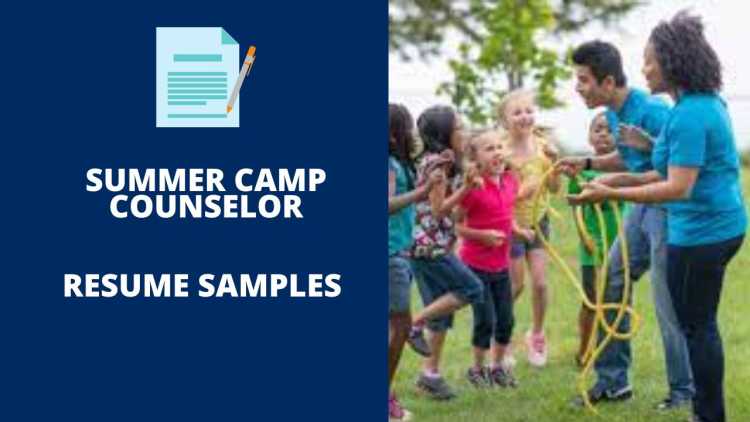 The Best Summer Camp Counselor Resume Samples
These are some examples of accomplishments we have handpicked from real Summer Camp Counselor resumes for your reference.
Summer Camp Counselor
Worked as a summer camp counselor in their day camp program for young adults who have special needs.
Supervised care and activities that the students participated in – Supervised bus transportation to and from the camp facility daily for students who used the camp transportation system.
Led a variety of activities including archery, team building games, rock wall, swimming, and science experiments.
Recognized by the Camp Director for motivation and guidance to younger campers.
Assisted in organizing group activities and participating in group games, sports, and activities.
Summer Camp Counselor
I currently work for the city of dallas my job is to coordinate with other staff employees as well as created a healthy, friendly, & fun environment for the children.
Creating schedules each week for the children to have activities as well as go on field trips to learn and teach them healthy personal skills & interpersonal skills that will help them in every day life.
My job also consists of understanding the children as more then a camp counselor but also a guide for good decision making in the future and have fun learning.
Provided leadership to other counselors and younger campers by planning trips and outings for the campers to participate in with adult supervision.
Organized weekly talent show with creative song parody writing; won third place at the regional camp counselor talent show.
Summer Camp Counselor
Ensures the physical, mental, and emotional safety of campers, facilitates daily camp activities with groups and individuals, implements weekly programming, and facilitates community building within the camper group, as well as within the greater camp organization.
Responsible for providing unit information reports, data, and daily logs to the camp management team.
Responsible for maintaining effective working relationships with staff and creating harmonious relationships with campers, parents, and staff.
Receptive to new ideas through positive communication with peers; sensitive to feelings of other coworkers through active listening skills.
Developed, implemented, and maintained the rules and procedures for the camp.
YMCA Summer Camp Counselor
Supervise and participate with children during all large and small group activities, and not congregate with other adults in one place.
Provided age appropriate group activities based on the curriculum and weekly theme: arts and crafts, group games, team building, physical activity games, opening and closing ceremonies, mealtime, group discussion.
Be alert to changes in children's behavior that may signal abuse or neglect.
Created new and fun experiences for campers with games, contests, ropes courses, and a scavenger hunt.
Organized and supervised activities that involved teamwork in sports; clean up after each activity in all areas of the camp.
Camp Counselor
Coordinate with the staff the activities of 80+ students ages 3-12.
Teach students the importance of proper nutrition and physical activity.
Oversee the bookkeeping and cash handling of payments and fees for the program.
Provided a safe fun environment for the students.
Instructed dozens of children every week on group games and leadership principles.
Camp Counselor
Planned and implemented the camp's current internship program.
Worked as a caretaker for children ages 6-17.
Organized large-group activities for up to 100 participants.
Learned to be flexible and work under pressure.
Provided individualized counseling for each camper to help them overcome any problems that surfaced during activities.
Summer Camp Counselor
Led large groups of children in various outdoor and indoor activities.
Exercised and conducted a safe environment for children and staff alike.
Worked closely with other camp staff to formulate ways to execute daily plans.
Established feedback with staff to help carry out additional methods to promote daily goals and develop in the workplace.
Helped hundreds of children to develop positive self-esteem, discipline, and the ability to work cooperatively with others.
Summer Camp Counselor
Directed daily functions for summer camp dedicated to creating engaging recreational opportunities for children, adults, and families.
Designed and implement weekly schedule, activities, and programming for circus camp group.
Organize and lead small and large group activities such as crafts, nature, games, swimming, archery, family night, and shows at the end of 2 weeks.
Identify and respond to camper behavioral issues, and report concerns to camp leadership.
Communicate with parents regarding participant experiences and expectations.
Summer Camp Counselor
Responsible for providing a safe environment for the children in the program.
In charge of keeping the children entertained throughout the summer.
Provided great communication skills with my coworkers as well as the children in the program.
Discussed child development, psychology, and sociology in conjunction with a variety of age groups.
Facilitated activities for children ranging from birth (infants), elementary school, middle school, and high school.
Summer Camp Counselor
Supervise campers ages 5-14 in all Summer Camp activities such as active sports, field trips, and during swim time in the branch's swimming pools.
Collaborate with co-counselors to provide the safest, most enriching summer camp environment for our campers.
Prepared and execute fun, age-appropriate and engaging lessons for the campers on a weekly basis.
Formed positive relationships with young people, acted as their mentor to help them build strong character.
Performed as an athlete and counselor in summer sports camps organized by school districts.
Summer Camp Counselor
Supervised and guided campers throughout their daily camp activities.
Ensured campers' well-being and made their camp experience as fun as possible.
Provided emotional support for homesick campers.
Discussed the importance of physical fitness and a healthy lifestyle in public seminars.
Soaked wet with exhilaration while swimming at the public pool after performing a "Jumping Jack" and a "Belly Flop."
Summer Camp Counselor
Led large groups of children daily in on-campus and off-campus activities.
Communicate frequently with co-workers and supervisor about daily activities and scheduling.
Speak to parents daily during drop-off and pick-up about the agenda for the day/week.
Completed two hospital volunteer work sessions at two clinics during which I washed dishes and mounted photographs in frames for display.
Helped maintains safety on bus rides by utilizing the emergency stop button when needed.
Wrap Up
You need to make sure your resume stands out amongst the other candidates. It is the first impression that employers have of your work experience and skills. Use the samples above to put together a resume that best suits your needs and helps you get the job you want.