Professional Painters paint buildings, houses, boats, cars, trucks, and other large structures. Their duties include preparing surfaces, maintaining equipment used for painting, moving items that are being painted, and protecting people and property around the area being worked on. Professional painters typically need a high school diploma along with certification (like an apprenticeship) or previous working experience as a painter. They must have physical strength, stamina, attention to detail, excellent communication skills, active listening skills, problem-solving skills, critical thinking skills, and the ability to follow instructions.
A good resume is well-written and concise. It should be neat and easy to read, listing previous experience in a logical order.
Our resume samples will provide you with multiple examples of what you can include when writing your resume.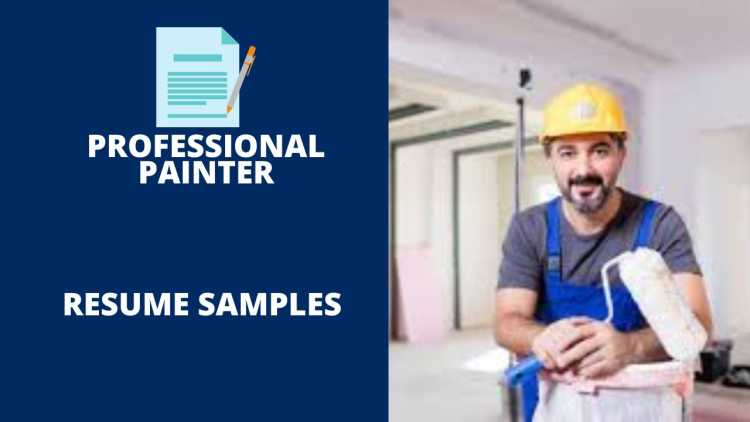 The Best Professional Painter Resume Samples
These are some examples of accomplishments we have handpicked from real Professional Painter (not artist, wall painting, etc.) resumes for your reference.
Painter
My responsibility as a painter was to prep before work.
Make sure to have all the tools that I need.
I have to make sure to tape off edges and paint.
Other responsibilities as a painter I had to do at work each day is to bring an open mind at work and be aware of my surroundings and others because safety is best.
Executed a variety of painting projects for residential and commercial – private homes, schools, churches, hospitals, banks, government buildings etc.
Painter
Experienced in a fabrication shop, interior / exterior structure painting and refinishing.
Applied liner coatings to tanks and custom box/freight.
Utilized many painting deployments such as alkyds, epoxies urethanes, asphalt and zinc.
Exceptionally capable of using spray rig/gun, brushes, and rollers, advance familiarity with commercial grade airless' (4-5man rig), and conventional cup guns or HVLP.
Very familiar painting to Specs ordered using mil gauges to determine thickness.
Painter
Removing old paint, priming surfaces, choosing materials, selecting and mixing colors and cleaning up job sites.
Sandpaper, wire brushes, scrapers, bucket blasting needle gunning may be used to prepare a surface.
Holes and divots are filled with putty, plaster or caulk.
Professional painters must also ensure that surfaces are not susceptible to moisture by sealing cracks and corners where building materials meet.
Performed all phases of the job to meet schedule deadlines for completion in a timely manner.
Painter
Prepared interior surfaces for painting by washing and patching small imperfections.
Prepared exterior surfaces by power washing, soda blasting, and repairing structural defects.
Tape and cover all areas not to be painted, such as windows and doors.
Determine the correct type of paint according to the surface type and weather conditions.
Paint interior and exterior dry walls of buildings using hand and portable tools.
Painter
Brush, spray, or hand-rub finishing ingredients, such as paint, oil, stain, or wax, onto and into wood grain; then apply lacquer or other sealers.
Smooth, shape, and touch-up surfaces to prepare them for finishing, using sandpaper, pumice stones, steel wool, chisels, sanders, or grinders.
Examine furniture to determine the extent of damage or deterioration, and to decide on the best method for repair or restoration.
Maintained cleanliness and sanitation on job sites through preparation and clean-up practices.
Delivered top quality and artistic results while adhering to the project guidelines.
Painter
Applies paint with brush, roller and sprayer", hangs wallpaper and vinyl and acoustical wall covering materials; glazes, refinishes and antiques woodwork; and mixes stains and paints.
Determines method, materials, and equipment needed to complete job assignments.
Keeps a record for each project: materials used, colors, textures, locations, dates, and tasks performed.
Performed with professionalism in a manner that displayed high levels of skill and dedication to the companies' organization goals.
Performed with a team under tight time and budget constraints.
Painter
Calculate amounts of required materials and estimate costs, based on surface measurements or work orders.
Read work orders or receive instructions from supervisors or homeowners to determine work requirements.
Smooth surfaces, using sandpaper, scrapers, brushes, steel wool, or sanding machines.
Created five original paintings for a client that involved an in depth research of the subject, script development, and multiple revisions.
Contributed original art to a client that was selected from the top 10% of responses from the hundreds of work submitted in an artist competition.
Painter
Liaison between Home Owner, General Contractor, and Sub Contractors during Remodel.
Construction, Including maintenance of Workman's Calendar, Scheduling Appointments and Acquiring Quotes for the Home Owner.
Provided Color Consultations and Painting Services, including but not limited to Wall Paper Removal, Light Demolition, Cleanup, Popcorn Ceiling Removal, General Laborer, etc.
Worked with other painters to create a building entryway for a large commercial project.
Trained and taught children of all ages to paint in several mediums, including oil, acrylics, pastel, water color, and pencil.
Painter
Provided professional and high-quality paint services; ensure clean cut lines and no roller marks or dripped paint.
Worked individually as well as in a team to complete commercial and residential projects within established deadline.
Prep/tape all areas prior to painting (cover flooring, furniture, fixtures, windows, etc. using protective visqueen and dropcloths).
Published one artist book and one series of narrative paintings which were exhibited at art shows.
Received The Artist Magazine Art Award for Best Artist Book in 1999; now on their roster of artists.
Painter
Apply paint, vinyl and wallpaper including special papers and fabrics to all walls, furniture and structures.
Examine and maintain painted exterior and interior painted surfaces, trimming and fixtures.
Prepared surfaces and apply paints, stains, shading stains, and clear finishes.
Removed previous paint by means of sandblasting, scraping, sanding, hydro- blasting and steam-cleaning.
Received the "Outstanding Artist" award for 2000 from the Washington County Child Development Council for outstanding artistic contributions to children.
Painter
Prepared all surfaces for painting by removing debris, cleaning, or power washing when needed.
Operated high reach lift in order to reach high places where job needed to be performed.
Specialized in caulking, sanding, priming and spray painting.
Won the "Artists of the Year" award from The Chase Gallery; receives this award five times per year for his work with public art projects throughout the East Coast.
Completed all demand and supply painting services in a timely and professional manner.
Painter
Performed assigned weekend and holiday standby duties to respond to emergencies as scheduled by management.
Inspected work sites to take dimensions, layout work, and estimates materials required.
Prepared surfaces of sheetrock, wood, metal, and masonry; apply prime and finish paints, varnishes, lacquers and other covering materials (such as wallpaper) with brush, roller, or spray gun.
Met the timelines of many diverse projects from the large to small scale.
Developed relationships with clients and subcontractors by completing their expectations on time, within budget.
Wrap Up
You need to make sure your resume stands out amongst the other candidates. It is the first impression that employers have of your work experience and skills. Use the samples above to put together a resume that best suits your needs and helps you get the job you want.