Software quality assurance testers are responsible for ensuring a software program or application meets company standards in terms of functionality, usability, and consistency. Testers will also review the software to make sure it performs as expected. A bachelor's degree related to computer science, information technology, or a similar field is required for this position. Some organizations may require QA testers to have one year of experience in a related field or with testing software applications prior to applying for this position.
A good resume is well-written and concise. It should be neat and easy to read, listing previous experience in a logical order.
Our resume samples will provide you with multiple examples of what you can include when writing your resume.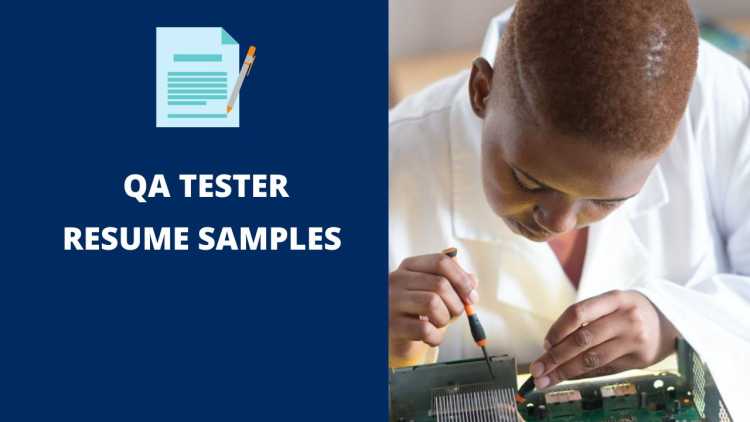 The Best QA Tester Resume Samples
These are some examples of accomplishments we have handpicked from real QA Tester resumes for your reference.
QA Tester
Performed system, unit, acceptance, regression, load and functional/performance testing on dozens of applications using both automated and manual testing methods.
Managed the Product Plus and Customer Portal applications, being a part of every release, conducting scrum meetings, writing test cases as per requirements, recording the defects in UAT instance.
Validate, verify, communicate and resolve software issues through careful, thoroughly documented testing to maximize return on investment (ROI) for IT initiatives.
Documented and recreated customer-specific data structures; reviewed and corrected software design.
Developed Unit Test Plan/Documentation; performed extensive function review.
QA Tester
Performed testing in both long and short term timelines and with local and remote teams and also tried to innovate on how to best automate testing processes.
Coordinating and tracking all projects for seamless releases using Project Management System JIRA.
Helped to set up Test data or Test environment for running Test cases.
Developed and executed Test plans and Test cases based on requirements gathered from product owners and stakeholders.
Troubleshoot bug issues; re-write code to alleviate dependencies.
QA Tester
Performed testing in both long and short term timelines and with local and remote teams and also tried to innovate on how to best automate testing processes.
Helped to set up Test data or Test environment for running Test cases.
Developed and executed Test plans and Test cases based on requirements gathered from product owners and stakeholders.
Handle issues and bugs with high priority of customer request, so that application can be operational by the required date.
Manage the overall quality of designs and applications in accordance with current standards set by customers, while staying ahead with the latest development trends in the software industry.
QA Tester
Used software development knowledge to transition software development efforts to a test-driven development process, which resulted in gains in code quality.
Identified, documented and reported bugs, errors, interoperability flaws and other issues for various software releases.
Analyze and creating database for documented defects and testing procedures to enabling accurate replications and accelerating average testing turn-around.
Enrolled in MIT and majored in Electrical Engineering; earned requirements for MBA degree through Evening course work.
Taught, tutored, mentored, and coached high school students in math and science.
QA Tester
Analyze requirements for gaps and prepare test cases after review of functional requirements.
Ensure the website functions and looks alike on popular browser stack (IE, Firefox, and Chrome).
Execute test cases, and open defects, document bug details, provide issue screenshots and replication steps to development team, and verify the bug fixes.
Improved the performance of a software product by writing formal specifications (design documents) and testing them against the code developed by other programmers.
Tested numerous individual applications to find bugs when generated test cases failed to uncover problems.
QA Tester
Projects tested: a social network application named Care2 for private software company; Lomotif –mobile application for making music videos for Instagram, Facebook and etc.; Infootball.me- web based application for football players, TRU-for finding and booking Salons and Spas.
Explored the Applications by using Exploratory Testing on New Build.
Created and utilized test-accounts to run Sanity test in both QA and production environments to ensure the critical functionalities work as expected.
Received outstanding customer service award; improved product quality as customer satisfaction scores increased.
Involved in the development of quality assurance standards that were used to evaluate/certify products.
QA Tester
Performed functional testing, integration testing, black-box testing, and system, regression testing, and user acceptance tests.
Worked in Agile Scrum Development Environment with frequently changing requirements and features set.
Extensively used SQL statements to query the Oracle Database(RDBMS) for Data Validation and Data Integrity.
Used Appium tool to tested automation test scripts on both IOS and Android platforms for native and mobile websites on mobile devices.
Consistently analyzed and replicated data, package, and program errors.
QA Tester
Played as a Tester Role in Healthcare program, coordinating with business and PO's with hands on execution.
Implemented Daily based regression testing for implement the continues testing and continues delivery in devOps.
Reviewed project documents (TD, FD, design and cutover documents) as per cGMP and ISO standards.
Created and executed Test Plans/Script, Test Design Specifications, Test Case Specifications and Test Procedures.
Collaborated with QA staff members to enhance an operating program by identifying problem areas and suggesting corrective actions.
QA Tester
Participated in Test Plan Reviews, Test Case Peer Review, Test Suite Reviews, and System Test Acceptance Reviews.
Developed Test cases, Test Scripts using BRD (Business Requirements Specification Document).
Executed Regression Test cases and updated test cases to as for new changes.
Developed testing techniques that strengthened the integrity of networks by executing a comprehensive regression test on all modules.
Evaluated the feasibility of new software for the company by taking part in a trial run of programs before they were distributed to top management.
QA Tester
This project mainly consists of Finance, Banking, and Loans and Reports modules.
Banking module will take care of maintenance i.e., account openings, savings banking, Personal banking, salary account and fixed deposits etc.
Finance module will take care of the total cash inflow and out flow of the bank.
Loans module will take care of the issues and payments of all types of loans like home loans, car loans, personal loans and loans against securities.
Successfully tested software applications to ensure accuracy, relevance, and responsiveness.
QA Tester
Worked on Web, iOS, Android platforms. Helped establish a QA process internally.
Wrote multiple test plans without aid of wireframe or mock documentation.
Trained 2 employees on standardized methods of testing, bug writing, and check list/test plan writing.
Also worked closely with developers/programmers in multiple capacities including: sign off on dev/prod builds, bug assignment/ database management, daily standups, production/development meetings.
I was responsible for pulling and affixing error/crash log data to pertinent bugs in the DB.
QA Tester
Working with clients performing QA functions through UAT and regression testing to change, update, and verify client benefit packages, medical claims processing, medical enrollment, etc. Items tracked through HP Quality Center.
Translated business requirements to created test case scenarios and proceeded with end to end testing.
Also used JIRA system to report and track discrepancies for a specific client.
Edited internal corporate website to update and streamline training and other documentation that is available to employees.
Provided feedback in the enhancement of quality control standards and testing procedures.
Wrap Up
You need to make sure your resume stands out amongst the other candidates. It is the first impression that employers have of your work experience and skills. Use the samples above to put together a resume that best suits your needs and helps you get the job you want.