Senior Program Managers use various skills to increase the efficiency and profitability of a company. They must manage employees, oversee projects, write reports, present new proposals, implement novel strategies and monitor performance. This position requires a bachelor's degree in computer science and possibly an MBA in project management. Senior project managers must demonstrate skill in independence, leadership, organization, communication, collaboration, creativity and research.
A good resume is well-written and concise. It should be neat and easy to read, listing previous experience in a logical order.
Our resume samples will provide you with multiple examples of what you can include when writing your resume.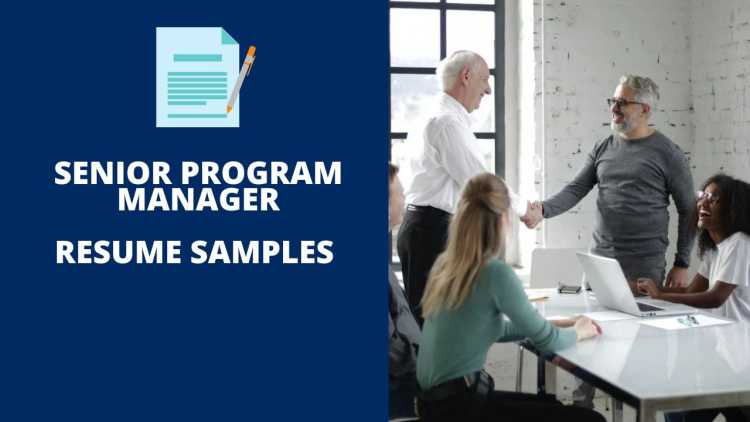 The Best Senior Program Manager Resume Samples
These are some examples of accomplishments we have handpicked from real Senior Program Manager resumes for your reference.
Senior Program Manager
Supervised five personnel and oversaw resource acquisitions; established IT inventory/control procedures; managed 271 items valued at $472K to ensure accountability.
Coordinated 40 safety spot inspections; identified and corrected deficiencies.
Mentored 26 Airmen; provided time management skills training–shaped future leaders, maximized proficiency.
Created how-to-video, saving 208 study hours per year for 1K+ students resulting in recognition from senior leadership.
Demonstrated ability to establish a high level of accomplishments in an area of expertise.
Senior Program Manager
Consistently met application goals and maintained a pipeline for 35 graduate programs/certificates, roughly twelve times that of our other program managers.
Maintained contact with industries represented and became an admissions expert in subjects ranging from research administration, biotechnology, and environmental sciences to communication, science writing and museum studies.
Promoted to Senior Program Manager in less than two years as a result of consistently performing as a leader on the team, guiding other associate program managers and program managers through call coaching and training, and working with directors on the Hopkins account to identify areas of opportunity to improve performance term-over-term.
Recognized for creating new productivity and efficiency improvements in an organizational setting.
Demonstrated ability to effectively manage and prioritize multiple projects simultaneously.
Senior Program Manager
Develop and implement the processes to ensure that EMC meets legislative obligations that relate to managing hazardous substances in their products.
Support the development and implementation of tools, reporting and processes required to manage outside suppliers, often leveraging IT resources.
Influence and manage continuous improvement of project/program processes, practices and initiatives.
Achieved success by working with both peer groups and the organization's leadership team; demonstrated the ability to gain trust, support, and commitment from others in a team environment.
Recognized for continuously improving productivity and quality while mentoring a group of junior project managers as well as mentoring peers on areas of improvement and providing feedback on their performance.
Senior Program Manager
Managed multiple engineering, manufacturing, and qualification projects of varying complexity.
Managed revenue reporting for all projects and set performance objectives for PMO.
Develop and manage all aspects of a program to include internal and external SOWs, RFQs, RFPs, etc.
Provided financial analysis of the IT budget and collaborated with department directors to optimize allocation; identified and eliminated excessive spending.
Selected, coached, and motivated a team of analysts to implement a complex data warehouse; reduced time to market by 60%.
Senior Program Manager
Involved in Implementation requirements gathering, data collection, testing and launch of generation one MSP Program to manage and track temporary employee hires.
Managed post-implementation issues including: system changes/corrections, worker uploads, process documentation and communications follow up.
Developed numerous training materials and guidelines including the Supplier Program Guide, Process Overview Doc and Custom Office Templates, which drove new user adoption success.
Defined requirements and customized enterprise software for tracking marketing campaigns; provided ROI.
Led team to streamline company-wide information exchange processes; implemented new interfaces into external services such as FedEx and UPS, reducing redundant tasks and increasing accuracy of product fulfillment.
Senior Program Manager
Managed all client deliverables, budget, and dedicated program support resources.
Responsible for analyzing, evaluating and presenting solutions to meet client needs.
Manages the implementation of standardized tracking, reporting, and procedures to ensure deliverables of established plan.
Responsible for end to end budget and profitability of assigned programs to include the signing and execution authority of all project contracts below $1M in revenue.
Established key metrics for SQL server performance monitoring; increased capability by 20% without additional hardware or personnel.
Senior Program Manager
Performed consistency checks and a comparative analysis using Magnitude software. Managed all internal and external CSR audits.
Executed corporate events such as the Global Annual Talent Contest for 8 consecutive years which held live finals in Argentina, Brazil,
Philippines and the U.S. Coordinated remote contests with video submissions uploaded on YouTube.
Managed the development of communications, training toolkits, reports, videos for internal and external users.
Directed a team of programmers to build a website that provided customers with available auto loan rates from competing banks and lenders within the specified area.
Senior Program Manager
Transitioned from a multi company operation to a one-company merger, including personnel and theater logistics support operations.
Managed a core of logistics managers and supervisors on improving by 35% contract management, supply support activities, inventory levels, and transparency across a new organization within the first 60 days of operation.
Developed a professional 200+ organization within the first 60 days of contract award, receiving outstanding ratings from the USG Contract Officer on all major contract areas.
Streamlined subcontractors guidelines, reduced excess inventory by 35%, increased fill rates by 40%, and cut by half supply transit time, generating a $325K dollar savings within my first 90 days of operations.
Reduced the development time for a new website from 60 days to 3 days by streamlining source code, removing redundancy, and completing testing prior to deployment.
Senior Program Manager
Led Transformation programs for Legacy Modernization for Dispute and Credit Application from ideation to implementation leveraging Global Agile Delivery framework.
Align with Key stakeholders across multiple technology and business teams to align on business strategy to delivery business capabilities.
Consistently achieved delivery excellence ensuring faster return on Investment and growth.
Planned and implemented testing prior to release of any software related to branch automation systems, in an effort to minimize errors.
Collaborated with database administrators from other software devises in order to standardize code base on multiple platforms (Java and .NET).
Senior Program Manager
Manage, oversee, and coordinate daily operations of the agency Social Service department and 2 Educational Programs.
Refer and provide social services to an average of 17,000 individuals per year in Education, Health, Financial Stability, Economic Development and Civic Engagement.
Responsible for managing an operating programs budget of $520K out of 5 million dollar annual agency budget.
Launch and expand the evidence-based Nurturing Program thru the Family Strengthening Program of the agency.
Supervised, contracted, and developed integrated solutions for the development of large-scale enterprise applications.
Senior Program Manager
Responsible all aspects of Cable Plant Infrastructure Support for Local Area Network (LAN) and Wireless Local Area Network (WLAN) upgrades; coordinated plans and travel for installation team; provided management and oversight for cabling upgrades/modifications to military facilities.
Ensured personnel received/updated all required occupational training (HIPAA, OSHA standards, etc.).
Results: Provided CAT6 copper and fiber optic install for 20+ Air Force, Army and Navy military hospitals worldwide; successfully renegotiated contract extension worth $780K.
Introduced and communicated new technologies to staff members; recognized by management for outstanding performance.
Proven time and time again to be an essential contributor in the creation of advanced integration solutions between complex technology systems.
Senior Program Manager
Liaison between the Business Units to understand clear concise requirements and work with Technical teams.
Strong knowledge and hand on experience in Data Conversion Integration, Business Intel projects and tools.
Strong negotiation skills with experiences working with Sourcing and Procurement during the RFPRFI process and vendor contract negotiations.
Interfaced with team members to clarify technical terminology and promote understanding of various application systems.
Managed a team being relocated; provided mentoring to new employees within a short period after relocation.
Wrap Up
You need to make sure your resume stands out amongst the other candidates. It is the first impression that employers have of your work experience and skills. Use the samples above to put together a resume that best suits your needs and helps you get the job you want.