IT Consultants help businesses by giving them advice on using information technology. Their duties include searching for IT system issues, making plans/solutions, creating a project deadline, checking security, educating staff, and reporting system effectiveness. IT Consultants need a Bachelor's degree in Computer Science or a related field; however, some employers will accept a high school diploma or GED with the right experience. IT Consultants need to be good at multi-tasking, problem-solving, analytical thinking, communication, organization, time management, and teamwork to be successful.
A good resume is well-written and concise. It should be neat and easy to read, listing previous experience in a logical order.
Our resume samples will provide you with multiple examples of what you can include when writing your resume.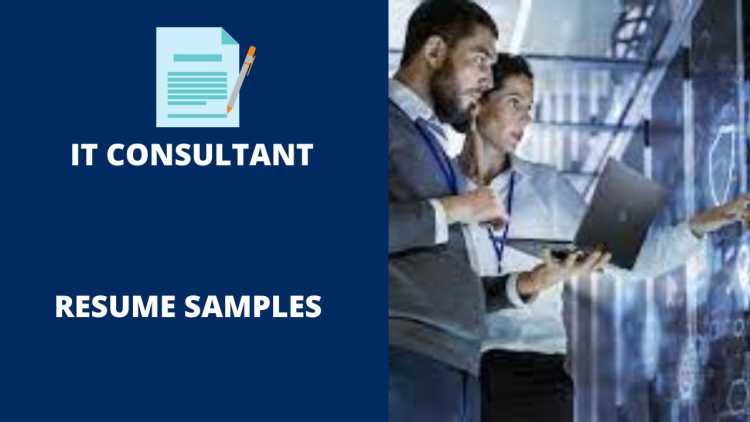 The Best IT Consultant Resume Samples
These are some examples of accomplishments we have handpicked from real IT Consultant resumes for your reference.
IT Consultant
To ensure IE11 was installed on 1200+ endpoints to support new EMR application.
The designing and implementation of traffic shaping and quality of service policies to prioritize / protect Citrix traffic for EMR access.
The configuration and deployment of 45 new and 15 existing Cisco managed security devices on all internet facing connections.
The deployment of a centrally managed end-point security software and protection.
Researched and resolved problems for a global company; maintained growth by supporting services in the Caribbean, Mexico, and Canada.
IT Consultant
Monitor the execution of strategies, keep up to date with the new technology and researched latest Information technology market trends.
Recommend the purchasing of new IT systems, presented new IT features/software and reported project progress to the management.
Manage, train, and mentor all on-boarding Doctors and new hires on Hospital Technology.
Gained recognition for completing projects on schedule and within budget; received three awards in four months for completing tasks ahead of schedule.
Achieved award as an employee of the year by displaying excellent problem-solving skills, establishing efficient methods for conducting business, monitoring project budgets, and communicating with employees to ensure goals were met.
IT Consultant
Provided Desktop support to users as well as remote sites via SCCM, remote desktop and desk-side visits.
Troubleshoot desktops, network connectivity issues; performed software installation and support; resolve all hardware problems and request.
Responsible for tracking and resolving helpdesk incidents using BMC Remedy Tool.
Install and support peripheral devices including network printers, scanners, and all USB devices.
Recognized with the award of excellence; solving complex problems while maintaining clients' satisfaction levels.
IT Consultant
Succeeded at expanding the business' scope of work beyond home computing and networking services to businesses, prompting the name change from "The Dallas Geek" to "Reynolds' IT Consulting".
Maintains a 5/5-star rating for the business on Thumbtack.com; a contract acquisition website for professionals.
Retrieved important business information from a True Crypt-encrypted hard drive that was encrypted by the previous IT manager for the president at Praxis Healthcare Solutions, LLC.
Subcontracted under Sanders PC, LLC.; upgraded Telga Corporation's Plano office server, re-mapped network drives, office equipment, and reconfigured local and group permissions.
Awarded certification as an IBM-certified IT specialist.
IT Consultant
Clarifying a client's system specifications, understanding their work practices and the nature of their business.
Analyzing IT requirements within companies and giving independent and objective advice on the use of IT.
Being involved in sales and support, and where appropriate, maintaining contact with client organizations.
Designed and implemented data structure for network security measures for a major telecommunications company.
Prepared and submitted proposals for client service calls.
IT Consultant
Responsibilities include designing IT infrastructure and providing technical consulting services for business such as asset management, backup solutions, OS imaging, software deployment, lifecycle management.
Implement technology projects to improve business processes by utilizing my years of IT experience.
Proficient with Active Directory, managing global policies, DNS, DHCP, Directory Services, Network File Systems, and management tools.
Proven ability to quickly learn new technology and information systems, including data processing, client communication, and networking.
Trained over 20 people in a variety of computer applications.
IT Consultant
Working for the company of Blackboard has taught me a lot because it is different to solve a customer's issue over the phone then in person.
Some of the things I dealt with consisting of issuing license codes to new and existing customers, providing base level IT support to company personnel, creating new accounts, resetting passwords and configuring access for users.
Dealing with customers issues over the phone you must display courtesy and strong interpersonal skills with all customer interactions and as well maintain composure and patience in face of difficult customer situations.
Successfully completed multiple projects under budget time constraints.
Troubleshoot and keep the company's operating systems and applications up to date.
IT Consultant
Managed requirement gathering sessions with business owners and technical lead within project timelines. Facilitating and tracking project action items sessions with client and software vendor relations.
Creation of business specifications to include diagrams, grids, reporting and screen mock ups as client trace ability to initial scope.
Responsible for direct testing of implementation, configurations to ensure system deliverables and process flows meet business/client scope.
Provide professional advice to branch managers regarding the organization and implementation of new systems.
Develop training courses and support materials for end-user communities of large companies in the DC area while promoting an atmosphere of teamwork.
IT Consultant
Maintaining, Updating and adding relevant information to our central management system so the whole team is always on the same page.
Taking ownerships of issues and opportunity by creating "projects" in Podio to track and ensure progress.
Using Casper (JAMF) to created office wide deployment of things like printer drivers, programs, updates.
Work closely with geographically separated branch locations to resolve system problems as quickly as possible.
Mentor staff in solving system problems through joint problem-solving sessions, providing assistance in technical phone calls, assistance with technical documentation, resolution of non-technical issues, and accessing appropriate information on systems-related problems.
IT Consultant
Developed or update project plans for information technology projects including information such as project objectives, technologies, systems, information specifications, schedules, and funding.
Applied best practices of software development while staying abreast of advances in the practice.
Conducted computer diagnostics to investigate and resolve problems and provide technical assistance and support.
Installed and performed repairs to hardware, software and peripheral equipment, following design and installation specifications.
Managed the implementation of an enterprise software system to cut down on environmental waste.
IT Consultant
Created a process to identify customers that breached their contracts, which revealed a $1.2 Million per year loss.
Created scripting to automate data analysis and reporting (VBA, Oracle SQL, MS Access).
Created and managed an MS Access to manage large amounts of data and provide a user interface to review data, created reports, and generate files.
Enabled a company to increase profits by $1.3M and achieve customer satisfaction ratings of 85% by implementing customer relationship management software.
Reduced bottom line costs, improved business processes, and increased revenues for my employer through network services sales, project management, and consulting for senior-level executives.
IT Consultant
Implemented and designed calculation engine using best in practice methods to calculate variable incentive for 100,000+ payees, resulting in increased accuracy and efficiency of internal compensation efforts.
Showcased technical insight through walkthroughs and knowledge transfers to support client business analysts.
Improved relationships and built rapport with client team, leading to 2+ project extensions and additional work.
Managed projects using scope estimation, resource allocation, scheduling, and communication plans.
Advised clients on web technologies that may enhance their current business operations.
Wrap Up
You need to make sure your resume stands out amongst the other candidates. It is the first impression that employers have of your work experience and skills. Use the samples above to put together a resume that best suits your needs and helps you get the job you want.