An inventory clerk keeps track of stock moving in and out. Their duties include recording movements of stock, reconciling discrepancies, reporting problems to management, placing orders, maintaining inventory records, using efficient inventory management procedures, setting up loss prevention systems, keeping stock organized, and assisting in unloading deliveries. Educational requirements are a high school diploma or equivalent, but many companies look for employees with several years of experience and some college business classes. Skills needed to be an inventory clerk are – organization, math and computer proficiency, ability to focus, attention to detail, physical strength, communication skills, reporting skills, and ability to use databases.
A good resume is well-written and concise. It should be neat and easy to read, listing previous experience in a logical order.
Our resume samples will provide you with multiple examples of what you can include when writing your resume.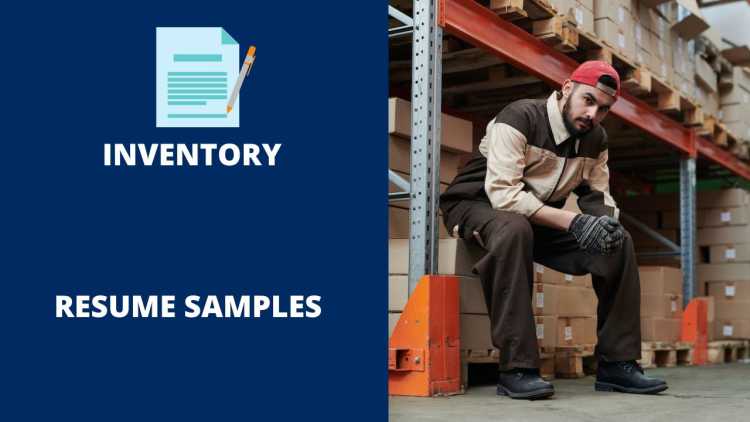 The Best Inventory Resume Samples
These are some examples of accomplishments we have handpicked from real Inventory resumes for your reference.
Inventory Clerk
Collaborated with inventory team to streamline processes and improve in-time supply.
Shelved stock in warehouse as it was received slotted it for floor distribution and completed mark outs.
Contributes to team effort by accomplishing related results as needed.
Received award for the leading department in inventory count accuracy.
Established a 90-day benchmark with inventory accuracy of over 99%.
Inventory Clerk
Responsible for maintaining sales floor, stock room and warehouse inventory.
Duties include replenishing the sales floor, quantity checks, audits, transfers and various other roles.
Also responsible for interacting and greeting customers on the sales floor, and helping to control a hospitable and organized shopping environment.
Posted a twelve-month record of zero lost items, ensuring goods were accounted for without error and returned in time for stocking.
Identified, investigated, resolved, and reported two internal theft cases.
Inventory Clerk
Analyze and compute the precise weight and dimensions for each individual stone.
Ensure items are coded with the correct price, quality, and stone identification.
Utilized Diaspark inventory program to created new tags and labels for stones and jewelry.
Achieved an annual savings of $12,700 by reducing the practice of purchasing unnecessary office supplies.
Managed inventory records during 2 years of employment as an Inventory Clerk and fulfilled orders for medical equipment.
Inventory Clerk
Stored items in an orderly and accessible manner in warehouses, tool rooms, supply rooms, or other areas.
Marked stock items using identification tags, stamps, electric marking tools, or other labeling equipment.
Examined and inspected stock items for wear or defects, reporting any damage to supervisors.
Confronted situations with tact, diplomacy, and skill by handling delicate customer complaints about damaged or missing products.
Improved productivity and successfully managed workflow during one year of employment as a Communications Assistant; prepared production schedules, analyzed expenses versus budget, and maintained quality control standards.
Inventory Clerk
Provided quality customer service support, counted items with specialized machine.
Liaison with site worker's from the various locations from inventory projects.
Communicate with management team and provide opportunity to increase sales through customer referral incentive which resulted in an increase of over 500 new accounts.
Trained staff to recognize potentials within a high-volume environment; established an excellent rapport with employees by effectively communicating daily goals.
Developed business policies which earned Certified Buyer status; resolved disputes and directed successful purchases based on knowledge gained by holding previous sales representative positions with drug companies.
Inventory Clerk
Follow up with all customers via phone and email post vehicle delivery to ensure positive CSI Input customer data.
Process lease return and trade paperwork, as well as oversee entire lease return and trade inventory.
Collect and receipt funds for all new and pre-owned vehicle transactions including dealer trades and auction purchases.
Communicate with Group1 Accounts Receivable regarding daily sales reporting.
Accurately identified and classified facility components/inventory; accurately maintained data regarding materials, quantity, and quality.
Inventory Clerk
Responsible for ensuring inventory production quality and efficiency levels and implementing corrective action as required.
Performed data entry duties into operational systems and performed inventory control on all activities related to warehouse operation, shipping / receiving.
Demonstrated ability to comprehend the need for tagging incoming and outgoing items.
Assigned a floor to a specific group of warehouse workers by obtaining language skills and personality traits necessary to fulfill their tasks.
Coordinated the distribution of goods through the company's warehouse system by periodically counting inventory and communicating with vendors.
Inventory Clerk
Achieved average per hour (APH) counting goals while ensuring accuracy and integrity of the data collected in all inventories worked.
Worked in various work environments, such as stores, warehouses, outside industries, etc., with potential exposure to cold and heat.
Demonstrated a positive presence and energy and is respectful and honest with others.
Eliminated paperwork or performed clerical duties in a timely manner (timely filing, mailing, or faxing).
Performed other duties assigned by supervisor within the scheduling parameters of the employee's position.
Inventory Clerk
Received and count stock items, and record data manually or using computers.
Stored items in an orderly and accessible manner in warehouses, tools rooms, supply rooms, or other areas.
Examine and inspect stock items for wear or defects, reporting any damage to supervisors.
Met goals of inventory accuracy and data integrity and attained an award for the department's highest average on the monthly inventory.
Increased customer satisfaction by effectively using the automated inventory system to ship requested merchandise within 1 business day of order.
Inventory Clerk
Prepares reports relating to the inventory balance, shortages, defective items.
Verifies clerical computations against physical count of stock and adjusts errors in computation or count, or investigates and reports reasons for discrepancies.
Compares inventories to office records or computes figures from records, such as sales orders, production records, or purchase invoices to obtain current inventory.
Spearheaded a mobile barcode reader program to increase productivity; minimized errors and allowed for orders to be processed more quickly for customers.
Personally oversaw shipping-related tasks, including proper handling of hazardous materials, adhering to hazardous material regulations, and shipping company procedures.
Inventory Clerk
Verify inventory computations by comparing them to physical counts of stock, and investigate discrepancies or adjust errors.
Mark stock items using identification tags, stamps, electric marking tools, or other labeling equipment.
Keep records on the use and/or damage of stock or stock handling equipment.
Examine and inspect stock items for wear or defects, reporting any damage to supervisors.
Utilized computer system to convert manual production records into a database; cut error rate by 25%.
Inventory Clerk
Maintaining detailed records of the received material quantity, status and content attributes.
Interacting with the transportation and merchandise professionals and confirming the material details as per records received by them.
Checking the production orders received from operations department and granting appropriate type and quantity of materials.
Performing clerical arithmetic and calculations of the maintained records, preparing standard work reports and forwarding it to the respective senior officials.
Presented proper paperwork and documentation to ensure that materials were in the correct location at the correct times of the day.
Wrap Up
You need to make sure your resume stands out amongst the other candidates. It is the first impression that employers have of your work experience and skills. Use the samples above to put together a resume that best suits your needs and helps you get the job you want.