Event Managers manage the planning and operation of a specific event. Their duties include planning for short and long term events, negotiating and managing contracts, finding and securing venues, hiring, training, and working with staff, managing the budget and marketing plans. To work as an Event Manager you do not require a degree but many have a Bachelor's in hotel or hospitality or another related field. Event Managers must demonstrate motivation, organization, interpersonal skills, professionalism, communication skills, ability to lead a team and provide customer service.
A good resume is well-written and concise. It should be neat and easy to read, listing previous experience in a logical order.
Our resume samples will provide you with multiple examples of what you can include when writing your resume.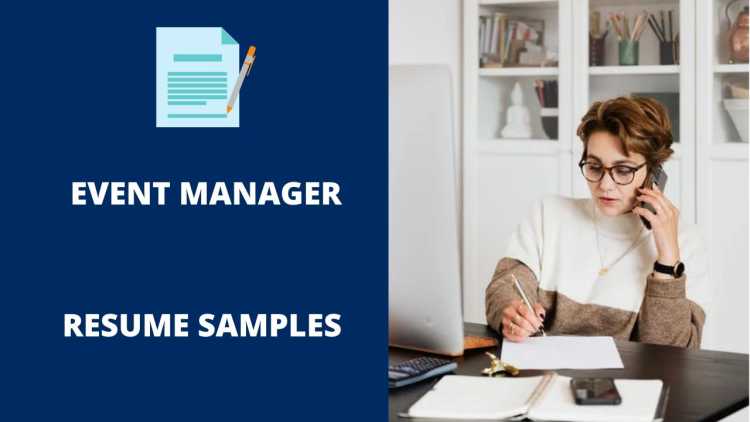 The Best Event Manager Resume Samples
These are some examples of accomplishments we have handpicked from real Event Manager resumes for your reference.
Event Manager
Led site visits and pre-event meetings with clients to discuss the flow and overview of the event and identify any areas of concern.
Synchronized all necessary departments to ensure all set ups and activities were executed in a timely manner.
Processed post-event summaries, invoices, and critiqued execution of event for general client service satisfaction.
Collaborated with the Group Sales Department in actively selling the venue to prospective clients by attending networking functions, conducting site visits, and creating initial proposals.
Collaborated with the committee to plan the annual company picnic; attracted more than 100 employees and their families.
Event Manager
Coordinated and monitored event timelines to ensure these were met.
Coordinated Logistics for all events in coordination with Marketing and production team.
Edited and designed promotional materials, Worked alongside other designers to develop event invitations.
Closed more than $400,000 in new business during three months on the road with a territory sales manager; exceeded quarterly sales goals.
Documented mortgage contracts in an organized manner according to guidelines while providing excellent customer service.
Event Manager
Synchronized logistics for all events in direct conjunction with Marketing and Production teams.
Outlined and edited promotional materials for the advertisement of the events on different platforms.
Designed and ordered promotional merchandise ("swag") for the continuous marketing effort of both SWARM Inc. and events.
Carefully planned and managed the annual Korean Culture and Arts Festival.
Assisted in the production of a new event, The Good Dog Show, a dog training contest.
Event Manager
Supervised and offered guidance to a team of 40 part-time staff members; spearheaded training efforts that aimed to prepare personnel to provide the utmost in customer service.
Completed interviewing, hiring, training and scheduling processes for personnel; worked to aid staff members in achieving their sales goals through careful mentoring of each new hire.
Increased sales lift between 30 to 50% each time an event was performed.
Devised work schedules weekly in accordance to payroll policies and procedures.
Received award from The Texas School Book Review for a 'Best Event' featuring six elementary school students presenting and performing a skit for their teachers.
Event Manager
Responsible for selling, planning and coordinating events ranging from intimate gatherings to large conferences.
Developed high-impact print advertising which resulted in year-over-year growth.
Cultivated and maintained productive working partnerships with external business leaders and community organizations.
Managed and coordinated all activities associated with events and tradeshows to ensure client satisfaction.
Event marketer for Vietnamese and Korean arts to entertain over 500 guests at the Grand Hyatt Hotel in Dallas.
Event Manager
Management of all event related documentation and coordination with Sales, property departments and customer(s) ensuring consistent high level service throughout all event phases.
Ensured events on property have seamless turnover from Sales to Event Operations to Sales.
Facilitated communication with professionals, including venue management, caterers, contractors and equipment rentals to ensure efficient execution of an event.
Discussed specific requirements and expectations concerning the event with clients: inclusive of suitable layout and theme.
Developed strong business relationships that led to increased sales of financial services products and increased referrals from clients.
Event Manager
Attended to details such as media presentations, customized banners, customized menus and photography.
Identify objectives and organize events from conception to completion for business, private, and intimate events, and develop/manage budgets accordingly.
Facilitated and oversaw events for quarterly networking events such as pub-crawls, charity fundraisers and kickball tournaments.
Coordinated volunteers for fund-raising events including food, lodging, transportation, and other logistical arrangements raised more than $35,000 for charitable organizations such as Orphans of America, Homeless Coalition Against Pedophiles (H-CAP), and Paws for People.
Managed lively events for the sales and marketing department of a non-profit organization.
Spearheaded efforts to increase the number of organizational volunteers.
Event Manager
Sold every event, worked with each group individually to determine and finalize their personal event needs such as technical, budget, room set-up, and catering.
Coordinates with various vendors to ensure minimum costs for maximum profitability.
Manages problems if they should arise and anticipates client's desires from knowing their wishes.
The accomplished goal of increasing volunteers by two-fold during the first six months of service.
Staffed multiple events and coordinated activities including coordinating office and home-based volunteer opportunities, as well as planning an annual community-wide telecommunications networking service.
Event Manager
Coordinate details such as décor, entertainment, transportation, location and equipment for a variety of events including conferences, weddings, charity events, and trade shows.
Worked with clients to identify their needs which leads to customer satisfaction.
Accurately track and report costs to ensure events are completed at or below budget.
Collaborated with an international association to create a local chapter.
Developed company production, scheduling, and flow chart using Microsoft Office Software on an IBM computer system.
Event Manager
Manage, develop, and execute a strategic plan of action for all assigned events throughout the year.
Facilitated and streamline communication between clients, departments, and vendors to accomplish a successful event.
Effectively utilize the EBMS system to insert service orders and modernize the tracking of information throughout the organization.
organization of all events by taking key responsibilities such as, planning, scheduling, budgeting, and acting as a liaison between the facility and event staff.
Supervised, organized, and coordinated a wide range of program activities for over 200 guests with diverse interests: dance, theater arts, classical music, literacy instruction.
Event Manager
Acted as company liaison with customers; listen to and resolve service complaints; respond promptly and appropriately.
Develop contacts and relationships to influence decisions, facilitate getting work done.
Enter (or oversees the entry of) the sales contract including all electrical, HVAC, permitting charges.
Serve as main customer contact during event installation and tear-down, responsible for all on-site equipment orders and final customer sign-off.
Drafted press and public relations releases for public appearances and outreach to the media.
Event Manager
Plan, coordinate, and execute meetings and conventions while serving as the main point of contact for all facilities staff and show management.
Collaborate with all departments to ensure all events are successful and meet client needs.
Ensure all building rules and regulations are followed and fire codes are maintained.
Complemented activities of workshops and demonstrations with the timely preparation of literature packets.
Maintained records of bookings by identifying guests' names, contacting them promptly to confirm attendance or notify them if they were unable or unwilling to attend programs or exhibits.
Wrap Up
You need to make sure your resume stands out amongst the other candidates. It is the first impression that employers have of your work experience and skills. Use the samples above to put together a resume that best suits your needs and helps you get the job you want.