Drafting technicians make technical drawings and plans for architecture, mechanics, electronics, and many other fields for engineers and builders to then execute. Their duties include researching structural requirements, calculating dimensions and weights, prototyping designs, drawing plans, quality control, writing user manuals for their designs and setting up production. To work as a drafting technician, you need an associate's degree in the relevant field of engineering, so an electrical drafter should have a degree in electrical engineering, while a civil drafter should have a degree in civil engineering. Drafting technicians must demonstrate mathematics, physics, plan reading, computer literacy, skill with Computer-Aided Design(CAD) software, an eye for detail, problem-solving skills, and technical writing skills.
A good resume is well-written and concise. It should be neat and easy to read, listing previous experience in a logical order.
Our resume samples will provide you with multiple examples of what you can include when writing your resume.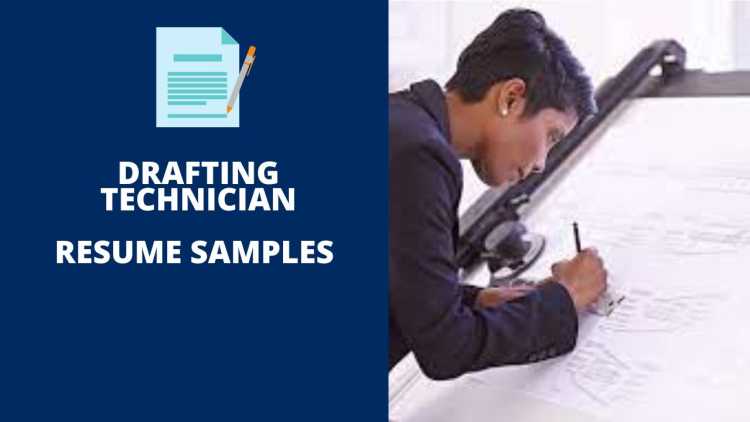 The Best Drafting Technician Resume Samples
These are some examples of accomplishments we have handpicked from real Resume Draft resumes for your reference.
Drafting Technician
Created visual aid drawings in the form of diagrams, graphs, tables and charts to log statistical information, benchmarks and timelines.
Designed content and graphic art work including all text and image composites for use in print media to attract audiences and convey information; outsource printing services.
Researched creative trends in competitive markets for opportunities having potential impact on business; use direct mail to reach selected prospects in the form of letters, brochures or flyers.
Stocked, organized, and maintained drafting supplies for North American Engineering & Plastics.
Worked as a member of a team to produce technical documents ranging from engineering plans to conceptual drawings by completing assigned tasks on time and within company guidelines.
Drafting Technician
Drafting boundary, form, slab, final, title surveys and plot plans.
Assisted in contacting clients and delivering completed surveys to them.
Deed research and building of project folders for field crew and office crew work.
Assisted in the layout and construction of commercial and residential plans and building sections.
Trained new hire engineers on the use of AutoCAD software, ensuring that they were proficient with this 3D modeling program before being placed into production positions.
Drafting Technician
In charge of interpreting existing levels of structural framing plans and identify various critical members to develop AutoCAD drawings for engineering review and analysis.
Coordinated with architectural AutoCAD files and construction documents to draft overall structural set of construction documents for pricing and permit.
Working together with structural engineer to analyze as built drawings to develop AutoCAD files in preparation for construction documents submission.
Achieved recognition for outstanding performance after meeting project deadlines and following up with internal customers in order to obtain needed information or additional approvals during the production process.
Helped clients interpret, visualize, and implement ideas by creating technical drawings, renderings, and animations.
Drafting Technician
Worked closely with other drafters and engineers using Autodesk AutoCAD to develop designs for engineering projects.
Read and interprets Engineering and field survey sketches to prepare accurate designs and detailed drawings from data supplied by Engineering personnel.
Maintain complete, readily accessible files and records of drawings.
Improved communication through the graphic design of flyers, brochures, and books.
Incorporated technical knowledge of AutoCAD applications to create accurate and precise designs in multiple dimensions.
Drafting Technician
Performs drafting assignments by applying standardized drawing techniques from detailed sketches, verbal instructions and notes under the direction of an engineer.
Creates sketches, layouts, plans and drawings for substation physical apparatus.
Reviews all work for completeness and accuracy prior to submitting for engineering review.
Performs design assignments by applying learned industry standard drafting techniques in the creation of electrical and structural drawings.
Influenced clients' perceptions of products by using artistic graphics to convey product advantages.
Drafting Technician
Drafting, developing templates, establishing in house e-mail set up, Assisting Re-structuring paper & electronic file system.
The thing I feel the most accomplished about is the process of making change over from Autodesk software to Micro Survey software & taking care of group upgrades & support as well as trouble shooting old and new software.
Providing support for clients that are working through the Williams County processes & requirements.
Enabled clients to make timely decisions through a comprehensive presentation of drawings that included isometric views and expanded text.
Facilitated innovative and cost-effective designs for civil engineering and architectural projects.
Drafting Technician
Worked on multiple Custom orders with custom paneling, with custom Details that were not in the standards archive (using creative and inventive skills) and submitting these details to engineering for approval.
Detailing advanced roofing layouts for airport hangars that had to have a pre-tension design.
I had to detail rafter beams at an alternate pitch above the hangar doors due to added weight.
Preformed advanced level of drawing cleanup with data organization that is easy to reference and read on large-scale drawings, while keeping the page count to a minimum as much as possible.
Worked with the design team to develop a common understanding of client requirements and to ensure optimal products.
Drafting Technician
Coordinate, meet and confer with consultants, trades, project managers and others to identify changes to campus assets.
Provided graphic support in the development of reports, studies, or presentations.
Archive campus documents, including drawings, specifications, and studies.
Updated drawing (GIS and AutoCAD) files, and databases of buildings, site improvements, utility (gas, electrical, water, and telecom) infrastructure, campus master plan map, and other assets.
Formulated design strategy that enabled clients to save $20,000 by eliminating the use of a contractor-owned crane during the installation of building exterior trusses; recognized by upper management for outstanding performance and given a salary increase.
Drafting Technician
Initiated and contributed to streamlining formatting, procedural, regulatory documentation and filing guidelines for entire product line of federally compliant crash cushions.
Responsible for the production and shipping of 1000+ hard copy instructional manuals for company products.
Produced part, weldment and assembly drawings & print packages for manufacturing operation.
Recognized as company expert on regulatory and procedural formatting guidelines; all work complied with guidelines.
Mentored junior staff by providing timely feedback on the quality of their work product; saved the company $1500 in rework costs associated with first-in, first-out quality practice in which new hires were given priority over more experienced staff.
Drafting Technician
Created construction documents to build antibacterial laboratory detailing casework and fume hoods.
Illustrated isometrics showing materials used to created mechanical systems in pharmaceutical factory.
Elaborated details showing process piping routes throughout building by gathering site measurements.
Documented airflow diagrams of measurements after HVAC system installation for record drawings.
Drew laboratory building drawing sets including work benches, shelving, cabinets and other details.
Drafting Technician
Utilized computer-aided drafting techniques to produce plans for mechanical and plumbing.
Created and edited engineering drawings from rough sketches, verbal instructions and redlines.
Assisted engineers with drafting and redlines for government and architectural project.
Drafted architectural plans and site drawings for my 1st year of enrollment in college, after which I was promoted to the position of Day-Sheet Coordinator.
Drafted zoning, subdivision, lot line & building line plans during my 4th year of college.
Drafting Technician
Draft drawings used for proposed installation of buried service wired cable.
Such drawings indicate all existing utilities lines, pedestal, poles, terminals, fire hydrants and other existing structures.
Drawings include all city construction notes, bore and trench details.
Drafted sketches and printed renderings of conceptual concepts.
Drafted conceptual designs using computer-based tools & drafting equipment.
Wrap Up
You need to make sure your resume stands out amongst the other candidates. It is the first impression that employers have of your work experience and skills. Use the samples above to put together a resume that best suits your needs and helps you get the job you want.