Executive Chefs are the lead chef in a kitchen. Their duties include managing personnel in the kitchen, answering to the owner, being familiar with all activities in the kitchen, dealing with staff conflicts, menu planning, inventory and cooking. To work as an Executive Chef normally requires a Bachelor's degree in culinary arts and some test to become a Certified Executive Chef (CEC). Executive Chefs must demonstrate dedication, creativity, communication skills, teamwork, organization skills, knowledge of culinary arts and willingness to learn.
A good resume is well-written and concise. It should be neat and easy to read, listing previous experience in a logical order.
Our resume samples will provide you with multiple examples of what you can include when writing your resume.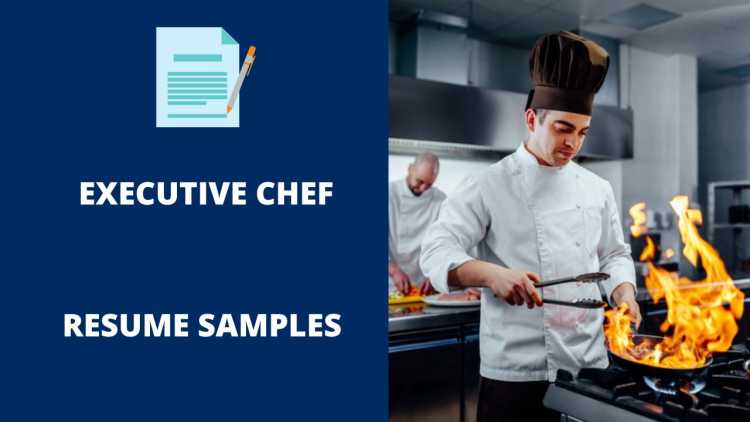 The Best Executive Chef Resume Samples
These are some examples of accomplishments we have handpicked from real Executive Chef resumes for your reference.
Executive Chef
Responsible for supervision & management of upscale kitchen operations that does $4.1 million in annual revenue.
Responsible for scheduling of 20+ BOH staff while managing an 8.7% labor cost YTD.
Ensure recipes and specs are followed through hands on training with staff.
Responsible for creation of "Fresh Sheet" menus, creating a menu based off of local ingredients and sustainable seafood while maintaining budgeted food cost.
Created and implemented a unique dining concept that provided an upscale, full-service restaurant, à la carte bar, and banquet facility for healthcare clients.
Executive Chef
Redesigned kitchens and storage areas to improve efficiencies, overall organization and cost controls.
Lowered and maintained budget goals for food and labor by Implementing order guides, inventory controls and running a clean and organized kitchen.
Hotel achieved its best ever guest satisfaction scores, employee engagement scores (for both culinary and stewarding) as well as passing every health and quality assurance inspection with improved scores.
Brought satisfaction to the guests of patients in the cardiac, oncology, and clinical trials recovery hospital.
Encouraging personal expression by incorporating personalized touches such as a new flower arrangement each month and daily wellness walks.
Executive Chef
Achieved reduced food and labor costs to within budgetary requirements with complete redesign of menus at 2 separate establishments.
Managed costs and spending as well as inventory, ordering, staff scheduling and training, and menu development at each restaurant concurrently.
Successfully slashed food cast from 25% to 18%, reduced inventory from $65K to $40K, and cut labor costs from 22% to 12% through effective use of time and systems.
Was proactive in maintaining relationships with local leaders who worked in media relations as well as government officials who were pressed to secure federal funding for technology improvements at the hospital.
Developed heartwarming relationships with patients whose loved ones had passed away.
Executive Chef
Consistently kept a clean and safe environment by adhering to all federal, state, and local sanitation and safety requirements.
Developed menu items to reflect current trends and local taste for restaurants and banquets.
Implemented a recipe procedure for each new menu change.
Remained positive and attentive to them even during their most difficult times of losing their partner.
Prepared and served food with excellence to paying customers and satisfied patients.
Executive Chef
Developed menu selections for special parties and banquet themes in accordance with client budgets and expectations.
Lowered food costs by 15%, meanwhile reducing labor cost by being fully involved in the kitchen.
Standardized all purchasing, receiving, and organized inventory procedures.
Relieved personal stress by out-of-hours catering services and evening parties.
Organized food production, sanitation, and storage.
Executive Chef
Achieved the reduction of costs through implementing weekly inventory counts, as well as overhauling all previous menus.
Oversaw and executed menu development, purchasing, chef's features, scheduling, ordering and budgeting.
Created and implemented detailed recipe books and Mise en Place lists to ensure consistency and quality on a daily basis.
Restructured weeknight kitchen staff to maximize efficiency within the confines of a small budget.
Enhanced company's image via positive customer reviews by local publications and websites.
Executive Chef
Actively participated in staff meetings and operated as an effective management team leader.
Reduced food costs by 33% percent by expertly estimating purchasing needs and buying through approved suppliers.
Expertly estimated staffing needs and adjusted hourly schedules in accordance with demand patterns, budget and local labor laws.
Collaborated closely with the Food and Beverage Director to conduct staff meetings and resolve service, product and personnel issues.
Experienced in the kitchen, and proficient in the quality of food preparation and presentation.
Executive Chef
Estimate food consumption and requisition as well as purchase needed food items.
Exhibit culinary creativity by developing recipes, or carefully selecting them.
Oversee special catering events, while also offering culinary instruction and/or demonstrating culinary technique.
Directly supervises kitchen personnel with responsibility for hiring, discipline, performance reviews, and initiating pay increases.
Completed executive chef trainee program to ensure excellence in all aspects of food preparation, including quality control standards.
Executive Chef
Responsible for the supervision and mentoring of one executive sous chef, six Sous Chefs and 45 hourly employees.
Created and implement menus in all outlets, developed three successful restaurants within hotel.
Conduct product selection, purchasing controls, inventory management to maintain 29% food cost and 11% labor cost.
Have met or exceeded budget successfully every year taking a food and beverage operation that delivered 13% profit to 30% in less than 2 years while growing top line sales by 20%.
Trained professional chefs; assisted in overseeing schedule of training to ensure maximum production of quality foods and compliance with all health codes.
Executive Chef
Develop culinary team members through appropriate coaching, training and mentoring.
Maintain compliance standards for meal service food quality and task performance.
Performed daily audits of safety, sanitation, food quality, meal delivery point of service and quality standards to optimize financial and operational productivity.
Oversee managers in a diverse environment and establish maintain client and resident relations.
Developed creative ideas, recipes and special/seasonal menus for events.
Executive Chef
Reduced food costs by 10 percent by using seasonal ingredients, setting standards for portion size and minimizing waste.
Managed kitchen staff by recruiting, selecting, hiring, orienting, training, assigning, scheduling, supervising, evaluating and enforcing discipline when necessary.
Developed menus, pricing and special food offerings to increase revenue and customer satisfaction.
Instructed new staff in proper food preparation, food storage, use of kitchen equipment and utensils, sanitation and safety issues.
Worked as a liaison between staff, management and customers ensuring satisfaction with service provided.
Executive Chef
Built, executed, and maintained restaurant concept and business model in collaboration with owners, from preliminary stage to multi-location expansion.
Designed seasonal and daily menus for both locations, including private parties, ticketed events, and restaurant buyouts.
Hired, trained, and managed a staff of 40 employees across two locations.
Offered daily fresh meals using regional fresh fruits, vegetables, meats, seafood, and olive oils while working with a staff of twenty-five to thirty employees.
Executed culinary projects in a professional and responsible manner, meeting budget and guest satisfaction.
Wrap Up
You need to make sure your resume stands out amongst the other candidates. It is the first impression that employers have of your work experience and skills. Use the samples above to put together a resume that best suits your needs and helps you get the job you want.