Waitresses are responsible for serving food and beverages to customers to ensure guest satisfaction at restaurants. Their duties include greeting customers, taking orders, communicating orders to those preparing them, bringing food and drink to the right customer, resolving concerns or complaints, answering questions, and looking over customers' needs. Wo work as a waitress, experience in customer service or restaurants are preferred. Waitresses must demonstrate excellent customer service, interpersonal skills, ability to work under pressure, excellent communication, time management, good coordination, knowledge of products, able to follow instructions, and is a team player.
A good resume is well-written and concise. It should be neat and easy to read, listing previous experience in a logical order.
Our resume samples will provide you with multiple examples of what you can include when writing your resume.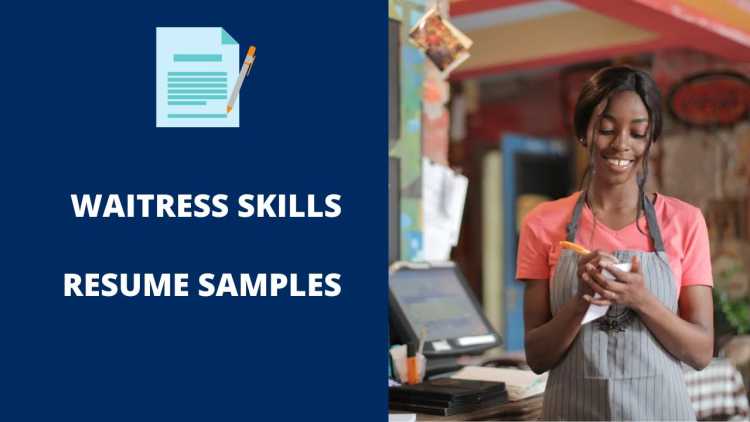 The Best Waitress Skills Resume Samples
These are some examples of accomplishments we have handpicked from real Waitress Skills resumes for your reference.
Waitress
Assisted customers in order selection, recommended specific menu items and ensured prompt accurate service.
Ensured high guest check averages by suggesting and selling additional food and beverages items.
Provided direct assistance to bartender and lounge staff.
Conducted inventory tracking and restocked supplies.
Met patrons' needs by preparing and serving meals, taking drink orders.
Waitress
Developed repeat business by establishing lasting relationships with guests.
Ensuring the standards of the Health Department were met at all times.
Informing customers of daily specials, preparing checks, making recommendations upon request.
Collaborated with kitchen staff to ensure meals were served quickly and correctly.
Consistently maintained a cheerful courteous attitude toward all customers at all times.
Waitress
I was in charge of opening and closing the restaurant.
I advanced in turning tables over quickly while still making the customers happy and comfortable; and their dining experience memorable.
I handled a lot of cash at one time, and kept track of credit card transactions, using the POS system for orders.
Achieved award for excellent service; handled cash transactions accurately and courteously.
Achieved award for "3rd Quarter Server of the Quarter"; adopted new rules and standards regarding customer service levels.
Waitress
Presents the menu to customers, answers queries about it, and makes suggestions if necessary.
Explains the preparation and cooking methods as well as ingredients of various menu items.
Ensures that customers are enjoying their meals or that they do not have any problem with their food.
Checks their identification to make sure that they meet the minimum age requirement for consuming alcoholic beverages.
Collects the customers' payments and prepares bills with itemized costs and appropriate taxes.
Waitress
I take the customer's drink orders, watch to see if the guests need anything.
When they are ready I take the order, make sure they are served drinks, appetizers, and main entrees.
I clean tables, fill in salt pepper ketchup, things like that.
I check on guests often to make sure they are happy.
Exhibited a positive attitude with guests and management by delivering outstanding service.
Waitress
I've been working at Joe's Pizzeria for the past 4 months on the weekends.
I am waiters who take orders and serve food and beverages to the customers.
I help to provide an excellent overall dining experience for all customers as well as greet customers, present menus, and explain daily specials to customers.
I clean and set up dining areas, refill condiments and answer questions related to menu items.
Assisted in creating innovative culinary dishes by starting with a clean workstation and utilizing ingredients to their greatest potential.
Waitress
Obtained and handed meals requests from customers to kitchen cooks assured all orders were accurate and specific to customer's preferences.
Prepared alcoholic and non-alcoholic beverages to patrons; ensured requests were per specifications of individuals.
Resolved customer complaints in an expedient and appropriate manner; provided extra amenities and food vouchers to ensure customer service satisfaction.
Handled cash, debit, and credit transactions plus handed over change when necessary.
Fulfilled orders in a timely manner by following written procedures and maintaining impeccable organization.
Waitress
Communicate with high-profile clientele in person and over the phone (booking reservations, taking food orders, and serving at the bar).
Managed high volumes of people in a 70+ seat restaurant while remaining efficient and providing quality services.
Memorize elaborate daily specials along with the full menu and am able to make recommendations based on food preferences and dietary restrictions of the patron.
Operated surveillance equipment at the beginning of my shift to increase security measures, as well as facilitate the handling of emergency situations.
Suggested methods to boost sales in order to increase profitability using new promotional concepts.
Waitress
Multi-tasked by seating guests as they arrived while continuously assisting already seated clientele.
Dedicating customer satisfaction by remaining accessible and friendly.
Working as a team and fulfilling guest needs and food orders.
Sharpened communication skills by resolving customer complaints and creating a healthy environment.
Provided for customers' courtesy, respect, and satisfaction through diligent service and a positive attitude.
Waitress
Appropriately suggested additional items to customers to increase restaurant sales.
Answered questions about menu selections and made recommendations when requested.
Effectively communicated with kitchen staff regarding customer allergies, dietary needs, and other special requests.
Achieved award for "Super Waitress" by a speedy serving of orders from customer surveys.
Received customer appreciation award in recognition of service excellence as a result of customer surveys.
Waitress
Provided excellent customer service: worked closely with restaurant staff to ensure that orders were served in an efficient.
Trained incoming staff regarding the restaurant's procedures, culture, and practices.
Collaborated directly with Quarterdeck partners and sponsors to ensure promotion and upward sales – worked with staff.
Gained immeasurable experience in multitasking, oral and verbal communication, customer satisfaction, and conflict.
Completed more than 1,000 hours of work without taking any time off; prompted management to offer me a position as a full-time server assistant manager.
Waitress
Ensured high customer satisfaction through greeting customers and assisting with questions.
Awarded Lead Waitress for efficient turnover time and excellent customer service.
Skills improvement by meeting 20% standard on tip percentage across all shifts.
Trained new waitresses in the hospitality industry by sharing knowledge, skills, insights, and vision; noticed improvements in their performance based on customer survey ratings.
Delighted repeat customers and created lifelong friendships.
Wrap Up
You need to make sure your resume stands out amongst the other candidates. It is the first impression that employers have of your work experience and skills. Use the samples above to put together a resume that best suits your needs and helps you get the job you want.