A volunteer is a person who donates their time and works freely. Their duties vary by organization but can include fund-raising, working at a soup kitchen, donating food, donating blankets, building houses, and reading to the blind. Volunteering takes no prior experience or qualifications except for extra time to donate to help others. In order to be a good volunteer, you should be able to work in a team, have leadership skills, be able to problem solve, sales skills, the ability to adapt, time management skills, and the ability to plan.
A good resume is well-written and concise. It should be neat and easy to read, listing previous experience in a logical order.
Our resume samples will provide you with multiple examples of what you can include when writing your resume.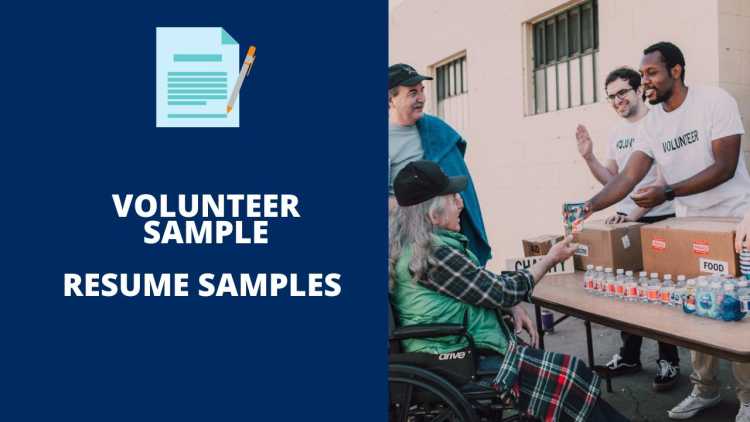 The Best Volunteer Sample Resume Samples
These are some examples of accomplishments we have handpicked from real Volunteer Sample resumes for your reference.
Volunteer
Volunteer in both the Volunteer Department as well as the Physical therapy department, especially the outpatient setting.
In the Volunteer department, assist with coordinating potential volunteers and current volunteers.
Helped coordinate volunteers and participate in community outreach events such as the Loisaida festival and the Back-to-school event for Gouverneur.
In Physical therapy outpatient, assist providing a sanitary environment for the patients, physical therapist, and assistant by cleaning up after patients and organizing the area.
Had numerous volunteer roles in support of the Women's Council, International Peace Mobilization, and Liberty Alliance.
Volunteer
Helped out at the bake sale by making jello for the sale and organizing the pastries during the bake sale for 2 hours.
Served food to locals at a fundraiser for children with diabetes for 3 hours.
Walked at the Making Strides Against Breast Cancer after fundraising and donating the money.
Had several leadership roles including President, Vice President, and Treasurer for Liberty Alliance.
Participated in a national 2-day political conference addressing international politics; presented informative and entertaining presentations to both American and foreign students on political issues.
Volunteer
Maintained the occupied site by inspecting photo documentation and enforcing site rules.
Conducted vehicular inspections and wrote detailed reports of incidents that took place on-site.
Received packages sent to the site to make sure they got to their proper recipients.
Surveying site to make sure that all customers are taken and help with inquiries.
Keep site organized & Establish and maintain an organized filing systems record all contracts, proposals program files, correspondence, documents, and reports.
Volunteer
Filing documents in the correct places, organizing, paper clipping, copying, and delivering items.
Developed organization, listening skills, and experience taking instructions, as well as reporting results and any errors.
The tasks were ensured to be done efficiently, and with attention to detail.
The main purpose of this volunteer experience is to learn to listen to people and apply them, as well as to find ways to do things as efficiently as possible while still following instructions.
Demonstrated skills in public speaking, interpersonal relationships, and entertainment that were instrumental in developing healthy community activity support.
Volunteer
Volunteer domestic worker at hostels in Israel during summers and college breaks.
Also, volunteered as a teacher's assistant in an Israeli kindergarten.
Additionally, I have been in various roles of teaching, leadership, and responsibility while going to college within various positions.
Served as a public forum moderator at public meetings discussing government policy and constitutional rights.
Volunteered with The Salvation Army, as a line leader and a pen pal.
Volunteer
Supported teen group, assisting facilitator, and stimulating conversation for group discussion.
The organized social media campaign, updated Facebook account, and increased followers.
Formed collaboration between Healing Center and the World Harvest Community Center, implementing new partnership to spread awareness of Teen Dating Violence.
Volunteer at summer camps and daycare centers as a counselor and teaching assistant.
Admitted to a nine-month non-profit organization, Green Circle Community Organization.
Volunteer
Conducted biological field surveys for several different species including Atlantic horseshoe crabs (Limulus polyphemus), mute swans (Cygnus olor), and piping plovers (Charadrius melodus).
Used Trimble GPS units and physical maps to collect point data for nesting swans.
Collected population data on mute swans including number nests, eggs, and individuals utilizing a kayak to access nesting areas.
Installed symbolic signage and fencing on beaches both to protect the nesting habitat of piping plovers as well as educate the public on the presence of the near-threatened species.
Maintained daily communication with the President of the organization through email, telephone conversations, and weekly meetings.
Volunteer
Assisted staff with checking materials for damage and removing them from the shelves.
Prepared the library for opening by performing assignments such as rearranging, straightening chairs and tables.
Shelving and arranging material such as books, magazines, and periodicals.
Successfully completed the application process for Green Circle's required volunteer training classes.
Volunteered one weekend per month to help in the basement office of a domestic violence shelter and provided telephone and on-site support during crisis calls.
Volunteer
Solved customer computer issues on a timely basis I did set up and monitor daily backup servers & prepared the backup tapes to be shipped offsite.
Created user accounts and give permissions and OU accounts in our domain in Active Directory.
Created share drives for different departments to share resources.
Mentored children of incarcerated parents in the local Boys & Girls Club to facilitate improved grades, behavior, and social skills.
Organized an annual "Dress Up For The Troops" Clothing Collection for the troops deployed overseas; collected over 2300 pounds of clothing.
Volunteer
Spent two weeks in Parismina, Costa Rica working for a turtle conservation program.
Participated in community outreach in an effort to educate the local community about the importance of sea turtle conservation.
Volunteered at a local nutrition center that served daily meals to the children of the village.
Conducted Veterans Benefits presentations at a local American Legion Post; educated thirty veterans on the benefits available to them from the Veterans Administration.
Obtained, organized, and updated over 200 websites.
Volunteer
Performs any combination of the following duties to maintain kitchen work areas and restaurant equipment and utensils in clean and orderly condition: Sweeps and mops floors.
Segregates and removes trash and garbage and places it in designated containers.
Scrapes food from dirty dishes and washes them by hand or places them in racks or on conveyor to dishwashing machine.
Co-authored 150 articles.
Received recognition as a society leader for outstanding work in the field of education.
Volunteer
I have worked with people with disabilities and we had all sorts of fun.
We played some games and also worked on some arts and crafts.
It was really amazing to be able to work with such inspiring people.
It taught me not to take life for granted, and to be grateful for what I have.
Co-founded a charity group to raise money for the homeless and to support children with cancer.
Wrap Up
You need to make sure your resume stands out amongst the other candidates. It is the first impression that employers have of your work experience and skills. Use the samples above to put together a resume that best suits your needs and helps you get the job you want.