Community volunteers participate as part of the workforce for various charitable organizations to help the community, without pay. Their duties vary widely depending on their organization but can include tasks like cleaning and improving public areas, preparing and distributing food, education, hospice assistance, fundraising, and community outreach. There are no particular educational requirements for most community volunteers, though some types of charity work, like blood drives, may require their volunteers to have specialized education. Successful community volunteers and compassionate, driven, empathetic, collaborative, organized, physically fit, and willing to help their community.
A good resume is well-written and concise. It should be neat and easy to read, listing previous experience in a logical order.
Our resume samples will provide you with multiple examples of what you can include when writing your resume.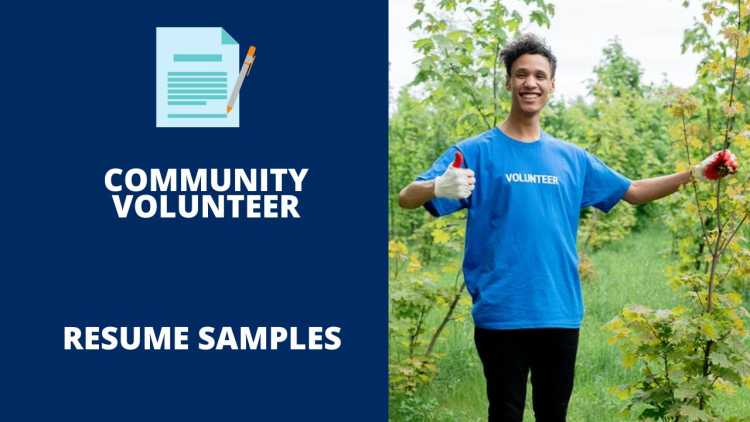 The Best Community Volunteer Resume Samples
These are some examples of accomplishments we have handpicked from real Community Volunteer resumes for your reference.
Volunteer Work
Report any suspicious expenses daily to the owner to ensure no employee is spending on credit card for personal use.
Checked and inspect the accuracy of accounts receivable and payable ledgers.
Ensure Bank accounts were sufficient to meet the daily and significant expenses to avoid O/D fees.
Accomplished 100+ hours of volunteer service for various non-profit organizations working to better the community.
Job Shadowed Social Worker at The Salvation Army's Center For Wounded Voices, a nonprofit organization that provides vocational services and job opportunities for war veterans suffering from post-traumatic stress disorder.
Community Volunteer
Employee Health Department Volunteer.
Welcoming and directing staff and volunteers.
Filing, data entry, and dispensing over the counter medicine as well as other administrative tasks.
Help out at special events, such as the carlsbad Marathon and the carlsbad street fair to created a happy and fulfilling experience of those in attendance.
Volunteer with local charities and non-profits to assist in community projects.
Community Volunteer
Assisted staff by stocking supplies, making copies, filing, and organizing important billing documents.
Assisted elderly at community events.
Offered educational items such as books, notebooks, pens, and pencils to students in need.
Achievements and Awards: First place in Mother's Day Charity Walk, second place in a 5K Run and 2nd Place In Tough Moms Run, First place in St. Baldricks Cancer Awareness Event.
Led Ten Hour Marathon of Reading to Children at a rural Health Clinic.
Volunteer/Client Coordinator
Recruitment and Training of 30+ volunteers on yearly basis.
Matched clients with appropriate volunteer and/or community resources.
Case management with both Hospice and elderly clients.
Developed and Implemented Life Legacy program.
Successfully Raised Three Million Dollars with an Internationally Ranked Celebrity to provide support for Orphans and AIDS Victims in the Congo.
Community Volunteer
Assisted staff by stocking supplies, making copies, filing, and organizing important billing documents.
Assisted elderly at community events.
Offered educational items such as books, notebooks, pens, and pencils to students in need.
Worked with local Non-Profit organizations to raise over $6 million for their cause.
Over 90% of participants on the committee volunteered their time in an effort to build a more successful community for all its residents.
Volunteer
Prepared tables by setting up toys early in the morning for the start of the event.
Assisted children with their decision making on which toys to get.
Took initiative to give money to the children that didn't receive toys.
Directed a team of volunteers to complete over 1,300 hours of community service in total.
Assisted in the development and implementation of an off-site school for the disabled.
Volunteer
Volunteer at schools (grades K -12) to promote drug awareness and teach 'Say No' tactics.
Present at various business organizations (i.e. hotels) to spike awareness and recognition of addiction.
Participate in personal interventions of struggling young adults.
Created, organized, and led classes in Tai Chi for the elderly and physically challenged at a senior center.
Annually created job training programs and volunteered as an instructor for preschool and elementary school children.
Community Service Volunteer
Sorting through clothes, hanging them up, keeping the store in order, and helping customers find what they are looking for.
This is a non-profit thrift store that sells clothes for very, very low prices.
The money they earn goes toward scholarships for local high school seniors.
They are about to close down, but I have been helping every Monday and will continue to do so until they close permanently.
Developed creative projects as a result of working with various individuals with disabilities during staff meetings—all designed to develop self-esteem in both individuals functioning without disability, as well as people with disabilities.
DEDICATED COMMUNITY SERVICE VOLUNTEER
Provided customers with friendly and efficient service while answering any questions they might have while attending to specific needs and maintaining the restaurant.
Promoted the deals and benefits of our company cards to each customer.
Accomplished by an affective sales approach that got a lot of people to sign up which gave management a lot of money.
Closed the restaurant with management, making sure that the site was consistently up to the guidelines for health, safety and the brand of the company.
Administered a fifteen-week workshop for aging and disabled persons of which contributed to improved self-esteem, confidence, and communication skills.
Community Services
Expanded existing outreach program and developed marketing plan to partner with government agencies and community organizations.
Expanded and promoted Community and Volunteer Programs.
Represented agency at professional organizations and events.
Developed strategies to better communicate agency mission internally and externally.
Supported the American Cancer Society by participating in several fundraising events during 2001-2002, including a bowling tournament, golf tournament, and charity run.
Community Service Volunteer
During this event, we were tasked with setting up a community center gym to house around 50< seniors.
We set out tables, decorated them identically, served drinks, fixed plates, and even greeted the seniors as they walked in.
We got back many complements about how well the event went, and how respectful we were to the elderly guests.
Organized and managed "A Day With Santa" for children with special needs as a role model.
Coordinated over 40 volunteers to clean out abandoned houses in low-income areas in order to prevent crime and drug abuse.
Community Volunteer
Highly committed and dedicated Church Volunteer with a strong spiritual service record and an extraordinary work ethic.
Able to motivate small and large volunteer groups for fundraising charity work and a variety of community outreach efforts.
Adept at researching and taking full advantage of grant opportunities for church mission and activity expansion.
Organized and sponsored several charity events, including New York Marathon.
Traveled across the United States to perform volunteer work at the National Farm Workers Foundation, World Hunger Relief Center, and American Cancer Society.
Wrap Up
You need to make sure your resume stands out amongst the other candidates. It is the first impression that employers have of your work experience and skills. Use the samples above to put together a resume that best suits your needs and helps you get the job you want.