Flight Attendants provide customer service care to passengers on an airplane. Job duties include greeting passengers, helping passengers find their seats, assisting passengers with luggage, demonstrating safety protocols, taking orders, delivering food/drink, and checking that passengers are following safety procedures. A minimum of a high school diploma is required to be a Flight Attendant. Flight Attendants should possess excellent verbal communication skills, patience, ability to multitask, problem-solving skills, good listening skills, maintain a professional demeanor, and have great customer service to be successful.
A good resume is well-written and concise. It should be neat and easy to read, listing previous experience in a logical order.
Our resume samples will provide you with multiple examples of what you can include when writing your resume.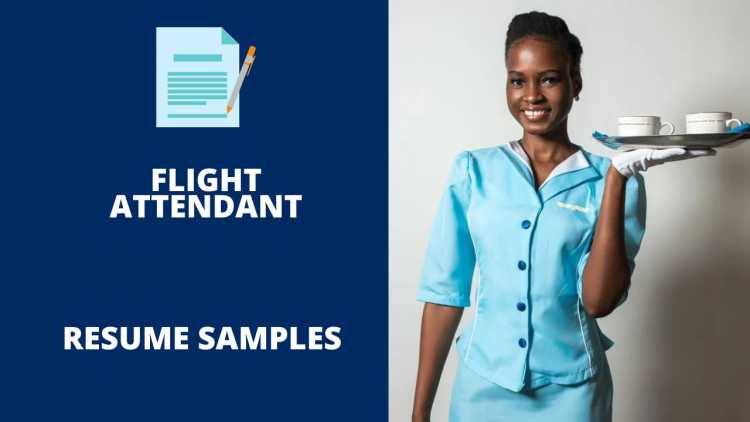 The Best Flight Attendant Resume Samples
These are some examples of accomplishments we have handpicked from real Flight Attendant resumes for your reference.
Flight Attendant
Ensure that safety and security regulations are being followed within the cabin at all times.
Ensure that passengers feel welcomed and want to fly with the airline again.
Demonstrated exceptional customer service skills to make passengers feel comfortable.
Achieved outstanding customer service rating and earned a prestigious award for providing exceptional services to my teammates and passengers.
Arrived at departure gate with enough time to board.
Flight Attendant
Checked in for crew briefing, board passengers, apply FAA safety standards, assist passengers during flights, serve drinks and food, insure safety on board aircraft, assist with deplaning.
Domestic Flight leader position includes coordinating flight info and safety check with pilots, taking care of business class passengers, brief crew, making sure all standards of airline are applied, making onboard announcements.
Maintain exceptional appearance at all times as well as exceptional customer service attitude.
Maintained punctuality of flights with diligence and focus on assigned tasks.
Completed all assignments in a timely manner by providing the best level of service possible regardless of the circumstances.
Flight Attendant
Completed over 500 flight hours of international, domestic and transcontinental flights within Airbus commercial jets holding up to 230 passengers.
Proficient in cabin operation, safety features and emergency equipment of Airbus aircraft.
Assisted passengers in stowing carry-on luggage with ability to maximize luggage space in overhead compartments through efficient stowing techniques.
Performed duties in an efficient and clean manner, both in public areas and during the flight's take-off and landing phases.
Validated passengers' requests in a responsive and professional manner by ensuring that he/she was satisfied with our efforts to resolve problems/conflicts during flight delays, lost luggage, etc.
Flight Attendant
Complied with customs, immigration and sabotage laws on international trips.
Ensured the passengers need and expectations were met throughout the flight.
Ensured that all crew members were fully qualified, properly rested, prepared for flight, had all required licenses and certificates in their possession and were briefed on all specific requirements of the trip.
Members of the flight crew administered on-board care to passengers during the flight.
Resolved and communicated with accident, security, and medical situations.
Flight Attendant
Provided for the safety of passengers and managed in-flight emergencies and security in accordance with standard emergency procedures and practices.
Ensured compliance with FARs and FAA manual revisions, directives, and company policies
Instructed customers on the operation of on-board equipment, safety devices and procedures.
Conducted pre-flight and post-flight inspection of aircraft in accordance with Federal Regulations and In-flight Service Manual.
Paid more than 5 million miles in a 7 month period by engaging in part-time, part-time, and full-time positions.
Flight Attendant
Highly skilled in performing pre-boarding security checks of aircraft, passengers and baggage.
Comprehensive knowledge of flight and emergency procedures and proven ability to greet passengers and guide them regarding their seats.
Documented success in selling goods to customers on-board.
Profound ability to operate emergency equipment effectively. Excellent hospitality acumen aimed at serving food and drinks.
Delivered more than fifty thousand pounds of cargo and luggage checks every week.
Flight Attendant
Updated the flight attendant manual and briefed fellow staff on changes.
Instructed passengers on all safety and emergency procedures and answered any questions.
Determined flight close-out times and completed and verified flight forms.
Monitored compliance with size limitation guidelines for the carry-on baggage program.
Successfully completed FAA recurrent training to stay in compliance with safety equipment and procedures.
Flight Attendant
Competent at providing leadership by responding to a variety of emergency and non-emergency Situations.
Known to maintain order when dealing with angry passengers.
Acquired passenger food and beverage information prior to distributing then.
Assisted passengers during emergency situations with physical as well as emotional support.
Provided assistance to all passengers over the course of a year while delivering flights as required.
Flight Attendant
Attend pre-flight briefing to review emergency evacuation procedures, to discuss flight details.
Checked on board first aid kits and emergency equipment to ensure functionality, and ensure passenger cabin is adequately stocked with food, beverages.
Greet passengers during boarding, check tickets, and advise them on where to store coats and carry-on items; assist passengers with carry-on luggage.
Instructed and demonstrate use of emergency equipment and check to see belts are fastened, seat backs are in upright positions, and carry-on items properly stowed prior to departure.
Educated customers on proper safety practices through passenger announcements, preflight briefings, and oxygen masks.
Flight Attendant
Performed pre-flight cabin checks prior to passengers boarding and cabin security checks after passengers have deplaned.
Handle unruly passengers while maintaining professionalism.
Provided safety instructions and ensure the safety of cabin and crew, in the unlikely event of emergency landings.
Picked up first class at airports for vacation flights with families at destination airfields across the country for over 2 years during vacation months.
Helped customers find their way and provide outstanding service in an extremely high-stress environment.
Flight Attendant
Helped children and elderly to embark and disembark by providing physical assistance.
Checked each seated passenger to ensure appropriate head count.
Demonstrated the use of safety equipment such as oxygen masks provided advice on what to do during emergency situations.
Accomplished complex tasks in a timely and effective manner, resulting in positive feedback from passengers.
Passengers rated my abilities as a Flight Attendant as "Outstanding" with a 98% customer satisfaction rating.
Flight Attendant
Daily face to face interaction with customers while delivering exceptional customer service.
As a lead flight attendant, I facilitated with the daily flow of operations.
Continuous education in enhancing emergency management skills such as, CPR certified, self-defense, evacuation guidelines, training and utilization of emergency equipment, and thorough knowledge of aircrafts.
Made excellent first impressions upon passengers and gained respect as they shared their flying experiences with me.
My character, honesty, integrity, responsibility to job responsibilities and customers, concern over the well being of others, regard for others' opinions, ability to listen to others' problems, ability to overcome obstacles are all attributes that I have learned while working at SkyWest Airlines.
Wrap Up
You need to make sure your resume stands out amongst the other candidates. It is the first impression that employers have of your work experience and skills. Use the samples above to put together a resume that best suits your needs and helps you get the job you want.