A corporate pilot provides private transportation services via jets or helicopters. As a corporate pilot, you must be direct crew members, meet with passengers, communicate with crew members, and ensure all systems are working properly. Pilots must have a high school diploma and in some cases a bachelor's degree. All pilots need a pilot's license from the Federal Aviation Administration. As a corporate pilot, you must demonstrate critical thinking skills, problem-solving skills, time management skills, multi-tasking skills, confidence, and the ability to adapt.
A good resume is well-written and concise. It should be neat and easy to read, listing previous experience in a logical order.
Our resume samples will provide you with multiple examples of what you can include when writing your resume.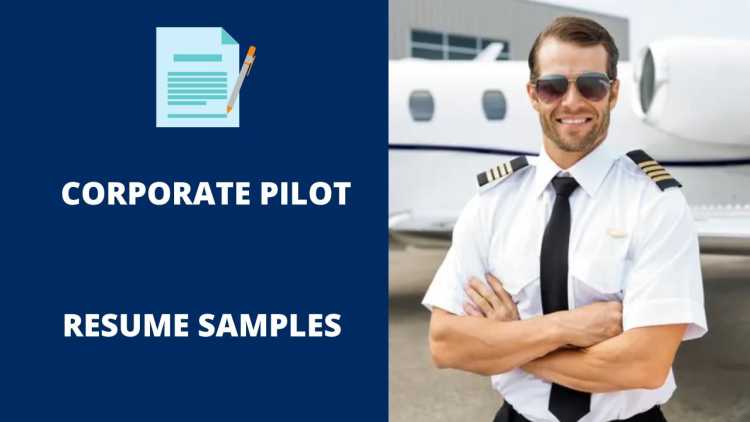 The Best Corporate Pilot Resume Samples
These are some examples of accomplishments we have handpicked from real Corporate Pilot resumes for your reference.
Corporate Pilot
Acquiring information about the route, weather, passengers, and aircraft to calculate best fuel quantity.
Brief cabin crew, following air traffic control instructions and keeping passengers informed about progress.
Monitoring in flight data and making adjustments to deal with changing weather patterns.
Flew fleet of corporate jets from Toronto to London, England; completed ten flights during a five-day period.
Completed eight trips from New York to Tampa, Florida; defined by the manager as one of the best pilots in the company.
Corporate Pilot
Maintain a Business owned Cirrus G5 Sr22.
Efficient transportation of aircraft while complying with company policies and procedures in a safe professional manner.
Able to to perform other duties as requested, directed or assigned.
Met corporate goals while completing two international trips within two days; accurately planned trip transits and published flight information in accordance with company directives.
Directed flight plans to include alternation of pilot seats with co-pilot for optimum alertness and efficiency.
Corporate Pilot
Communicate with mechanic about aircraft discrepancies.
Assisted passengers by loading luggage and helping on and off aircraft.
Provided coffee, ice, papers, catering, etc., make hotel and rental car accommodations.
Checked weather, file flight plans, make go/no go decision.
Adhered to FAA regulations by completing mandatory training for instrument flight rules in order to become certified on new computerized flight decks.
Corporate Pilot
My responsibilities are many with the tracking of maintenance to flying the airplane.
We currently buy a new airplane every 4 years.
I am involved heavily in negotiating the terms of the new plane and the selling of the old one.
Received the first authority to fly an airliner from the FAA, and established a flight training program for the armed forces.
Negotiated and conducted business trips with international leaders, including exploring countries of exotic cuisine.
Corporate Pilot
Strong background in international operations, procedures and SOP's.
Heavy emphasis on performance as it applies to 2nd segment climb, FAR Part 25, TERPS, obstacle clearance requirements, etc.
Strong background in SMS and ISBAO manual and procedures implementation.
Responsible for development and implementation of improvements to CRM techniques, SOP's and checklists.
Led and co-sponsored university fundraiser for scholarship funds. Managed all aspects of the event including inventory, promotion, accounting, and planning; organized event guests; handled promotion elements; conducted catering operation; handled all financial tasks.
Corporate Pilot
No accidents or incidents in six years of employment and 2400 hours of flight operations.
Successful transitions to turbine aircraft and Rockwell Pro-Line Glass Cockpit systems.
4512 hours total flight time.
Graduated with honors from the United States Air Force Academy; Aviation Maintenance Officer with forty years of senior military experience.
Maxed out the industry's pay scale based on flying over 15,000 hours in over 20 years.
Corporate Pilot
I am responsible for all preflight, flight planning activities for all missions to be flown throughout the United States.
Carried out all Pilot-In-Command responsibilities for flights throughout the United States during Day, Night, VMC, IMC, and in all airspaces' conditions in support of business's objectives and goals.
Performed all post flight activities to include supervising scheduled and unscheduled maintenance requirements.
Established a new procedure for aviation teamwork by utilizing automated controls for night flights to conduct an emergency landing.
Consistently provided top-quality service to customers by meeting fleet deadlines with flawless flight plans.
Corporate Pilot
SIC for CE-550B and the HS-125, Also Standards/Safety Compliance Officer.
Took initiative to re-write operational procedures to reflect a realistic approach.
Targeted recent aircraft accidents from various sources for round table discussions with pilot staff, resulting in enhanced workload efficiency and a better understanding of crew resource management skills.
Repaired a malfunctioning helicopter engine in 5 minutes; aircraft was returned to service in less than 45 minutes.
Briefed and executed special training flight after one week of piloting training; contributed to the creation of three new aviation standards.
Corporate Pilot
Efficiently oversee the safe transport of clientele to their destinations.
Responsible for verifying all flight plan data, and international flight documentation.
Operate under Part 135 Rules and Regulations.
Trained for and received a commercial pilot's license in single-engine aircraft.
Flew over 100 hours in a Piper Cherokee; logged more than 30 hours of instrument flying.
Corporate Pilot
I was responsible for giving both flight and ground instruction for primary instrument and commercial students, as well as assist in the sale and transportation of both New and used aircraft.
I taught a full private pilot ground school to 17 people over the course of 4 months.
I also flew a piper Navajo 325CR single pilot and right seat in a 350 Kingair.
Performed as the first officer on charter flights for small corporate jets and frequently flew with the captain, gaining experience in aircraft performance, weather patterns, airport procedures, and communication.
Handled all phases of instrument flight training for new pilots; prepared trainees to pass Federal Aviation Administration written exams with minimal assistance.
Corporate Pilot
Conduct flights under Federal Aviation Regulations Part 121 using my Airline Transport Pilot Certificate.
While operating these flights I work regularly with diverse crews ensuring that standardization of flight is maintained.
I am tasked with making command decisions while operating jet aircraft in high stress irregular operations, which sometimes includes having to use emergency authority as provided by the Federal Aviation Administration for the Airline Transport Pilot certificate that I hold.
Flew new corporate helicopter for initial 100-hour inspection and ensured compliance with manufacturer's guidelines.
Perform successful safety maneuvers and aerial stress control during periodic inspections of the 110-foot water tank located on a mountaintop to maintain year-round potable water supply for 15,000 homes.
Corporate Pilot
VIPs and other customers, including operating Cessna Citation jet aircraft such as the CE-550 with both Innisfree Jet Center and B&M Aviation.
Promoted the highest level of customer service to build customer loyalty and generate repeat charter sales.
Served as Test Pilot for aircraft engine manufacturer Teledyne Continental Motors.
Consistently exceeded monthly flight hour requirements; logged over 750 hours (20% above company standard) in two years.
Earned Private Pilot license after soloing over the Gulf of Mexico, the Florida Keys, Bahamas, and the Caribbean Islands.
Wrap Up
You need to make sure your resume stands out amongst the other candidates. It is the first impression that employers have of your work experience and skills. Use the samples above to put together a resume that best suits your needs and helps you get the job you want.