Forklift operators use forklifts to transport materials. Their duties include inspecting forks, driving the forklift, packing boxes, loading and unloading trucks, and checking shipping documents. To be a forklift operator you should have a high school diploma or GED along with a certificate from an OSHA accredited company or equivalent training from another organization. Forklift operators must have physical strength and stamina, good hand-eye coordination skills, effective communication skills, good work history records (previous employment references), clean criminal records (in some cases), and prior experience operating a lift truck.
A good resume is well-written and concise. It should be neat and easy to read, listing previous experience in a logical order.
Our resume samples will provide you with multiple examples of what you can include when writing your resume.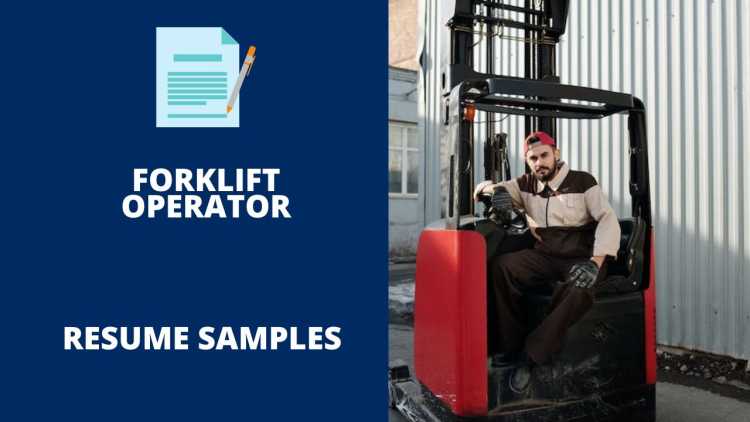 The Best Forklift Operator Resume Samples
These are some examples of accomplishments we have handpicked from real Forklift Operator resumes for your reference.
Forklift Operator
Maintained operator logs, forms and records in accordance with company policies and DOT regulations.
Operated equipment safely and efficiently at all times.
Loaded proper materials while abiding by all safety and legal standards.
Operated and maintained a forklift truck in a safe and efficient manner.
Resolved machinery breakdowns and equipment malfunctions, maintaining a safe work environment.
Forklift Operator
Ensured organization and security of all materials in storage area.
Maintained forklift equipment to ensure proper functioning of the equipment.
Completed forklift operator training annually, provided by company.
Operated stand up/reach truck forklift loading and unloading product in sub-zero freezer.
Oversaw projects to ensure it was built accurately and completed on time.
Forklift Operator
The Forklift Operator is responsible for the accurate receiving, storing, and shipping of products to meet company standards of safety, productivity, and quality.
This includes the operation of basic forklifts in the handling of products.
Must be available to work scheduled hours to meet customer needs.
Removed and replaced parts on machines, repairing and maintaining diesel engines, compressors, and gearboxes.
Managed the entire maintenance team while performing routine and preventative maintenance on a manufacturing plant's machines.
Forklift Operator
I fulfill and package partnering companies orders always going beyond the standard productivity bringing energy and maintaining great communication with upper management.
Very dependable while working well with my co workers.
Practiced complying with all safety measures and ensuring that product was always up to ER Carpenter's standards and our partnering companies.
Received and completed countless special projects for ongoing maintenance of industrial equipment.
Some may include; repairing concrete mixing machines, welding pipe, repairing & installing electrical parts.
Forklift Operator
I built orders checked orders then I became a forklift operator where I loaded and unloaded trucks.
I also moved trucks in the yard as well as back them up to the dock.
I was also in charge when the leadman was not present.
Monitored and maintained machinery, structures, operations. Worked with engineers in redesigning plant process flowcharts.
Researched technical manuals to troubleshoot machinery problems.
Forklift Operator
I started off in the iron yard I was in charge of receiving, doing inventory of the iron, and rigging the iron to the flatbeds.
I was then certified to operate heavy load equipment, the forklift the JLG(G10).
I was off loading and loading trucks to be send inside the plant.
I then was transferred inside the unit to work for the warehouse inside the plant.
Maintained exceptional levels of production and accuracy throughout the shift; achieved the highest productivity of all employees, with zero errors.
Forklift Operator
Loading and unloading pallets and individual cases to and from trailers.
Operating a forklift safely, and loading trailers via carts or stacking cases on the floor of the trailer.
Responsible for receiving and distributing product and assisting in weekly inventory of product.
Constructing and packing boxes either manually or with help of automated machines.
Operated a forklift; received training for warehouse equipment for two employers.
Forklift Operator
Driven machines included sit-down, stand up, and reach trucks, went around the warehouse scanning in going, and out going products.
Tasks involved picking orders to be shipped out.
Unload trucks and put in products into rightful destination.
Task involved me updating locations with the right quantity of products per aisle, whenever products were out of date, damaged, or the quantity incorrect.
Handled special projects, such as product assembly, shipping, and receiving.
Forklift Operator
Moving controls, devices, and levers to drive forklifts of industry to transfer materials between unloading, processing, loading, and storage areas.
Organizing and securing stored materials such as bales, super sacks, boxes, pallets, and so on.
Loading or unloading materials manually, off or on to pallets, platforms, skids, or lifting devises.
Performing routine post and pre inspections to ensure suitable working nature or forklift equipment.
Reporting to supervisor regarding any damage to racks, faulty equipment, or any other safety hazards.
Forklift Operator
I would also help tie our finished product into bundles and put them into a wooden rack so they could be taken to the shipping department.
Now, I operate a forklift for the same department I have been working in.
My job as a forklift operator is to locate the lumber that is needed for the machine, and take it there so it can be ran and created a custom moulding.
Trained employees on forklift safety, proper lifting procedures, and operations of warehouse equipment.
Recognized for meeting production standards set by employers by being the top producing operator in my category and section of the facility.
Forklift Operator
Load and unload products from trailers using forklift trucks and other material handling equipment.
Maintain forklift equipment by troubleshooting breakdowns, performing preventive maintenance, recommending repairs and performing inspections.
Deliver products to various units in safely and timely manner.
Granted an award by being a top producer of pallets during a busy period.
Contributed to increased productivity of the facility by handling over 1500 pallets throughout the day.
Forklift Operator
Cleaning and preparing equipment, physical lifting, charging reagents and maintaining reaction conditions within specifications of a production batch record, centrifugation and drying of final products.
Responsible for working process unit included running a DCS Board to make the product, while monitoring and controlling unit operations to ensure maximum product, quantity, and quality.
Communicate directly with maintenance department to coordinate repair work and preformed preventative maintenance as needed.
Operated forklift to load and unload trucks, moving freight from warehouse to stockroom, as well as picking orders for shipping.
Performed intricate and difficult tasks involving precision and coordination with corporate, financial, supply chain, customer, and safety guidelines.
Wrap Up
You need to make sure your resume stands out amongst the other candidates. It is the first impression that employers have of your work experience and skills. Use the samples above to put together a resume that best suits your needs and helps you get the job you want.