Front Desk Officers work at the front desk of an office. Their job duties are greeting clients and guests, answering phone calls, scheduling, filing, data entry, record keeping, and ordering office supplies. Educational requirements for this job is a high school diploma/GED. Front Desk Officers should have good time management skills, excellent customer service skills, excellent written/verbal communication skills, problem-solving skills, pay attention to detail, be computer literate, and punctual to be successful.
A good resume is well-written and concise. It should be neat and easy to read, listing previous experience in a logical order.
Our resume samples will provide you with multiple examples of what you can include when writing your resume.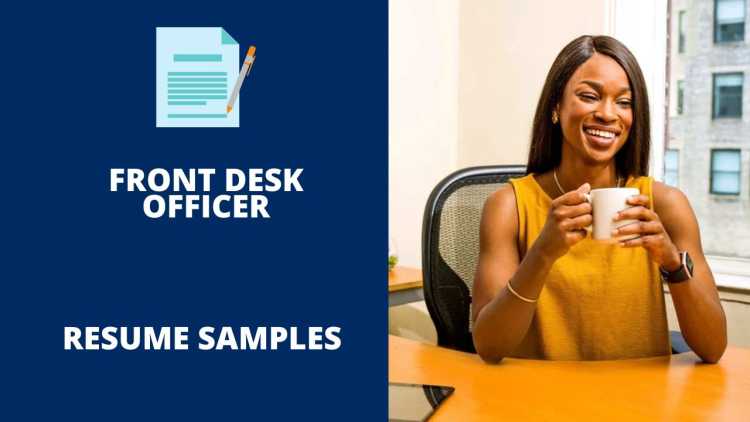 The Best Front Desk Officer Resume Samples
These are some examples of accomplishments we have handpicked from real Front Desk Officer (companies / buildings) resumes for your reference.
Front Desk Attendant
Ensured that the facility is sanitized, clean, and prepared for member use.
Greet guests as well as check members into the facility.
Use Mind Body Online program to sell memberships and personal training packages.
Achieved superior service experience rate in the hotel industry as a Front Desk Officer.
Resolved guest complaints within ten minutes of arrival and maintained a "One – 10" Customer Satisfaction Rate.
Front Desk
Working at soul cycle it's all about hospitality and making sure the customer comes out of the store happy.
As front desk I have to make sure all members are checked in, selling any merchandise and signing customers up for classes.
I also helped with setting up members bike and cleaning up after each class.
Reduced downtime from 9 hours to only 30 minutes, while increasing guest satisfaction.
Conducted "All–Night" emergency maintenance emergency calls and ensured timely completion of all goals, to set up for the next day.
Front Desk Agent
Worked closely with the housekeeping and maintenance department when guests report any issues.
In charge of the billing and settlement of CLC (corporate lodging – one of their biggest accounts).
Assisted every guest that approaches the front desk, and delivering solutions to their needs.
Responsible on answering multi – line phone system, while attending guests at the front desk.
Maintained a 5.0 "satisfaction rating" with all customers, even though overall positive feedback was only 2%.
Front Desk Agent
Greeted,registered,and assigned rooms to guests;including issuing room keys, ensuring all guests sign a guest register & provide credit card.
Supervised & monitored all front desk staff during PM shift making sure they adhere to the hotel's standards of excellence & policies.
Liaison between departments to improve guest services and foster cross department communication.
Verified banks and deposits each and follow all cash-handling and credit policies, and completed front desk communication log daily.
Identified new opportunities for performance through informative conversations with guests; filed recommended travel guides for future guests' use.
Front Desk Clerk
Liaison between transportation drivers and car storage department.
Conduct new employee training as front desk agent and PBX operators.
Worked as concierge by giving tourist information, booking and arranging tours, keeping up to date with current events/shows and giving the inside look of San Francisco Area.
Helped to maintain the fast-paced and efficient level of the front desk at a busy resort.
Assisted with daily maintenance, housekeeping, and all correspondence.
Front Desk Officer
Welcome guests on arrival and provide information regarding availability, room types and rates.
Provided information regarding hotel policies and activities in response to queries both on the phone and in person.
Maintain inventories pertinent to vacancies, reservations and rooms.
Compile reports relevant to guest accounts, receipts and vouchers both manually and electronically.
Recycled, organized, and stored all garbage and recyclables in designated areas.
Front Desk Officer
Ability to follow instructions well and make decisions with no supervision.
Maintained all record-keeping procedures without error.
Effectively developed telephone communication skills and consistently met quotas.
Maintained excellent quality of work site. Repaired damaged screens on windows in a timely manner.
Implemented the customer service policy and procedures, maintained and updated files, and provided excellent customer service.
Front Desk
Greet members, prospective members and guests, providing exceptional customer service.
Handle all front desk related activities including: Answer phones in a friendly manner and assist callers with a variety of questions.
Checked members into the system, New member sign-up, Take prospective members on tours.
Maintained a clean and neat office, was prompt in updating files and was attentive to requests from staff.
Took messages and answered the phone according to policies, rules, and regulations.
Front Desk
Ability to provide superior customer service to guests throughout their stay.
Answering in bound phone calls from repeating guests, potential guests, and groups.
Effectively able to make new reservations, make changes to existing reservations, and provide answers to any questions.
Served as an informational resource for customers in need of assistance or clarification on office policies and procedures.
Assisted with scheduling appointments; cross-trained coworkers.
Front Desk
As a front desk receptionist I answered all phone calls, kept inventory, and managed the cash register.
I had opening and closing duties that involved counting all the cash drawers and make sure the business was running smoothly.
This facility was an entertainment so I also wasn't trained to serve the bowling lanes and work in a short order kitchen.
Handled advanced telephone technology; skillfully and confidently used a system that required no technical background.
Achieved a city-wide award for excellent customer service; won the honor by championing a campaign for improved communication among front desk team members and company management.
Front Desk Officer
Greet guests and employees and ensure they are directed to the proper personnel and resources.
Answer multiple phone lines direct calls; manage and maintain office voicemail.
Ensure smooth event operation by scheduling space, equipment and participant lists.
Responsible for scheduling, maintaining a high level of customer satisfaction by responding to inquiries, and delivery of exceptional guest service.
Responsible for administrative tasks such as completing timesheets and payroll records.
Front Desk Officer
Responsible for answering phones direct calls as needed, greeting customers and clients, verifying identification and signing in guests, opening and closing the establishment, and acting as a liaison between clients and staff.
Lieutenant as an superior over twenty employees.
Also check cars vehicles at the gate and patrol the docks.
Initiated new procedures during the transition from manual to computerized records filing systems.
Took initiative to enhance the efficiency of work processes in an effort to create a more cost-effective system.
Wrap Up
You need to make sure your resume stands out amongst the other candidates. It is the first impression that employers have of your work experience and skills. Use the samples above to put together a resume that best suits your needs and helps you get the job you want.