General Office Clerks conduct administrative tasks and provide assistance in a variety of ways. Their duties include maintaining calendars and email lists, overseeing maintenance of different office areas, assisting in employee orientations, managing travel arrangements, email correspondence, stocking supplies, expense reporting and data entry. To work as a General Office Clerk you need a high school diploma. General Office Clerks must demonstrate organization, motivation, multi tasking ability, communication, attention to detail, writing, typing and Microsoft Office skills.
A good resume is well-written and concise. It should be neat and easy to read, listing previous experience in a logical order.
Our resume samples will provide you with multiple examples of what you can include when writing your resume.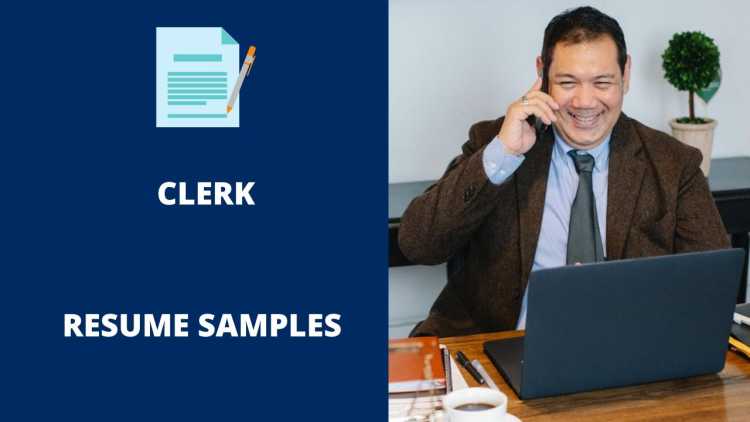 The Best Clerk Resume Samples
These are some examples of accomplishments we have handpicked from real Clerk resumes for your reference.
Clerk
I'm currently a clerk III (Cashier) in the accounting department.
I maintain daily account of transactions, make daily deposits, process client weekly payroll, issue petty cash and trust fund requests.
Process and distribute incoming and outgoing mail, balance cash drawer with no errors received 100% compliance during audit.
Provided customer service through resolutions of problems and explanation of process in signing out funds.
Acted as the receptionist and station manager.
Clerk
Complete and submit purchase orders, and consultant sheets to accounting.
Track and bill for adaptive aids, minor home modifications, and dental.
Checked documents for accuracy, transport documents, monitor Medicaid Eligibility.
Maintained records, logs, and file cabinets.
Handled company day-to-day operations by greeting guests, answering and directing phone calls, collating orders for billing purposes, and assisting in the preparation of various documents for internal or external review.
Clerk
My responsibilities in my current position are as follows: providing administrative support to all higher ranking administration, maintain all approvals for religious beards at all Region 1 Units.
Maintain files for each offender. Report preparations, scan all incoming documents into the database, answering phones, file organization and photocopying.
Additional skills and strengths that I encompass include: computer proficiency, exceptional oral and written communication skills, and excellent interpersonal, decision-making and problem-solving skills.
Paid close attention to detail to ensure that all transactions were completed according to proper procedure.
Attended meetings throughout the company concerning office sales/purchases, insurance fees, legal fees, and other specific business issues.
Clerk
Rapidly and efficiently prepared customer and ATM cash and change orders.
Developed knowledge about products and sales items to answer customer questions.
Followed proper standards for product freshness, food safety, refrigeration and sanitation.
Instituted proprietary programming used to streamline administrative tasks; reduced work time by 57 percent.
Assisted with security operations during the 2000 Republican National Convention, utilizing emergency equipment and evacuation procedures in addition to general clerical duties.
Clerk
Take orders, scan bags and load purchases. Process cash, credit cards and voucher transactions.
Stock and merchandising to maximize sales and provide a pleasant shopping experience.
Ensured that all guests received a warm greeting at the register.
Assisted in planning and organizing events, exhibits, and conferences generating $2 million in revenue.
Participated in raising funds for various non-profit groups in addition to implementing a $2 million expansion project of the business.
Clerk
I perform customer service functions such as greeting costumer, receiving their garments taking measurements I also took their payments.
I also performed HR functions such as, answering employee requests and questions, verifying I-9 documentation, maintains books, I perform payroll/benefit-related reconciliations accounts, assists with recruitment and interview process, schedules meetings and interviews.
I also performs clerical functions such as filling documents into appropriate files, photocopies, faxes documents, prepares new employee files, processes mail and performs other duties as assigned.
Supervised workstations efficiently and effectively, resolving conflicts and problems as they arose.
Processed invoices, orders, payments, and deposits accurately and on time.
Clerk
Review new submissions for complete information and appropriate Underwriting.
Prepared the renewal for Underwriting review and evaluations for quotations and binders.
Provided status updates to brokers as needed or requested including acknowledgment and declination letters.
Did basic bookkeeping, inventory control, shipping, and receiving clerk duties until promoted to Administrative Assistant at age 18.
Managed phone calls, mailings, messages, and orders for a busy computer company.
Clerk
Entered financial data into the company accounting database to be verified and reconciled.
Generated invoices upon receipt of billing information and tracked collection progress.
Reviewed files, records and other documents to obtain information and respond to requests.
Completed internal tracking forms for individuals and departments.
Maintained a handy waste bin for materials received by the department.
Clerk
Regularly worked in the frozen foods section, stocking items and helping customers locate their items.
Often assisted where needed, working the cash register and also helping to maintain a clean work environment.
Recognized by management for showing a strong work ethic.
Effectively communicate with clients by phone and direct correspondence.
Excellent verbal customer service skills; served on the front desk during weekends as well as holidays as necessary.
Clerk
Worked preparing large volumes of mail for every hour pick up by business couriers, which consist of sorting and distributing mail in a timely fashion.
Prepare, process and scan all accountable express, certified and confirmation mail to firm sheets.
Attempt and/or deliver each piece that was process.
Responsible for general maintenance of work area while exhibiting customer service skills at all times.
Maintained daily tasks of office efficiently; effective in completing tasks within established time frames or standards.
Clerk
Clean, sweep, dust mop, mop floors, stairways, corridors to ensure cleanliness, empty trash bins.
Dust furniture and scrub surfaces clean, Clean and services restrooms with mops and disinfectants.
Operate heavy cleaning equipment such as scrubbing machines, high speed buffers, carpet shampoo machines or wet and dry vacuum.
Managed document and data processing projects to reduce costs and increase productivity.
Ensured employee safety, security, satisfaction, and productivity by enforcing local standards for safety and security in the workplace.
Clerk
Assisted the Lead Teacher and Assistant Teacher with instructing and supervising children in classroom.
Worked with those students identified as having a moderate to more severe disability.
Utilized appropriate language, interactions and positive discipline.
Worked with individual children or small groups of children to reinforce new skills introduced by the teacher.
Obtained all tasks completed within specified time frames; achieved company goals by ensuring employees' needs were balanced with business needs.
Wrap Up
You need to make sure your resume stands out amongst the other candidates. It is the first impression that employers have of your work experience and skills. Use the samples above to put together a resume that best suits your needs and helps you get the job you want.