A Front Desk Agent in media and journalism is the first person you meet when you enter a newsroom or a television station. Their duties are to answer questions, direct guests to the proper department, notify employees that they have a guest, document guests, document what guests want, determine which employee can help a guest, and answer phones. Educational requirements for this position are a high school diploma or equivalent, and some relevant work experience. Skills needed are good listening skills, communication skills, time management skills, friendliness, desire to help, documentation skills, team player, and attention to detail.
A good resume is well-written and concise. It should be neat and easy to read, listing previous experience in a logical order.
Our resume samples will provide you with multiple examples of what you can include when writing your resume.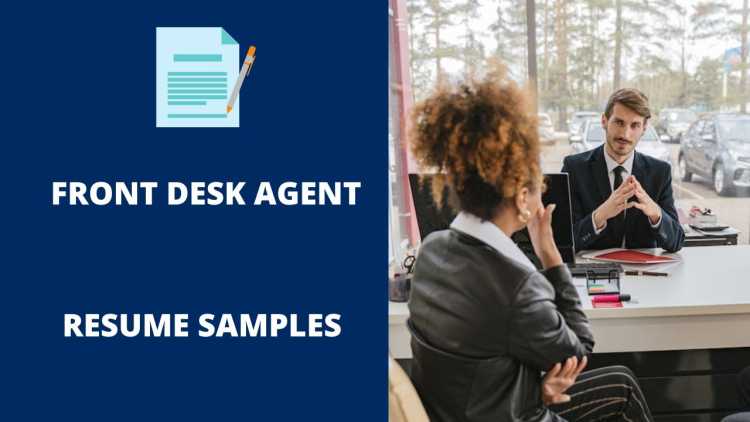 The Best Front Desk Agent Resume Samples
These are some examples of accomplishments we have handpicked from real Front Desk Agent resumes for your reference.
Front Desk Agent
As a front desk agent, I was responsible for ensuring a friendly and speedy registration, all while adhering to the brands standards of service and educating the guest of the Honors program.
Upon check in I was to inform the guest of any messages or amenities that may have been awaiting them.
I was also responsible for seeing to it that a guest had everything and anything he or she may needed to make their stay as comfortable as possible.
Compiled and maintained a database of all employee information. Handled incoming calls and directed calls to appropriate departments.
Assisted customers in using computer software, reconciling billing discrepancies, and conducting research.
Front Desk Agent
Communicate with other departments in regards to the property, other employee, or guest needs via radio or phone calls.
Taking leadership roles when managers/supervisors are not able to assist.
Working at a proper speed according to the work needed to be completed daily.
Answering phone calls, making new reservations, calling guest to follow up with them.
Handled a variety of assignments at the check-in desk, including check-in, issue room, luggage retrieval, and information terminals.
Front Desk Agent
Achieved the skills of a front desk agent at a four star hotel.
Greeted and registered guest while issuing room keys for their stay, answered department telephone calls, also used correct salutations and telephone etiquette.
Greeted guest in a courteous and professional manner.
Worked with the hotel two reservation systems during both the check in and check out process.
Received award for the highest attendance at work; exceeded the minimum required number of hours for vacation time.
Front Desk Agent
Determinates a guest's reservation status and identifies how long the guest will stay.
Helps guests complete registration cards and then assigns rooms, accommodating special requests whenever possible.
Verifies the guest's method of payment and follows established credit-checking procedures.
Places guest and room information in the appropriate front desk racks and communicates this information to the appropriate hotel personnel.
Processed over 150 guest inquiries and 1,000 open interest telephone calls within 24 hours.
Front Desk Agent
Liaised with vendors to resolve issues with Internet phone and in-room movies.
Coordinated sale and planning for wedding parties and events.
Maximized revenues partnering with regional manager to forecast rates based on market trends.
Anticipated guest needs responded promptly and acknowledged all guest concerns.
Assisted in the planning and organization of events, meetings, and parties.
Front Desk Agent
Constantly provided customer service with guests via myself as well as through phone and email while they were checking in and out of the hotel, or just having random questions and requests.
Quoted prices and gave estimates for various feats within the hotel such as our banquet rooms and group reservations.
Managed the entire hotel during the evening shift due to being the only employee on site.
Responsibilities, other than the front desk, consisted of being able to handle maintenance needs as well as technical needs throughout the hotel to ensure guest experience was a positive experience.
Enthusiastically assisted guests, in a friendly yet professional manner, with any requests or questions they had.
Front Desk Agent
Provides excellent representation of the company by showing guests world class customer service and remaining knowledgeable and attentive to their concerns and needs.
Executes proficiencies in telephone and front-desk reception within a high-volume environment; solve problems and establish client trust to prevent loss of key accounts.
Manages delicate situations, including customer requirements, special needs, complaints and general request for information and data.
Coordinates maintenance of front desk reception area; escorts guests and clients to correct destination and assumes ownership of any additional duties as they arise.
Managed the opening, registration and check-in process while maintaining accurate information to the best of my ability.
Front Desk Agent
Answer phone calls and receive faxes in a timely matter to accommodate guest's reservations.
Worked closely with partnered companies such as Southwest Airlines and Methodist Hospital to created special rates.
Resolve guest opportunities with limited management involvement.
Provided any toiletries, towels, and bed sheets needed to rooms or at the front desk.
Overlooked individual needs of guests for order, quality service, and accuracy.
Front Desk Agent
Assisting guest with checking and out the hotel, making and cancelling reservations, handling payments all while doing light clerical work.
Answering calls, assisting guest with any issues, taking and delivering messages.
I'm a dependable and organize person, work well with others and I also was offered a front desk supervisor position.
I had to decline dew to that I was not able at that time to handle the extra responsibilities that we're required.
Identified effective methods for handling repetitive phone calls with guests to ensure successful expediting of their needs during each call.
Front Desk Agent
Assisted with the check in experience, obtained room upgrades, and enrolled guests into our SPG loyalty program.
Followed through with our Go Beyond brand to created a memorable experience for each guest.
Handled guest conflicts professionally and efficiently to ensure guest retention and uphold to our brand standard.
Accurately processed cash, business checks, debit, and credit card transactions with a balanced allotted bank.
Booked in more than 50 audio, TV and film projects, including casting calls.
Front Desk Agent
Represent the hotel throughout all stages of the guest experience including phone calls, reservations, checking/in and out and concierge services.
Thoroughly understand and adhere to credit and cash-handling policies and procedures.
Maintain cleanliness and neatness of the front desk/lobby area.
Administered over 350 credit/debit cards for over 10,000 customers.
Used extensive knowledge of SF Chronicle's web site to process online reservations and print boarding passes at the rate of 1000 per day.
Front Desk Agent
Delivered efficient and courteous guest assistance in all Front Desk related functions, and to project high standards of service and professional hospitality at all times.
Coordinates room status updates with the housekeeping department by notification housekeeping of all check outs, late checkouts, early check-ins, special requests, and day use rooms.
Presents options and alternatives to guests and offers assistance in making choices.
Uses suggestive selling techniques to sell rooms and to promote other services of the hotel.
Assisted customers with directions, navigable maps (through Google Maps), and route planning advice.
Wrap Up
You need to make sure your resume stands out amongst the other candidates. It is the first impression that employers have of your work experience and skills. Use the samples above to put together a resume that best suits your needs and helps you get the job you want.