A freelance writer writes copy for many different companies. Duties include writing in many different forms: articles, reports, proposals, books, brochures and letters. Education requirements are a high school diploma or equivalent. Skills needed are MS Word, basic computer literacy, patience, overall general education, excellent grammar skills, excellent spelling and punctuation skills.
A good resume is well-written and concise. It should be neat and easy to read, listing previous experience in a logical order.
Our resume samples will provide you with multiple examples of what you can include when writing your resume.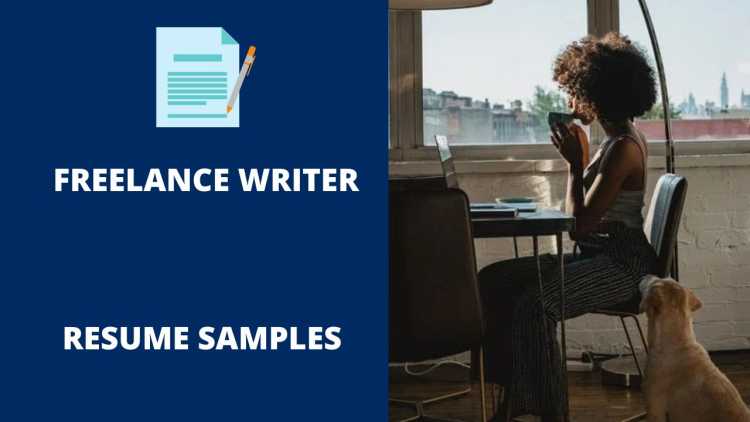 The Best Freelance Writer Resume Samples
These are some examples of accomplishments we have handpicked from real Freelance Writer resumes for your reference.
Freelance Writer
Profiled businesses throughout the state of New Jersey for Business to Business publication.
Interviewed start-up entrepreneurs and major pharmaceutical and biotech CEOs.
Adopted writing style that focused on insider-relevant details but concisely explained complicated concepts for professionals unfamiliar with specific fields or industries, such as pharmaceutical industry restructuring or New Jersey real estate market status.
Developed and maintained relationships with over 200 clients in the U.S. and abroad.
Represented clients in corporate communications, market research, technical writing, and magazine editing.
Freelance Writer
Writing press releases for businesses involved in the Austin food/hospitality industry.
Interviewing clients by email, telephone or in person about updates to product lines/services.
Writing deadline-driven press releases and revising them according to PBPR specifications.
Selected for Media Director position by National News Media Printer's Association for six years of managing newsprint distribution for three unionized printers.
Developed business plan for marketing company's exclusive letterpress printing services to newspaper publishers across North America.
Freelance Writer
Control social media, marketing, blogging and PR efforts for multiple clients.
Keep media and marketing up to date and exciting through regular newsletters, contests/giveaways,blog posts, detailed reports and customer relations.
Have conducted interviews at events like Austin Film Festival, SXSW and New York Fashion Week for Orange Magazine, Us Weekly and Fashionably Austin.
Worked as freelancer journalist, columnist, editor-in-chief of a monthly national periodical.
Developed networking skills largely from personal writing experience as an Advertising and Public Relations professional with several ad agencies through additional corporate writing experience and media sponsorships with the National Association of Broadcasters (NAB).
Freelance Writer
Researched and completed assignments in a timely manner. (Required less than 48 hours per assignment).
Properly finished articles in their intended format (For example: Blog, PR Documents, Essays, Articles, etc.).
Ensured each assignment was easy to read, and ensuring the key points were highlighted.
Developed articles for two magazines, four newspapers, and one-hundred blogs; expanded readership among targeted audiences.
Assessed writers' viewpoints to determine needs of audience; conducted interviews to gather information.
Freelance Writer
Works with clients around the world to created top-quality content and copy.
Published in a variety of online outlets including Real Clear Policy, The Inquisitr, Huffington Post, and more.
Editor-in-chief of an online commodities journal with readership including industry leaders and top analysts.
Achieved and maintain top-ranked status on the world's premier freelancing website.
Weighed customer service ratings with quality and cost factors; negotiated contracts with writers based on optimum results.
Freelance Writer
Daily collection of live stats, taking pictures and videos at high school football games in the area.
Analyze the data, summarize the event, design the print media, and send to local newspapers for print the next day.
Blogger about high school football games.
Observed media trends to identify opportunities for innovative concepts; brainstormed ideas with freelance writers and editors.
Wrote for top educational publishers and professional periodicals who published my articles after positive reviews.
Freelance Writer
Wrote and produce a variety of content for digital and print publications in the business and sports sectors, including Yahoo, San Antonio Express-News, Costco and JP Morgan Chase & Co.
Completed multiple assignments for JP Morgan Chase & Co. particularly focused on thought leadership, commercial banking, and marketing and communications sections.
Outline, develop, and pitch comprehensive integrated product and service content ideas for middle market organizations.
Pitch, develop and deliver accurate engaging content after discussing with editors and adhering to style and brand requirements.
Researched and interviewed executives from various Silicon Valley companies for a series of "Insider Interviews" which were published in Computer Graphics World magazine.
Freelance Writer
Wrote online content based on specific Meta keywords under the direction of designers to improve search engine rankings.
Edit various types of copy including educational materials, newspapers, magazines, books, business letters, dissertations, theses, queries, etc.
Wrote in-depth online and hard-copy articles.
Wrote articles for national publications, including "Chicago Tribune", "The Gaysian Times", "The Gay Mafia", and "Hola Magazine", among others, as well as various web sites.
Pitched articles and reviewed drafts at a local marketing firm.
Freelance Writer
Opinion pieces polished on HuffingtonPost.com, Aljazeera.com, CNN.com, Dallas Morning News and other media.
Wrote and self-published memoir, Joy in the Morning – A Mother's Journey from Tragedy to Triumph.
Developed content and created website to promote work as freelance writer and wellness coach.
Wrote restaurant reviews on Yelp after hearing positive feedback from a friend.
E-mailed over 100 employers inviting them to review my Resume via their website.
Freelance Writer
Offered feature and hard news journalism services to regional and national print and online publications.
Contract writer for the Houston Chronicle, a daily newspaper, reporting on a variety of topics including government, law enforcement, education, and business.
Freelance articles have appeared in business trade publication Venues Today, Community Impact Newspapers, and CityBest.com.
Provided content services for website and product packaging for Perfectly Comfy LLC.
Co-authored articles for the "Lemon Creek Review" newspaper, produced radio spots for a radio show, coordinated and produced a 5-day live concert for young adults.
Freelance Writer
As a freelance writer, I enjoy the opportunity of taking on a variety of different writing assignments.
My clients lay out the criterion for the assignment and provide me with the necessary background information to complete them.
I review every step of the writing process with my clients, and provide them with preliminary drafts, so they know what direction I'm taking with the assignment.
I do this to provide them assurance and peace of mind while they patiently wait for their assignment.
Coordinated and produced 6 performances of "A Tea Party" at the City National Civic Theatre.
Freelance Writer
Partner with various companies on projects such as professional resume and cover letter writing for high-level clientele, article feature writing for online publisher, editing services for online publisher, and consultant for independent/indie publishers.
Consult with customers via phone and email through the creation, revision, and final project completion to ensure customer satisfaction, cultivate lasting relationships in the interest of retention, and promote a positive brand image for service provider.
Review peer submissions for quality, accuracy of information, and to ensure originality of submitted work.
Created the written piece "An Insider's Guide to a Writing Writer's Life" to inspire and teach aspiring writers.
Appeared in local, regional, and nationwide publications including "The New York Times," "The Boston Globe," and "The Washington Post."
Wrap Up
You need to make sure your resume stands out amongst the other candidates. It is the first impression that employers have of your work experience and skills. Use the samples above to put together a resume that best suits your needs and helps you get the job you want.