Delivery drivers drive their company's delivery vehicle to make timely deliveries of packages and other items. They typically work part-time, with many companies hiring high school students or college students for these positions. Delivery drivers must be able to lift heavy objects (up to 70 pounds), have a valid driver's license, maintain a clean driving record, and understand local traffic laws.
A good resume is well-written and concise. It should be neat and easy to read, listing previous experience in a logical order.
Our resume samples will provide you with multiple examples of what you can include when writing your resume.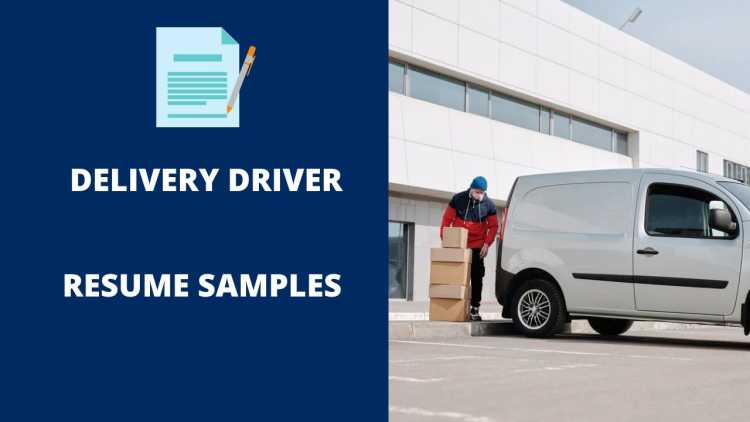 The Best Delivery Driver Resume Samples
These are some examples of accomplishments we have handpicked from real Delivery Driver resumes for your reference.
Delivery Driver
Picked up food orders from restaurants and delivered them to customers' homes.
Provided quality customer service with restaurant employees as well as customers in the community.
Utilized driver's app to locate eating establishments and customers' homes.
Comfortable with driving in extreme weather conditions ranging from sub-freezing cold, to dry heat exceeding 100 degrees.
Consistently met delivery deadlines; completed routes, picked up, and delivered all packages without damage.
Delivery Driver
Distributed food from a local restaurant and deliver it to the customer.
Worked with restaurants across the western half of Union County so that we can mobilize their services.
Provided status updates per delivery to keep track of me and how many deliveries I made.
Safely maintained and obeyed road laws; no tickets were issued during the entire two-year driving period.
Readily made address changes with customers; revised addresses on maps and kept records current.
Delivery Driver
Operated delivery vehicle safely and complied with the department of transportation.
Made all deliveries, returns, and vendor pick-ups in a timely and accurate manner.
Completed truck inspections and daily vehicle inspection reports.
Loaded delivery vehicle securely to maximize delivery efficiency.
Unloaded truck and took RGA's products, pallets, and equipment to the designated area of the warehouse.
Delivery Driver
Followed driver manifest and customer bill keeping track of times.
Unloaded product according to customer bill numbers accounting for all the products and acquiring customer signature.
Called customer contact and communicated with customers on to where product belongs and who signs for the delivery.
Quickly responded to requests for additional deliveries, thereby increasing the sales volume of the company by at least 10%.
Recognized by the company for safe driving while transporting a record amount of 88 packages in a single shift.
Delivery Driver
Joined the EatStreet Company at the beginning of their experimental delivery driver program as means of market strategy.
Assisted in creating orientation material to be distributed to future employees as means of smoothing the transition of purely web-based ordering platform to real-world delivery with customer service.
Overall maintained a high level of customer service for customers who at times became frustrated with the company as our current business model rolled out in February of this year.
Met efficiency standards and delivered fresh perishable products with speed and accuracy.
Set up and organized new routes within the area to meet customer needs.
Delivery Driver
Delivered food for a fast-paced and busy restaurant.
Checked with orders and made sure that each customer gets the correct food they ordered and delivered them to their apartment or house in my personal vehicle.
Worked busy hours such as from morning, lunch, noon and night.
Decreased vehicle operating costs, despite fuel price increases by combining deliveries with other drivers.
Delivered my best performance when it mattered most; drove at 40 miles per hour in a snowstorm with 5-inch visibility to deliver Christmas presents on time.
Delivery Driver
Responsible and experienced delivery driver for 5 years.
Inspected and maintained truck in a working manner; notified management if there was a problem.
Loaded and unloaded truck and processed paperwork (BOL and delivery receipts) as instructed.
 Completed one hour of on-the-job training in order to obtain a commercial driver's license and earned an Associate's degree through the Georgia Southern University School of Transporation.
Carried out a code-one delivery each week over a two-year period that required consecutive one-hour shifts. This satisfied the Georgia Driver License requirements and enabled me to meet my personal goal.
Delivery Driver
Contacted customers prior to delivery to confirm and coordinate delivery times.
Recorded each delivery using the proper paperwork before leaving the warehouse.
Verified each delivery against shipping instructions before delivering to customers.
Delivered 80% of total outbound travel documents to the correct addresses without incident.
 Achieved award for visiting every customer, 96% of the time, while acquiring a 100% customer satisfaction rate.
Delivery Driver
Collected and organized packages in order for delivery.
Made sure each and every package has a sticker that matches the address.
Delivered package in a timely fashion and made sure package is out of sight.
 Led in organization and documentation of twice-yearly meetings at four facilities by arranging and coordinating transportation, food services, hotels, facilities, expenses, and attendance.
 Secured a 25% annual increase in sales over two year period by providing top-level service to leadership through advance planning, utilization of resources, and negotiating with clients.
Delivery Driver
Retrieved and transported packages/deliveries throughout the tri-state area.
Utilized GPS system to plan routes to ensure on-time deliveries.
Conducted vehicle/equipment checks at the start and end of each shift.
Adhered to driving and organizational delivery guideline standards.
Narrowly escaped an accident when driving a delivery truck; all four tires blew out on a turn (stopped within inches of a four-foot ditch).
Calmly avoided an accident on the highway when another driver, who was illegally in the fast lane and traveling at excessive speed, suddenly slowed down and cut immediately in front of me without signaling.
Delivery Driver
Always operated vehicle safety with service and efficacy in mind.
Followed all road regulations at all times and had zero incidents on deliveries.
Chosen optimal routes consistent with delivery expectations, efficiency, and traffic knowledge.
Made it through rush hour traffic from downtown to northern New Jersey in record time after clearing tolls, traffic lights, and road construction.
Managed to please customers by delivering valuables, such as furniture and appliances, to new homes on time and with no damage.
Delivery Driver
Delivered newspapers to dealers or individual subscribers at their homes or places of business.
Drove truck and automobile over the prescribed route on city streets and rural roads.
Reviewed list of dealers, customers, and made station drops for change in deliveries.
Delivered packages and invoices throughout New York City in a timely manner according to customer needs.
Accurately performed daily route inspections by checking vehicle condition, confirming fuel levels, and looking for any obstructions or damages.
Wrap Up
You need to make sure your resume stands out amongst the other candidates. It is the first impression that employers have of your work experience and skills. Use the samples above to put together a resume that best suits your needs and helps you get the job you want.