Dental Hygienists offer basic dental care under the supervision of licensed dentists. Their duties include cleaning teeth, removing plaque, polishing teeth, taking dental X-rays, interpreting oral histories and discussing proper oral hygiene with patients. Dental hygienists must graduate from an accredited degree program and become licensed in their state. It is important for dental hygienists to be people-oriented, communicative, patient, organized, professional and motivated team players.
A good resume is well-written and concise. It should be neat and easy to read, listing previous experience in a logical order.
Our resume samples will provide you with multiple examples of what you can include when writing your resume.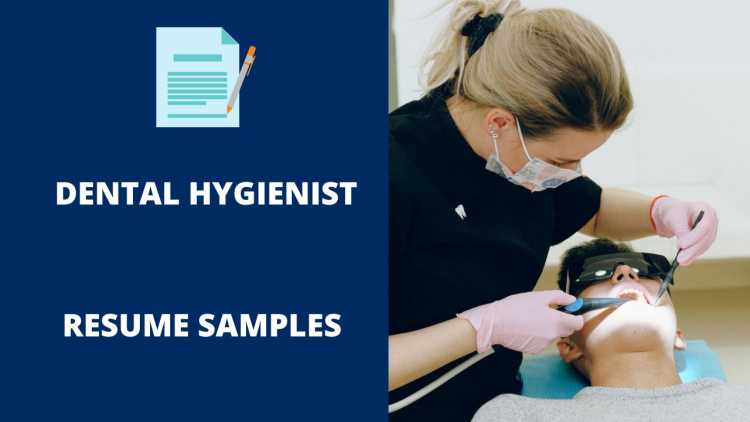 The Best Dental Hygienist Resume Samples
These are some examples of accomplishments we have handpicked from real Dental Hygienist resumes for your reference.
Dental Hygienist
Provided preventative dental care including taking vital signs and reviewing electronic medical records.
Performed screening procedures such as assessment of oral health conditions, oral cancer screening, and dental charting.
Taking and developing radiographs, removing plaque and calculus from all tooth surfaces, making impressions and updating electronic medical records.
Counseling and educating patients on the importance of good oral hygiene and nutritional strategies.
Achieved award for perfect attendance; never missed a day of work in three years.
Dental Hygienist
Recommend and use the Laser for patients who would benefit from sterilizing any periodontal pockets and disinfecting sub gingivally.
Educated patients about the dental office and all the many procedures available.
Recommended and applied fluoride treatments for patients who need it, not just children.
Also adults with moderate recession, erosion, dry mouth or many amalgams.
Give each patient a thorough, detailed, fulfilling dental cleaning, as well as, completing the appointment in a timely manner.
Dental Hygienist
Full- time Hygienist treating 14 patients daily, skilled in patient assessment, treatment planning and explanation, executing dental hygiene/periodontal treatment.
Evaluate clinical findings, medical history and previous dental records and integrating the information into a plan for excellent dental hygiene.
Use electronic health recording system for clinical activities and recording oral.
Maintained a clean, neat, and organized office by scouring the office, brushing the teeth of patients, and washing her hands.
Was known as the "Rookie" hygienist; she was promoted to become a full-time employee after only several months of working at this appointment.
Dental Hygienist
Treats a diverse patient caseload within a high volume private practice.
Performed all aspects of dental hygiene with emphasis on: soft tissue management, sealant applications, Brite smile bleaching, scaling and root planning's.
Operates Dentrix computer and digital x-rays, spectra and cancer screening.
Administers varied procedures utilizing advanced hygienic technology.
Closely confers with sales representatives and dental team to assess and select manufacturer products and equipment.
Dental Hygienist
Conduct patient screening, medical history evaluations, and dental charting using SOE software.
Working in paperless chart systems environment and using web based computer system.
Provided Prophylaxis treatment to patient such as adult and child prophy, scaling and root planning and soft tissue management.
Was well versed with proper techniques for scaling and root planning.
Maintained all necessary equipment and supplies for daily operations by remembering to sharpen instruments and keep samples in stock; she taught other hygienists how to maintain their equipment.
Dental Hygienist
Assessed patients' oral problems by carrying out evaluation activities.
Assisted in selecting appropriate fluoride treatments and applying them properly.
Made impressions of patients' mouths for creating mouth guards, braces and casts.
Worked with the Dental Director to develop and carry out a plan for incorporating sound business practices related to dentistry, including insurance and claims processing, accounts receivable, employee management, and maintenance.
Patiently developed and maintained relationships with hundreds of patients to create a strong base of returning clients.
Dental Hygienist
Performed a complete prophylaxis, root planning.
Provided prophylactic and preventive measures such as the application of fluorides and pit and fissure sealants.
Made radiographic exposures, provide oral health education and remove sutures.
Took impressions for diagnostic models and models to be used as counters for fixed or removable prostheses.
Working on initiating future dental treatments for the American Dental Association guidelines and the Occupational Safety and Health Administration guidelines, ensuring patient safety and comfort.
Dental Hygienist
Providing oral health evaluation and treatment on mobile dental van and school based dental clinics.
Senior dental hygienist providing local anesthesia, scaling and root.
Planning, prophylaxis, sealants, radiographs, baby day screenings and patient education.
Working with the state of California to promote retention of fleeing dental clients through proactive event planning and client education.
Providing excellent, professional care for patients by performing daily oral hygiene exams, administering oral health solutions, completing preventive maintenance, applying sealants, developing treatment plans for complex ailments, professionally feedbacks all dental findings to dentists.
Dental Hygienist
Provided excellent patient care in a general/cosmetic practice.
Provided scaling/root planning to periodontal compromised patient and developed a periodontal protocol and standard of care.
Developed a recall system for all re-care and hygiene appointments.
Counseled on Home Care instructions individualized to each patient.
Has been a proud supporter of the American Dental Association and a member of that association for over two decades.
Dental Hygienist
Prepares treatment room for patient by adhering to prescribed procedures and protocols.
Prepares patient for dental hygiene treatment by welcoming, soothing, seating, and draping patient.
Maintains instrumentation for dental hygiene treatment by sharpening, sterilizing, and selecting instruments.
Selects materials and equipment for dental hygiene visit by evaluating patient's oral health.
Completes dental prophylaxis by cleaning deposits and stains from teeth and from beneath gum margins.
Dental Hygienist
Performed Prophylaxis Scaling and and handle root planning and periodontal scaling activities.
Examine patients to decipher their need for oral hygiene and dental procedures.
Reduce paperwork by 60% through converting all patient records into an electronic form.
Prepared dental examination rooms and ensure that all needed instruments and equipment are available.
Is certified by the ADA to perform periodontal surgery as well as dental vestibular treatment.
Dental Hygienist
Assess oral health conditions, perform oral cancer and head and neck screening.
Complete scaling and root planning, dental prophylaxis and apply preventative adjuncts as needed.
Counsel patients in proper home oral hygiene techniques, nutrition and mouth-body connection.
Maintain accurate patient charts and impeccable infection control.
Went through all required training in order to achieve status as a "Master Practitioner" in both periodontology and vestibular dentistry.
Wrap Up
You need to make sure your resume stands out amongst the other candidates. It is the first impression that employers have of your work experience and skills. Use the samples above to put together a resume that best suits your needs and helps you get the job you want.