A Med Surg RN provides nursing care to patients in the medical or surgical areas of a hospital. Their duties include inserting IV's, caring for feeding tubes, administering medications, running tests, maintaining medical charts, communicating with patients and doctors, maintaining oxygen tanks, and monitoring vital signs. Educational requirements to be a Med Surg RN are a bachelor's degree in nursing and then passing the NCLEC exam to become registered. Skills needed to be a successful Med Surg RN are patience, empathy, compassion, excellent math and computer skills, physical strength, communication skills, flexibility, and good communication skills.
A good resume is well-written and concise. It should be neat and easy to read, listing previous experience in a logical order.
Our resume samples will provide you with multiple examples of what you can include when writing your resume.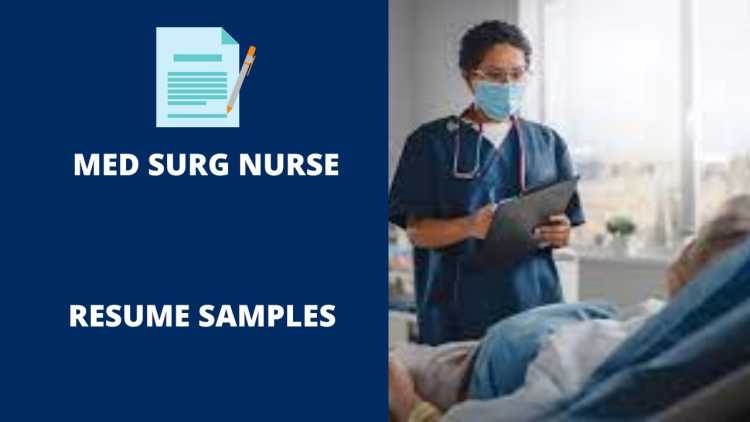 The Best Med Surg Nurse Resume Samples
These are some examples of accomplishments we have handpicked from real Med Surg Nurse resumes for your reference.
Surgical RN
Pre-op evaluation, ease patient anxiety, health history, Informed Consent, detailed documentation, 3 and 12 lead EKGs.
Circulate in OR, assist surgeon, time out, sterilize surgical location, prepare sterile field for implements, monitor patient vitals closely, detailed documentation.
Post-op care of patient, maintain patient safety, monitor vital signs, assess patient responsiveness, alert physician with adverse changes in condition, verify all documentation is complete.
Provided direct supervision of overall clinical and administrative aspects of a Trauma Unit, Cardiac and General Surgical Wards, and a Pediatric Ward.
Trained to National Institute of Health in Implants and Materials Technology while earning certification as Primary Contact Person for Surgery Department.
Registered Nurse, Med-Surg
Performing all nursing care in accordance with the state Nursing Act while adhering to all facility policies, procedures and protocols.
Monitoring patient progress and identifying any changes in status, acting on those changes to ensure patient comfort and safety.
Managed and utilize strong assessment skills to determine necessary patient care for patients with various medical conditions for pre-operative and post-operative status.
Recognized as "Outstanding Surgical Nurse" by surgeons who have practiced at other medical centers.
Assisted in the development of a computer database for surgical procedures and tracking patient information.
RN Medical Surgical
Observe upwards of 5-8 patients per shift, charted and reported changes in patient's' condition, such as adverse reactions to medication or treatments.
Conducts an individualized patient assessment, prioritizing the data collection .
Develop plan of care that is individualized for the patient.
Performed appropriate treatments as ordered by physician in an accurate and timely manner.
Led team providing care to residents of nursing homes; established the first Medicare-certified rehabilitation unit in city history with my work leading the ward.
RN Med/Surg
Performed initial patient assessments and work with physicians to plan, implement, and evaluate plans of care for adult-geriatric patient population.
Conduct ongoing assessments as determined by the adult or elderly patient's condition and reprioritize care accordingly.
Report critical values and condition changes to Charge Nurse or Doctors.
Utilized clinical expertise to administer medications and injections, administer IV therapy, perform venipuncture, provide wound care, monitor glucose levels and lab values, assist in bedside procedures, monitor various drainage devices.
Excelled in patient care, clinical perfection, and professionalism as a surgical nursing supervisor.
RN Med/Surg
Recorded patients' medical history, vital statistics and test results in medical records.
Monitored post-op vitals, set up PCA, fluids, reviewed post-op orders and orient patients to unit.
Actively participated in unit-based Policy an Procedure council and was the lead educator on the unit on policies such as foley catheter insertion, blood transfusion.
Performed all tasks with a patient-centered focus while seeking opportunities for improvement of processes and treatments.
Contributions to increased standards of care by broadening the scope of her unit's capability.
RN Med/Surg
Collaborate with interdisciplinary members of the health care team to created a plan of care with outcomes that are individualized for each patient based on each diagnosis.
Delegate and provide direct patient care as needed while maintaining patient safety as priority.
Acted as Charge nurse when needed, oversee care and make myself available as a resource person to staff, patients, and patient families.
Achieved superior ratings for departmental services, efficiency, ability to utilize time effectively, and communication skills.
Achieved recognition as a top performer in the cardiac surgery ICU at the Hospital Heart Hospital in Manhattan 3 years consecutively by previous directors of the department.
RN Med/Surg
Receive and provide nursing care to the patients after orthopedic and general surgery.
Assessed life threatening complications and managed with immediate actions.
Assisted the patient and family to obtain knowledge of the disease and its management.
Worked in the sterile surgical area of the operating room and assisted surgeons during operations, such as C-Section, Thyroid surgery, appendectomy, and fibroid removal.
Transferred patients to the recovery room after performing a variety of medical procedures including laminectomy and discectomy.
Med Surg Nurse
Worked closely with the medical team to develop short and long terms goals and care plans.
Interact with patient and family to provide answers to questions.
Involve patient and family/significant other in planning patient's care with education for disease process.
Performed wound care after cleaning incisions for surgical procedures. Treated patients for post-operatively by observing for signs of infection or delayed healing.
Developed positive relationships with patients; shared knowledge and provided teaching aids to promote patient understanding during post-operative recovery at home.
Registered Nurse Med/Surg
Cared for a variety of patients who had acute, chronic and post-surgical conditions.
Able to carry out the nursing process with knowledge and efficiency.
Able to perform various tasks, such as: blood transfusions, wound care, using the Ivac, monitoring, administering medications, etc. BLS certified.
Able to communicate with staff and family members to achieve best patient outcomes.
Recognized as a top performer in unit with three hundred other RNs; achieved 98% patient care rating.
Staff Nurse, Med/Surg
Worked independently providing bedside care, treatment and clinical documentation for patients on the medical-surgical floor.
Utilized the nursing process when administering medication and treatments, doing dressing changes, maintaining IVs and all other aspects of nursing care.
Facilitated admissions, discharges, transfers of patients, Prepared chart notes and other documentation.
Directed team consisting of eight nurses, four interns, and a supervisor in maintaining quality patient care by utilizing multiple resources.
Trained four new RNs for the start-up of a new surgical unit during its first month of operation; recognized for excellence in training and mentoring.
Staff Nurse Med-Surg
Carefully monitor and effectively communicate changes in conditions and provide the necessary and appropriate interventions per physician orders.
Educate patients and families on disease processes and preparation for advancing to the next level of care.
(Renal) Acute renal failure that require dialysis pending kidney recovery, ESRD, AV fistulas/grafts, Vas-Caths/Perma-Cath.
(Skin) Fistulas, Drains, ostomies, decubitus ulcers, post-surgical wounds, ischemic extremities, cellulitis, etc.
Recognized for exceptional clinical nursing skills; assigned to among ten teaching teams honored nationwide.
Staff Nurse Med-Surg
Prepared admission documentation, assessment and plan of care based on primary diagnosis.
Assessed patient's needs and conditions at regular intervals as defined in unit standards of care, reviewed and implemented physician orders.
Documented patient care, physician orders, vital signs, treatment parameters, procedures and test results into Meditech Patient Care System.
Monitored intake and output per unit standard of care, physician order, per nursing assessed need and/or as specified by hospital policy.
New surgical program received the top score of "Excellent" from accrediting agency surveyors with no deficiencies noted.
Wrap Up
You need to make sure your resume stands out amongst the other candidates. It is the first impression that employers have of your work experience and skills. Use the samples above to put together a resume that best suits your needs and helps you get the job you want.