Merchandisers are responsible for purchasing, stocking, and tracking products to enhance the company's sales and profits. Their duties include monitoring sales, making and changing the timeline of shipments, ordering products, restocking of products, changing out and organizing inventory, tracking inventory, and building relationships with producers and clients. To become a Merchandiser, you need a high school diploma/GED, driver's license, and prior experience with merchandising or customer service/sales. Merchandisers must have strong communication skills, interpersonal skills, multitasking, time management, teamwork, independent working, organizational skills, and tracking and analysis skills.
A good resume is well-written and concise. It should be neat and easy to read, listing previous experience in a logical order.
Our resume samples will provide you with multiple examples of what you can include when writing your resume.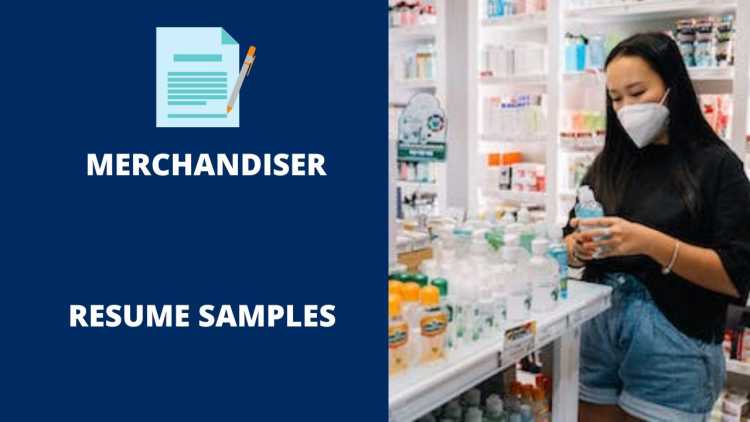 The Best Merchandiser Resume Samples
These are some examples of accomplishments we have handpicked from real Merchandiser resumes for your reference.
Merchandiser
As a Nabisco merchandiser it is my job to take products from the backroom and stock them on the sales floor.
Once in the aisle with the necessary products I am to move older products to the front and newer ones to the back.
After completed, I am ensure the aisle holding Nabisco products are made presentable for guest.
Organized retail merchandise area, tracked inventory, and stocked products according to store guidelines.
Picked-up products from vendors on time as per store's delivery schedule.
Merchandiser
Responsible for transporting inventory from warehouses to retail locations for sales to the customer.
This is completed through frequent visits to retail outlets, and requires the ability to lift, push and pull heavy loads on a repeated basis.
It also requires the ability to bend over, reach above head and kneel frequently.
Merchandiser are also responsible for building and maintaining product displays in retail stores.
This includes not only keeping product levels appropriate but also maintaining advertising standards in certain locations throughout the store.
Merchandiser
Maintain and expand exiting accounts. Assist customers in completing credit applications.
Process customer requests for billing and payment information.
Researched and resolve customer billing and payment issues.
Use personal computer to input data, maintain client files and communicate with customers, management and supervisors.
Promoted the benefit of storing merchandise in a temperature-controlled environment through participation in ongoing merchandising training classes.
Merchandiser
Process new items that come of the truck and push them out to the floor and organize and straighten the merchandiser so it looks presentable for the customers when they come in to shop.
Help customers with any inquires or items that needed to be found or picked up.
I also help on the dock when the trucks come in.i usually unloaded them and help sort them to the designed area for the next day, for when the merchandiser arrive the next day to merch.
I help loaded up the trucks by putting them on pallets and wrapping them and putting a label on them so the D/C knows what it is when shipped out.
Managed iStore's promotional department for six months during transition period from iDay to eCommerce platform and the implementation of reduced work schedules for the department workers.
Merchandiser
I was in charge of restoring shelves that could be in and/or out of fridges that needed to be filled up with more of a particular product as it came in.
Here, it was important to be quick, as there was always different loads arriving at different stores that had to be put away.
Stocking up the backroom, keeping it organized so the people that were actually employed in the stores could easily get their hands on the product.
Received award for employee recognition, promoted with same level staff to create synergy in the department leading to increased sales revenue and customer satisfaction ratings.
Responsible for success in managing inventory by forecasting demand, maintaining the accuracy of inventory, and increasing sales.
Merchandiser
Received merit badges for outstanding work ethic and performance.
Communicated with vendors regarding quality assurance and ordering procedures.
Provided excellent customer service and product knowledge to customers.
Developed a new merchandising approach to enhance sales by decreasing the time it takes to sell merchandise. Scheduled branch sales representatives to maximize efficiency.
Implemented new marketing techniques to increase sales. Coordinated advertising and promotions for stores in three states.
Merchandiser
Reset specified stocking sections to retailer provided Schematics or Shelf Strips.
Set up advertising signs and displays on shelves, counters, tables and other specified locations.
Correctly separate and identify back stock, discontinued and unallocated items in boxes, bins, and crates in location(s) identified by Team Lead.
Successfully developed a national specialty store concept that sold merchandise at retail locations within 3–6 months of placing an order; increased unit-sales volume from 20% market share to 35%.
Designed and maintained merchandise departments, introducing new products for convenience stores and drug stores.
Merchandiser
Push and pull heavy plant racks while frequently bending and lifting up to 40 lbs. of product.
Efficiently merchandise plants from delivery racks to retail stock benches.
Maintain quality plant inventory at store level – condense unsellable product, reposition product to constantly changing store needs, water product.
Directed inventory control, setting up and maintaining the computer system.
Analyzed merchandise, set up installation specifications, installed, packed, and shipped orders to customers.
Merchandiser
Process fulfillments and achieve sales plan to ensure proper product placement.
Marked stock items using tags, stamps, electric marking tools, or other labeling equipment.
Attend to customer service needs in a friendly and helpful manner when approach.
Created regular schedules to work closely with customers to ensure timely deliveries of daily stock items.
Trained sales personnel in merchandising methods and techniques as well as provided support during equipment installations/upgrades.
Merchandiser
Tasked with stocking an entire section with new product in a timely manner each morning.
Using a pallet-jack and various tools to move heavy pallets of product into the appropriate places, straight, and aligned neatly, without assistance.
Often times, asked to conduct as a supervisor and be responsible for floor coverage.
When needed, have handled issues pertaining to RTV in the receiving end of the warehouse. This included, dealing with other companies' product drop-offs and signing them in, as well as logging them into the computer promptly and orderly.
Adhered to the company's mission and established a reputation for high-quality merchandise.
Merchandiser
Pack and unpack items to be stocked on shelves in stockrooms, warehouses, or storage yards.
Provided assistance or direction to other stockroom, warehouse, or storage yard workers.
Stock shelves, racks, cases, bins, and tables with new or transferred merchandise.
Designed and set up advertising signs and displays of merchandise on shelves, counters, or tables to attract customers and promote sales.
Read work orders or receive oral instructions to determine work assignments or material or equipment needs.
Merchandiser
My duties were to perform daily department tasks including stocking, creating displays, re-merchandising, updating pricing and layout schematics, transfers, inventory control.
I was involved in maintaining the sales floor, adjusting marketing presentation to meet sales objectives.
Assisted and trained new associates, and helped deliver excellent customer service with floor sales and assisted with purchases.
Created and executed strategies for retail stores and distribution centers to maximize sales through unusual displays, promotions, and coupons.
Received President's award of excellence; developed the first real-time computerized inventory control system.
Wrap Up
You need to make sure your resume stands out amongst the other candidates. It is the first impression that employers have of your work experience and skills. Use the samples above to put together a resume that best suits your needs and helps you get the job you want.