Desktop Support Analysts deal with computer-related problems. They support customers and companies by responding to tickets, troubleshooting issues, maintaining systems, upgrading applications, creating IT policies and procedures, managing software licensing, and analyzing software and hardware for recommendation. Employers accept an Associate's or Bachelor's degree in computer science or information technology, on top of specialized certifications from HDI, Cisco, CompTIA, or Microsoft. Skills needed for this job include a knowledge of: operating systems, network connectivity, software, applications, and desktop hardware. Applicants must be customer service-oriented, problem-solvers, and team players.
A good resume is well-written and concise. It should be neat and easy to read, listing previous experience in a logical order.
Our resume samples will provide you with multiple examples of what you can include when writing your resume.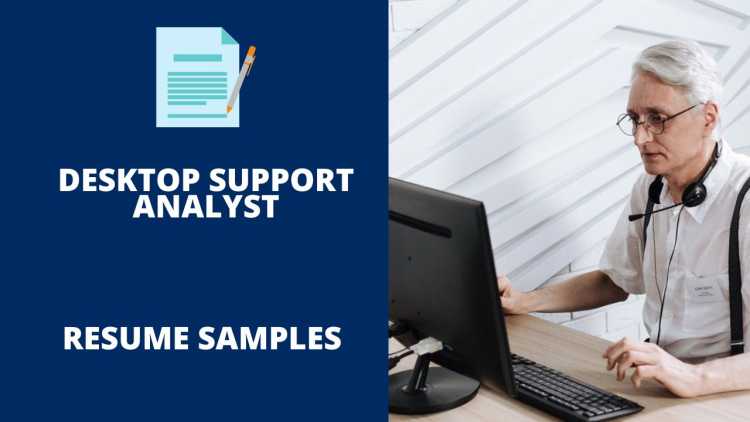 The Best Desktop Support Analyst Resume Samples
These are some examples of accomplishments we have handpicked from real Desktop Support Analyst resumes for your reference.
Desktop Support Analyst
Resolved technical issues for customers in person for on-site users and via telephone, email and remote technical tools for work at home users and branch users.
Supported/profiled/installed system upgrades (Operating system and hardware) and MS Office updates for the line of business minimizing impact to end users.
Resolved issues for all Microsoft Outlook and Lotus Notes email clients including instant messaging systems and video conferencing tools.
Fixed VPN connection issues and managed/administered remote access accounts for a population of largely remote users.
Collaborated with customers to resolve technical issues.
Desktop Support Analyst
Assisted with the test of all new system for asset management, Mobile Device Management and many other solutions that were being implemented.
Managed all of the layers for deployment including base layer and app layers and updated them as needed.
Setup Mirage client on all VMWare Workstation instance and setup host machine with the requested configuration.
Maintained network, server, and application environments while answering customer and vendor requests.
Performed client registration and integration, security, support, and maintenance functions.
Desktop Support Analyst
Desktop Support Analyst, responsible for 2nd level support providing on-site troubleshooting, problem diagnosis and resolution.
General technical support for all of the customers at assigned location.
Performed monthly updates of Microsoft security patches, anti-virus signature files and other software/application updates.
Installed and configured new hardware equipment.
Supported a project team by coordinating initiatives with other departments to achieve goals.
Desktop Support Analyst
Provided technical support to various end users, including desktop and mobile applications.
Refreshed 35+ mobile devices weekly on blackberry related technology.
Escalated service questions to appropriate client representatives.
Built strong relationships with customers; provided good customer service in a timely manner.
Assumed project development and management of a Windows environment for an entire university campus.
Desktop Support Analyst
Provided desk-side, remote & phone support to Executives, managers and employees, installing, upgrading and troubleshooting Windows 7/10 computer hardware, software and peripherals; troubleshooting VM clients, mapping & troubleshooting network printing.
Daily functions include Active Directory and MS Exchange administration for new hires and terminations.
Troubleshoot network problems, Setup and support of corporate issued mobile devices.
Streamlined network performance for applications and servers.
Upgraded security measures on servers and enabled e-commerce web access.
Desktop Support Analyst
Setup internal and external multi-site video conferences: Work with Polycom IP camera, and a Cisco VOIP devices.
Maintain printers/Copiers; troubleshot all network printers, copiers, and scanners.
Coordinate with management and perform user moves; work with facilities management and setup campus events.
User account management via Active directory.
performed password resets, user account creation, work with existing security groups, OU's, and distribution groups.
Desktop Support Analyst
Proxy phone project – Coordinated global initiative to switch cisco 7962 from proxy to vpn protocol with our voice services department.
Coordinated software deployments – to ensure the latest updates of software migration from Adobe CC, Microsoft Office 2016 and other software products.
Support visual & audio communication needs for conference room meetings.
Provided phone and remote support for overseas clients outside of regular business hours.
Trained administrative assistants in the implementation of new disaster recovery, anti-virus, firewall, and e-mail security software.
Desktop Support Analyst
Used the corporate ticketing system to document and complete over 30 incident tickets per week assisting users across 40+ floors with a 100% resolve rate.
Supported a mass refresh for over 400 end-users ensuring company technology was up to date with corporate expectations.
Managed projects ensuring the large-scale distribution of equipment to colleagues by working with various teams to gather information for accurate and time-sensitive deployments while maintaining all inventory and paperwork organized to ensure asset loss is prevented.
Resolved problems with hardware compatibility affecting office document management software; increased productivity by over 20%.
Installed, directed, and documented the installation, configuration, and maintenance of servers and computer hardware.
Desktop Support Analyst
Performed Re -images and remote deployment of applications in recent Windows 7 migration.
In addition, provided hardware support of desktop PC's, Mobile Computer Carts (WOW's), laser printers, and Zebra Label printers.
Currently working on Active Directory migration project, since acquisition of Beth Israel Hospital.
Involved in multiple LaserJet and Zebra Printer deployments throughout the health system.
Built and configured operating systems for networked systems.
Desktop Support Analyst
Created Group Policy Objects for an enterprise environment and assist with Group Policy Management and troubleshooting.
Analyzed, planned and implemented the proposed farm architecture plan for the new farm which incorporated Hardware and Capacity Planning, Best practices and Governance.
Worked on installation and configuration of MOSS 2010/2013, Windows Server 2012 and SQL Server 2012 Enterprise edition across a large server (all 64-bit farm).
Deployed and created solution packages of InfoPath forms, Lists, Web Parts.
Competently administered MS-DOS systems.
Desktop Support Analyst
Install, upgrade, support and troubleshoot for printers, computer hardware and any other authorized peripheral equipment.
Performed general preventative maintenance tasks on laptops, desktops, peripherals, Cisco IP phones, video and audio conferencing device, printers and any other authorized peripheral equipment.
Customize desktop hardware to meet user specifications and site standards.
Return defective equipment/parts to maintenance inventory, documents customer repairs, maintain and restock assigned parts inventory to insure proper spare parts levels.
Provided support to computer users by answering questions, testing computer systems, and explaining technical concepts; Installed new hardware, software, and peripheral devices.
Desktop Support Analyst
Configure high performance business desktops and laptops for Executive Clients and Developer users.
Updated tickets via Vulcan, Peregrine and EURC request, along with, communication via email and voice.
Provided user training, technical documents and support as needed for home users via email or phone support.
Installation and configured of HP Laser Jet Printer, and Senders.
Partner with Risk and Cyber Security Team for all security updates to keep all of security patches up to date.
Wrap Up
You need to make sure your resume stands out amongst the other candidates. It is the first impression that employers have of your work experience and skills. Use the samples above to put together a resume that best suits your needs and helps you get the job you want.