Fashion consultants provide expert advice and styling to clients looking for the latest fashions. They meet with their clients one-on-one as well as at various fashion shows, trade shows, and conventions. Fashion consultants must be knowledgeable about current trends and have a strong understanding of color palettes, fabric properties, shapes, and silhouettes. Fashion consultants also work on special projects such as consulting with retailers or photographers on a clothing selection for photoshoots. A professional degree in fashion design is not required, but a bachelor's degree or internship experience in a related field is preferred.
A good resume is well-written and concise. It should be neat and easy to read, listing previous experience in a logical order.
Our resume samples will provide you with multiple examples of what you can include when writing your resume.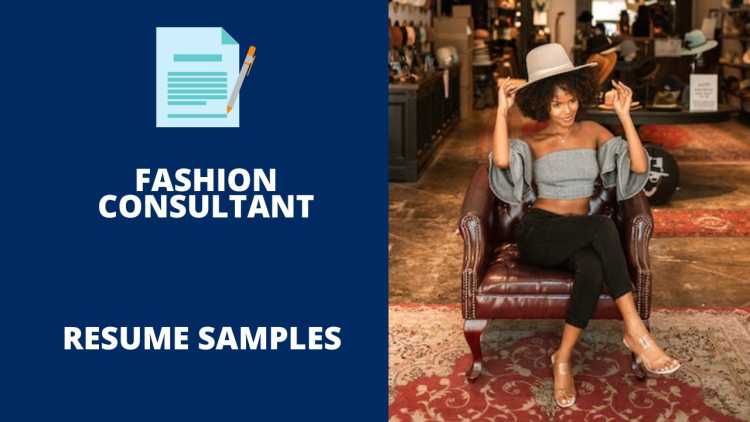 The Best Fashion Consultant Resume Samples
These are some examples of accomplishments we have handpicked from real Fashion Consultant resumes for your reference.
Fashion Consultant
Managed and develop seasonal line development calendars for home décor clocks, lighting, and women's, men's and kid's socks, tights, leggings, leg warmers, slippers, flip flops, sandals, shoes and cold weather accessories (hats, gloves, scarves) lines.
Performed product development and merchandising concepts for private label lines.
Researched Markets for fashion color and trends for all categories.
Fashioned online fantasy wears for seven women who reside in a variety of regions using supplies from local retail shops and websites; a dollar value of $10,000 was achieved.
Employed my resources to promote three fashion shows which netted $5,000 in proceeds for Relay For Life; the clothes were donated to charity.
Fashion Consultant
Drove sales by developing business strategies, marketing plans and merchandise assortments.
Maintained current data on sales and fashion trends to plan future purchases.
Managed projects according to timeline and seasonal changes.
Instructed pre-teens in self-empowerment by teaching them how to design their own clothes.
Provided career guidance and advice on fashion as well as promoted networking opportunities for five college students seeking positions with clothier companies or agencies; a value of $15,000 was achieved.
Fashion Consultant
Recommend, select, and help locate or obtain merchandise based on customer needs and desires.
Compute sales prices, total purchases and receive and process cash or credit payment.
Maintain knowledge of current sales and promotions, policies regarding payment and exchanges, and security practices.
Watch for and recognize security risks and thefts, and know how to prevent or handle these situations.
Created a fashionable and professional look for myself in addition to showing others how to accomplish the same.
Fashion Consultant
My responsibilities at work include assisting and managing customers, ensuring that their shopping experience is as stress-free and enjoyable as possible.
I put together outfits for display, and design outfits personally for individual customers upon request.
I work register and ensure that all customer information, as well as all payment information, is entered correctly and accurately at all times.
Developed and implemented new merchandise lines and accessories in the European market while maintaining profit margins.
Developed and implemented new lines of merchandise including cosmetics, apparel, accessories, shoes, leather goods, jewelry, and handbags in the United States while maintaining profit margins.
Fashion Consultant
Assisted customers with buying merchandise, offering advice on makeup and hairstyle, and instilling self-confidence.
Learned to have amazing customer service, aswell as customer satisfaction.
In-depth knowledge of color and composition suitable for different outfits.
Prepared samples of fashion accessories, clothing and styles on various manicans.
Advised on trends in the fashion industry; consulted with buyers regarding trends in the fashion industry.
Fashion Consultant
As a fashion consultant at Agaci, I improved on my customer service skills from constantly helping and providing customers with what they are looking for.
Another task of mine includes hanging and putting up shipment throughout the week when there is no more than a handful of customers in the store.
Maintaining cashier duties include, maintaining cleanliness of assigned register area, ringing up customers, providing customers with additional information on promotions and sales, and also keeping a positive attitude.
Responsible for establishing new stores and opening old ones; built relationships with existing clientele by creating a strong customer base through repeat sales.
Saved and contributed to new business startups by creating an attractive, professional web presence using HTML, Photoshop, and Dreamweaver.
Fashion Consultant
I demonstrated my customer service skills as well as my leadership skills.
I also share my interest in fashion with customers which makes them more interested in our merchandise.
I also demonstrated my communication skills with customers as well as with the store manager and my team.
An integral part of the team that built the largest private Facebook page in South East Asia.
Worked with international designers on clothing, accessories, home décor, and other products.
Fashion Consultant
Opened and closed the store, including counting cash, opening and closing cash registers.
Received and processed cash and credit payments for in-store purchases.
Shared product knowledge with customers while making personal recommendations.
Demonstrated that customers come first by serving them with a sense of urgency.
Trained and supervised staff to create and design compelling advertising campaigns, collect photos, and schedule shoots for the page.
Fashion Consultant
Serve as a customer service and sales representative.
Fulfill customer needs while increasing client satisfaction and company profit.
Monitor sales activities to ensure that customers receive satisfactory service and quality goods.
Helped launch collaboration with boutiques in Singapore for a combined effort of over $40 million in sales for the first year of operation.
Coordinated work on multiple fashion shows leading to contracts worth over $750k per year from national brands such as Tommy Hilfiger & Victoria's Secret.
Fashion Consultant
Provided excellent customer service in a retail setting.
Engaged with customers actively and compassionately.
Helped customers make shopping decisions.
Actively followed policies and procedures to ensure the well-being of the business.
Educated Brazilian models and taught trainees how to execute a successful makeover.
Fashion Consultant
Help clients find the perfect dress for the different events that they attend.
Opening up inventory shipments and processing inputing in the system properly.
Merchandising cases when inventory changes.
Upselling additional accessories when clientele have found their perfect dress.
Skilled in working with the public to promote new brands.
Fashion Consultant
Successfully upheld all company€™s operation requirements.
Overcome adversities of fraudulent activities in multiple locations.
Maintain a friendly, positive and contagious work environment with fellow coworkers and employees.
Achieved award for an outstanding promotional campaign for a new design company.
Assisted in inventory and re-stocking of more than 50 products.
Wrap Up
You need to make sure your resume stands out amongst the other candidates. It is the first impression that employers have of your work experience and skills. Use the samples above to put together a resume that best suits your needs and helps you get the job you want.