Hair Stylists provide hair care and beauty services such as treating, styling and cutting clients' hair. Their duties include consulting clients' wants, preparing hair, treating hair, dying, conditioning, cutting, maintaining cleanliness, and recommending products and services. To become a Hair Stylist, you must have a state hairstylist or cosmetology license. Hair Stylists must demonstrate excellent communication skills, customer-oriented, attention to detail, listening, organizational, cleanliness, creativity, sales, and product knowledge.
A good resume is well-written and concise. It should be neat and easy to read, listing previous experience in a logical order.
Our resume samples will provide you with multiple examples of what you can include when writing your resume.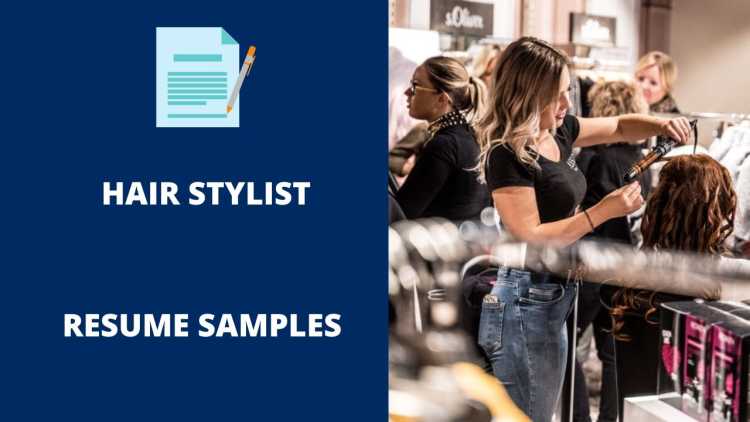 The Best Hair Stylist Resume Samples
These are some examples of accomplishments we have handpicked from real Hair Stylist resumes for your reference.
Hair Stylist
Created repeat business by developing high levels of customer satisfaction.
Focus on the latest industry hair styling trends and techniques.
Maintain education to stay current on hair products, chemicals, structure and properties.
Trained hair stylists in hair cutting and styling, color application, and extensions.
Trained both male and female models with respect to the overall appearance, personality, and lifestyle.
Hair Stylist
Extensive knowledge in styling and cutting hair for weddings, special occasions and everyday.
Perfecting styling techniques using creativity and knowledge of trends.
Sanitize workstations and salon equipment for safety purposes.
Develop long-term relationships with regular customers and new customers.
Created the perfect hairstyle for each model on the fly to reflect their unique characteristics.
Hair Stylist
Provided services such as bleaching, coloring, balayage/ombre and conditioning/treatments.
Worked with Redken color line formulated for each individual client for their needs.
Placed orders according to budget for the salon.
Asked to and became be the color consultant of the salon; assisted staff in formations for their clients needs.
Worked with all major cosmetics manufactures in selection of colors, styles, and fragrances for special events such as fashion shows, runway shows, photoshoots, appearances on television programs.
Hair Stylist
Provided services to client such as shampooing, cutting, styling, coloring, and highlighting as desired.
Maintain safety standards and cleanliness.
Emphasizes product benefit and assist clients in the selection of retail products or services for their hair care needs.
Attends and participates in continuing education and training in order to follow new trends and techniques.
Worked closely with editors in choosing colors for clients' magazines.
Hair Stylist
Analyze patrons' hair and other physical features to determine and recommend beauty treatment or suggest hair styles.
Cut, trim, and shape hair or hairpieces, based on customer's instructions, and or desire using correct procedure for protection outcome to client's hair maintenance.
Bleach, dye, or tint hair extensions, add hair extensions, using various creative and current artistic designs of current trends.
Conceptualized many unique promotional hairstyles that were presented both as models' own designs; also worked closely with photographers in selecting colors and directions.
Hair-styled and applied make-up for clients from age 6 to 85, including makeovers for special occasions.
Hair Stylist
Styled hair for large events such as annual fashion shows and special hair expos.
Assessed customer needs and gave advice about hair style and color options.
Shampooed, conditioned and rinsed guests' hair using salon-exclusive products.
Cut, colored and styled clients' hair with precision and expertise.
Priced, purchased and received shipments of hair products from suppliers.
Hair Stylist
As a hair stylist, I serviced approximately twenty clients per day.
My duties included hair cutting, styling, coloring and conditioning.
In addition, when needed, I worked as receptionist and made reservation for clients and processed payments.
And finally, I supervised the other hair stylist and managed the salon when the owner was not present.
Closed sales; hired employees to operate front desk position.
Hair Stylist/Assistant Manager
Hair stylist, promoted to assistant manager in 18 months, providing leadership to a team of 4 stylists.
Created an inviting atmosphere when guests arrived at the salon.
Responsible for all salon business operations, inventory control and ordering, in addition to managing client appointments.
Managed product inventory for 4 different product lines, suggesting hair care products based on specific individual needs.
The promoted positive attitude among employees; trained employees in up-selling techniques and customer service.
Freelance Hair Stylist
Established a strong relationship with client base to generate long term business.
Performed in-home services for elderly clients unable to travel to the salon.
Styled clients hair based on their preference with some input of my expert opinion.
Provided career staff development opportunities; created schedules based on the abilities of each employee.
Served on committees to support career events, marketing strategies, and fashion shows.
Hair Stylist
Cut, trimmed and shape hair or hairpieces, based on customers' instructions, hair types and facial features, using clippers, scissors, trimmers and razors.
Analyze patrons' hair and other physical features to determine and recommend beauty treatment or suggest hair styles.
Updated and maintained customer information records, such as beauty services provided.
Shampoo, rinse, condition and dry hair and scalp or hairpieces with water, liquid soap, or other solutions.
Organized multiple hair shows that resulted in substantial revenue gains for the salon.
Hair Stylist
Provided services such as bleaching, coloring, conditioning and hair care treatments.
Booked future appointments and generate sales through products and services.
Performing styling, haircuts, and color services on clients.
Assisted in the creation of the newest and most innovative hair designs for the interior, exterior, and live fashion runway shows.
Researched various hair care products designed to preserve color integrity, shape memory, or shine enhancement.
Hair Stylist
Performs hair style consultation in order to decide what services the client needs.
Provides services to clients such as shampooing, cutting, styling, coloring and highlighting as desired.
Emphasizes product benefits and assist clients in the selection of retail products or services for their hair care needs.
Maintains a consistent relationship with client base in order to ensure return clients.
Helped create a hair care line sold in high-end department stores.
Guided sales of other fashion salon products such as makeup, jewelry, and skincare at department stores.
Wrap Up
You need to make sure your resume stands out amongst the other candidates. It is the first impression that employers have of your work experience and skills. Use the samples above to put together a resume that best suits your needs and helps you get the job you want.