Estheticians assist in their client's appearance. Their duties include facial cleansing, removing hair, reviewing the client's medical history, cleaning their supply tools, staying informed of the cosmetic industry's latest developments, and suggesting skincare products for their client. To become an esthetician, you must obtain a license from a state-approved program. Estheticians must demonstrate precision, timeliness, an expertise in beauty techniques, a willingness to learn, a friendly demeanor, customer service skills, and the ability to multitask.
A good resume is well-written and concise. It should be neat and easy to read, listing previous experience in a logical order.
Our resume samples will provide you with multiple examples of what you can include when writing your resume.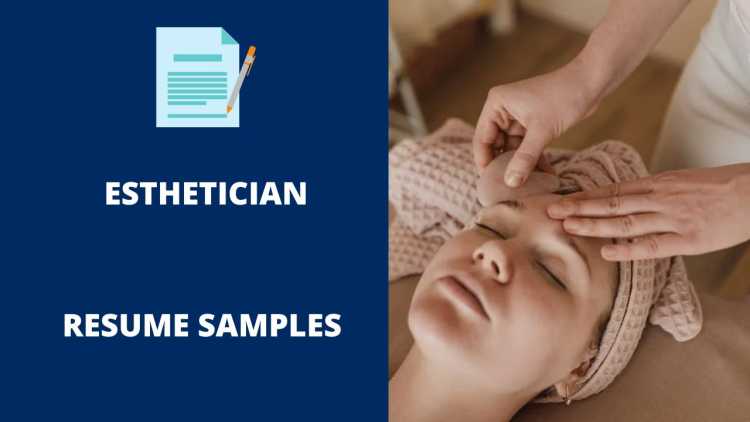 The Best Esthetician Resume Samples
These are some examples of accomplishments we have handpicked from real Esthetician resumes for your reference.
Esthetician
Strong expertise in skin histology customized facials and a variety of massage techniques.
Assisted with designing and developing institute promotional materials in collaboration with other esthetic staff members.
Serve clients with a variety of spa treatments, including full facials, waxing, and brow tinting.
Developed techniques and procedures to maintain the health of the skin by correcting flaws, aging problems, acne, and premature wrinkling.
Used a face-lifting machine to correct grin lines caused by age.
Esthetician
Maintained rigorous standards of sanitation and sterilization as directed by law and the spa's policies and procedures.
Learned new techniques, including the complete chemical peel process.
Meticulously maintained spa appearance and cleanliness.
Assisted spa in activities such as staff meetings, promotions and housekeeping duties.
Established foundation for a facial waxing system which was developed and manufactured by the college's business technology department.
Esthetician
Researched and training on various types of spa therapies, treatments products and delivery.
Sell exclusive organic skin care products and encourage service upgrades.
Convert up to 90% of service customers into product customers.
Vastly improve appearance of client's' skin through non-surgical processes.
Wrote manicures & pedicures techniques manual; maintained a team-oriented attitude while providing services to students.
Esthetician
I attended cerritos college esthetician program for a whole year within the year I learned book and hands on training.
I was able to book client, fill paperwork and work front desk and sell products .
I was also working with clients , waxing brows , underarms, legs , arms , makeup and giving many facials.
Explored career opportunities in human relations; created positive statements for employee orientation of each new employee.
Worked as a valued Esthetician by providing remarkable service quality in comprehensive skin and body care.
Esthetician
Examine clients skin using magnifying lamps or visors when necessary to evaluate skin conditions and appearances.
Select and recommend cosmetic products and skin care regimens to clients.
Treat skin to maintain and improve its appearance by using specialized techniques and products, such as peels and masks.
Actively participated in new product development, sampling and distribution.
simultaneously to ensure the most cost-effective completion of six challenging projects.
Esthetician
Recommended and upsold esthetic supplemental products to clients on an individual basis.
Analyzed skin and figured out client's goals, skins wants, and concerns.
Educated clients on proper hygiene, nutrition, and skin disorders such as preventative care.
Ensured skin care products, tools, equipment, QUATS, and linen were always properly stored, sanitized, and well stocked.
Achieved an excellent rating – 90% – by MAC (Mission Accomplished, America's leading cosmetics, and fashion magazine).
Esthetician
Performs various tranquil and rejuvenating facial treatments by using our apothecary blending bar to customize treatments for each individual clients.
Very thorough analysis explaining the properties of certain ingredients used during the treatment and how they are able to promote overall appearance.
Strong focus on plant based products and active ingredients to promote skin healing and transformation.
Experienced facial and body waxing using hard and strip wax, Strong interpersonal and communication skills.
Experience in all aspects of cosmetology: coloring, cutting, styling, haircutting, and braiding.
Possess excellent interpersonal skills and the ability to deal with customers.
Esthetician
Performed chemical peels, HydraFacial, microdermabrasion and high frequency therapy.
Performed body treatments, including cellulite treatments and body wrap application.
Used client charts for information, such as client's preferences, skin types and past treatment.
Completed three years of cosmetology training at The Center for Creative Learning . . . . .
. . . from "apprentice to master stylist" in 12 months!
Handled both long and short term projects to completion with attention to detail.
Created a "stylish" look for the department store downtown (one year).
Esthetician
Greeted all guests in a warm and friendly manner to created a positive first impression of the spa.
Called clients to confirm upcoming appointments.
Followed the pre-assigned opening and closing procedures for each spa station.
Established a collaborative practice for medical estheticians and physicians for educational seminars to spread awareness of skin diseases, cancer, and diabetes.
Awarded internship at the University of California School of Medicine to observe procedures used in plastic surgery.
Esthetician
Excellent team player, responsible, dependable with high personal standards and values.
Selling and creating the best experience for customers, so they return again and again.
Great ability and willingness to update technical skills by facilitating and participating in on-going training.
Aided in the development of an effective protocol for laser hair removal treatments while conducting research on non-surgical methods of hair removal.
The Los Angeles Academy of Dermatology studied new product developments in the treatment of the face, body, and scalp.
Esthetician
Experienced in analyzing and determining which treatments and products are necessary for clients' individual needs.
Extensive facial experience includes: Men's' products, aromatherapy, anti-aging and acne facials and products.
Specialized in facial acupressure and sinus relief, glycolic peels, microdermabrasion, reflexology, lymphatic drainage massage and waxing services.
Developed a product review and research technique using a standard rating scale for evaluating products.
Received promotion to Manager after leading department through expansion into new markets; increased sales by 32% in the first year as lead manager.
Esthetician
Conferring with clients to find their needs and aesthetic objectives while performing an initial analysis of the skin.
Trained and experienced in both Classic and Volume eyelash extensions.
Lash Bomb trained and certified in both Classic and Volume eyelash extension.
Performing facial procedures such as microdermabrasion, high frequency, laser facials, IPL facials, laser hair removal, waxing, and radio frequency body sculpting.
Taught classes in the makeup application and other practical beauty techniques to women.
Wrap Up
You need to make sure your resume stands out amongst the other candidates. It is the first impression that employers have of your work experience and skills. Use the samples above to put together a resume that best suits your needs and helps you get the job you want.