Nurse Practitioners work in healthcare systems diagnosing and treating illnesses and conditions. Their duties include examining patients, getting medical history, ordering tests for diagnostics, diagnosing patients, prescribing medications, administering medications, and adjusting treatment plans as needed. Nurse practitioners must have a Masters's Nursing Degree, an RN license, and an ANCC or AANPCP certification. Nurse Practitioners need to have good decision-making skills, critical thinking skills, excellent written/verbal communication, active listening skills, be detail-oriented, have empathy and leadership skills to be successful.
A good resume is well-written and concise. It should be neat and easy to read, listing previous experience in a logical order.
Our resume samples will provide you with multiple examples of what you can include when writing your resume.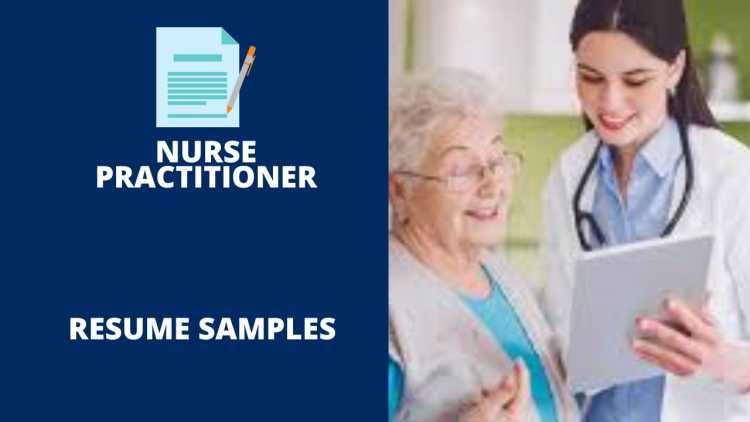 The Best Nurse Practitioner Resume Samples
These are some examples of accomplishments we have handpicked from real Nurse Practitioner resumes for your reference.
Nurse Practitioner
Independently assesses, diagnoses, and treats patients as a nurse practitioner in busy urgent care clinic.
Provides care to patients across the lifespan with various degrees of complexity.
Proficient with urgent care skills and procedures such as wound repair, abscess I&D, and radiology interpretation.
Provided holistic medical care and advice to thousands of patients in a clinic of 35,000 people.
Guided and assisted other staff members of the Little Clinic in identifying and treating human ailments, communicable diseases, and general health problems.
Nurse Practitioner
Primary Care Provider in family-focused office treating patients throughout the lifespan.
Managed patients with chronic diseases including Diabetes Mellitus, Hypertension, Hyperlipidemia, COPD, Obesity.
Performs preventative therapies such as physical exams, laboratory screening, cancer screening, well woman exams; Orders and interprets diagnostic testing and imaging.
Independently developed Nutrition Guidelines as part of my initiative to promote wellness and disease prevention through diet and lifestyle modifications.
Prescribed medication for minor illnesses, colds, flu, acne, dandruff; administered immunizations for school-age children.
Nurse Practitioner
Provides medical care to patients in accordance with policies established by Dept. of Veterans Affairs.
Exercises independent judgment with full responsibility for professional diagnosis treatment, referral and disposition of patients.
Takes ownership responsibility for care of a panel of patients.
Provides first contact continuous comprehensive primary care for infants children youth and adults according to current standards of care.
Directed a program to prevent heart disease and stroke by educating patients about their heart health; prescribed medication for hypertension.
Nurse Practitioner
I am a highly competent professional with hands on experience working in an emergency department and Medical/Surgical unit for four years.
I also have over 700 hours of clinical experience as a student family nurse practitioner.
In addition, I have four months of clinical experience in primary care, urgent care, occupational medicine, workers compensation, office/sick visits as well as knowledge of DOT physicals, but I am not currently certified.
I am also experienced in procedures such as, wart removal, skin tag removal, I&Ds, splints and braces.
Assigned diagnosis codes to patients based upon the severity of their ailments; compiled data about the inclusion of children with special needs in local schools.
Nurse Practitioner
Assessed patients, reviewed diagnostic results and chart notes, and prescribed pharmacologic and non-pharmacologic treatments including immunosuppressive medications in collaboration with supervising MD per Texas nurse practitioner guidelines.
Collaboration of care with other providers including nephrology, cardiology, infectious disease, and gastroenterology for ongoing care in a multidisciplinary setting including requesting consultations.
Gathered appropriate information from the electronic health record and completed documentation and billing in timely manner.
Enhanced patients understanding of health and disease management by educating and counseling patients and their families.
Accepted and administered IVs, medications, and other forms of emergency medicine.
Nurse Practitioner
Responsible for the assessment and management of a complex, chronic pediatric patient population from infancy to 19 years of age.
Common diagnoses treated include: global developmental delay, seizure disorder, chronic lung disease, cystic fibrosis, asthma, tracheostomy/ventilator dependence, pneumonia.
Collaborate in a multi-disciplinary approach to coordinate the care of complex patients.
Conducted surgical procedures including surgeries of the eye, ear, nose throat, and extremities.
Negotiated insurance company personnel decisions that affected patient care.
Nurse Practitioner
Provided mobile health care services to Corporate and VBC (chronic care) patients.
Primary health care is provided for corporate patients at their place of business or at home.
This provides an extraordinary healthcare experience for members and providing significant cost savings for health plans through reduced insurance claims and reductions in unnecessary utilization.
Patients are assessed, treated or referred to higher level of care.
Identified financial benefits to patients which led to signing an insurance agreement; secured access to needed prescriptions for patients.
Nurse Practitioner
Provided preventative, primary care, or assessments for patients in their homes or in assigned long term care facilities.
Review patient's past medical history and formulate a list of current and past medical conditions using clinical knowledge, judgment and the findings based on my assessment.
Review current symptoms and identify diagnoses to be used in care management and active medical management of treatment.
Taught classes for business students in finance, accounting, health care management, and a class-based in the neurobiology of human behavior.
Provided compassionate care to patients, families, and hospital staff in a community clinic; effectively dispensed prescriptions and counseled patients in adherence to medication.
Nurse Practitioner
Provided high quality health care through direct assessment, diagnosis, and formulation/ implementation of treatment plans for patients with common acute and chronic illnesses and acute injuries.
Coordinated care with local hospitals and EMS to transfer patients to higher level of care when necessary.
Conducted mandated health screenings, physicals and special education assessments in children.
Assessed need for, ordered, obtained and interpreted appropriate lab tests.
Received outstanding recognition by the Health Department; effectively and efficiently guided the department through challenging transitions regarding health policy changes connecting food inspection and public safety.
Nurse Practitioner
Inpatient rounding on a dedicated stem cell transplant unit.
Assessed need for, ordered, obtained and interpreted appropriate lab tests, imaging and medication/chemotherapy ordering and side effect management.
Outpatient clinic responsibilities include chemotherapy ordering/monitoring for routine hematological malignancies as well as acute follow-up for post auto and allo patients, and establishment of a long term follow-up clinic.
Established business partnership with Federal Government creating new opportunities for providing health services to underprivileged populations.
Personally conducted extensive HIV/AIDS research in collaboration with local high schools; made significant discoveries that contributed to the development of preventative injections for infected persons.
Nurse Practitioner
Worked in collaboration with other healthcare professionals to deliver family-focus care.
Provided services like health promotion, disease prevention and counseling across the lifespan.
Assess, diagnose and treat health conditions of body and mind.
Conduct physical exams, develop treatment plans for acute and chronic diseases, conduct diagnostic tests and screening evaluations, prescribe medications, and immunizations.
Competently led medical team for the purpose of establishing a church-sponsored clinic for underprivileged populations.
Nurse Practitioner
Managed comorbidities related to diabetes such as hypertension, hyperlipidemia; and hyperthyroidism.
Monitored and treated diabetic related complications such as diabetic neuropathy, nephropathy, and diabetic retinopathy.
Managed patients with all continuous glucose monitors and all insulin pumps.
Supervised office staff that consisted of medical assistance and certified diabetes educators and managed the day to activities of the clinic.
Maintained patient/client confidentiality.
Wrap Up
You need to make sure your resume stands out amongst the other candidates. It is the first impression that employers have of your work experience and skills. Use the samples above to put together a resume that best suits your needs and helps you get the job you want.