Financial advisors evaluate the needs of their clients and develop a plan to achieve their goals. This role includes tasks like market research, investment analysis, account monitoring, short-term goal setting, long-term goal setting and retirement planning. To be a financial advisor, you must have a bachelor's degree in finance or a similar field. Financial advisors must have excellent communication skills, confidence, active listening skills, analytical skills, organizational skills, attention to detail and a passion for helping people reach their goals.
A good resume is well-written and concise. It should be neat and easy to read, listing previous experience in a logical order.
Our resume samples will provide you with multiple examples of what you can include when writing your resume.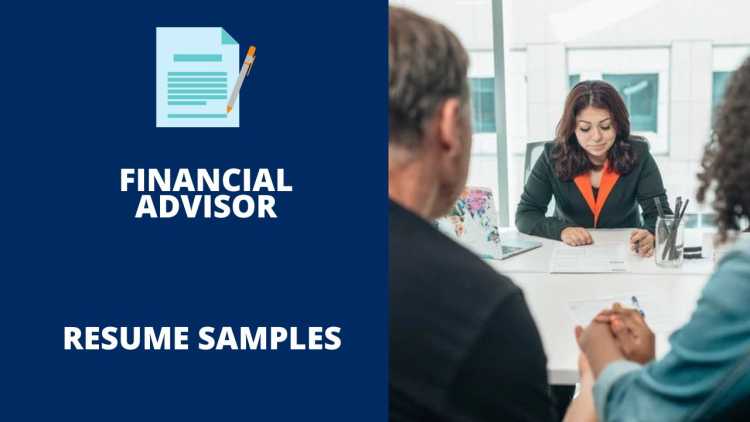 The Best Financial Advisor Resume Samples
These are some examples of accomplishments we have handpicked from real Financial Advisor resumes for your reference.
Financial Advisor
Provided wealth management services such as portfolio investment, financial guidance, retirement and estate planning to high net worth clients with assets of more than $250K.
Worked with a team of three senior partners and contributed 30+ new prospects via phone calls and face to face contacts that generated three new client relationships and $0.6M assets under management within the first three months.
Engage with prospects to determine their individual financial needs, such as retirement funding, and propose stock and bond portfolios with the appropriate asset allocation to meet those life goals.
Arranged and marketed with other financial advisors a behavioral economics seminar for business development purposes for 20+ prospects that lead to two new client relationships for the firm.
Researched, evaluated, and selected securities for clients.
Financial Advisor
Supervised a Branch Office Administrator as the sole Financial Advisor and manager at the branch.
Delivered personalized investment solutions to assist clients with reaching short- and long-term financial goals.
Met with customers to review their existing financial situation and provide investment advice, primarily on stocks, bonds, mutual funds, annuities, life insurance products, and fee-based programs.
Collected, validated, and input financial data into financial planning software.
Created financial plans for customers of all ages.
Financial Advisor
Responsible for developing customized financial plans for clients to achieve their long-term financial goals.
Responsible for cultivating new relationships through prospecting via phone, email or networking throughout the community.
Provided financial education to existing and potential clients through one on one consultation or group presentations.
Conducted business with financial institutions for new funding arrangements.
Accumulated $4 million in assets under management (AUM) within two-year period; manager recognized AUM growth as a significant factor in her performance bonus.
Financial Advisor
Analyze and evaluates financial viability of students and families.
Review and assess eligibility of applications for financial aid; exercise professional judgment.
Respond to inquiries and researches, resolve problems related to transactions handled by the department.
Serves as a liaison with state and federal agencies.
Founder of Los Angeles Chapter of Financial Management, a professional association for financial advisors.
Financial Advisor
Uses phone and online channels to communicate effectively with clients and sell financial products.
Coaches, educates, and assists clients with proper implementation of their financial plan.
Exceeded sales expectations and earned a full bonus every year of employment.
Authored monthly column in Street-smart Newsletter on how to develop, implement, and market investment strategies.
Designed and conducted 100-hour course, Investment Strategies for the 21st Century.
Financial Advisor
Meet directly with potential clients in need of financial guidance and then make recommendations based on their needs and goals.
Conduct policy and portfolio reviews with CRM clients to re-evaluate financial objectives and performance.
Sell financial products including life insurance, retirement instruments, and investments.
Established "Power Lunch" seminars; weekly sessions that provide investors with up-to-date information on stocks and funds to construct portfolios for life plan and retirement needs.
Assisted clients in managing their day to day financial needs by providing sound advice.
Compared and analyzed financial opportunities to determine benefits and risks.
Financial Advisor
Created strategy plans for clients by collecting and analyzing financial data to determine which products best suit the client's needs.
Built financial plans and gave ongoing advice to clientele (international, local, visiting students, etc.).
Fulfilled banking compliance obligations as detailed in policies, procedures and regulations while providing outstanding customer service by following up on any client service request.
Assessed client's risk tolerance levels and created strategies that satisfied personal investment needs.
Provided a thorough understanding of risk management products to new clients by outlining the terms, conditions and benefits of each.
Financial Advisor
Built my practice around the communities I believed need the most education.
Also kept in mind industries with needs were not being served properly and industries that were of interest to me.
Recommend investment products and services that were based on clients short and long-term objectives, resources, time horizon, and risk tolerance.
While also giving the full scope and disclosure on both positive and negative results of all my recommendations.
Managed over $1.5 million in personal wealth through proper asset allocation and management techniques, including using appropriate mutual funds.
Financial Advisor
Managed customer calls effectively and efficiently in a complex, fast-paced and challenging call center environment.
Worked with upper management to ensure appropriate changes were made to improve customer satisfaction.
Profiled and analyzed investment products to develop customized financial strategies for clients' financial needs.
Managed over $2 million in client assets through proper asset allocation, mutual fund selection, and active account management techniques.
Defined financial goals of clients which were amended at their request up to retirement age.
Financial Advisor
Review Bank documents, reports and records to bank compliances.
Use sales experience, product and procedural knowledge to identify the individual financial needs to customers, and recommending PNC Products and services that may meet financial goals.
Credit Cards, Investments, Wealth Management, Mortgages, Home equality and personal loans.
Managed investment portfolios for individuals by maintaining a diversified stock portfolio and balanced bond/cash investments for retirees.
Initiated planning sessions with clients to evaluate risk tolerance, capital requirements, inflation projections, economic outlook, and investment goals; provided educational information on the subject of investing; provided on-going counseling.
Financial Advisor
Acquired various licenses (Series 7 & Series 66) sponsored by Edward Jones allowing me to offer financial advice, as well as manage client assets.
Required to use various client-sourcing strategies in order to build a book of business. Strategies such as residential/business prospecting, seminars, networking, and through the use of referrals.
Developed a deep understanding of various investment vehicles and also how to communicate their value to clients.
Managed an array of investments, personal portfolios, and retirement funds at a satisfactory level of profitability.
Developed new positions and relationships with financial services companies using sales forecasting technology developed by self.
Financial Advisor
Created urgency and design solutions to meet clients' financial planning needs.
Business and lead development through cold-calling, email and social media campaigns with the goal of inputting 200 qualified names and contact info per month into Salesforce.com CRM software.
Made 45 calls per day in order to set up 3 opening and 3 closing appointments, and partnered with senior advisors and agents to close business deals.
Made monthly marketing and prospecting goals and set schedule in order to meet them.
Fostered and cultivated an active relationship with a residential mortgage lending company through solicitation and sales of their existing equity positions to new and prospective clients.
Wrap Up
You need to make sure your resume stands out amongst the other candidates. It is the first impression that employers have of your work experience and skills. Use the samples above to put together a resume that best suits your needs and helps you get the job you want.