Chief Financial Officers provide financial leadership to an organization and direct the preparation of its annual budget. They also develop and oversee financial strategies and policies, ensure compliance with laws and regulations, recommend new initiatives, monitor performance metrics such as cash flow and revenue growth, and supervise accounting staff. The minimum educational requirement for this job is a bachelor's degree in business administration or finance; however, most chief financial officers have an MBA. It is important that CFOs be skilled in problem-identification and -solving, directional decision making, strategic thinking, communication, collaboration among stakeholders from different backgrounds to achieve results, strong leadership skills, strong negotiating skills, demonstrated effectiveness in managing change efforts within an organization.
A good resume is well-written and concise. It should be neat and easy to read, listing previous experience in a logical order.
Our resume samples will provide you with multiple examples of what you can include when writing your resume.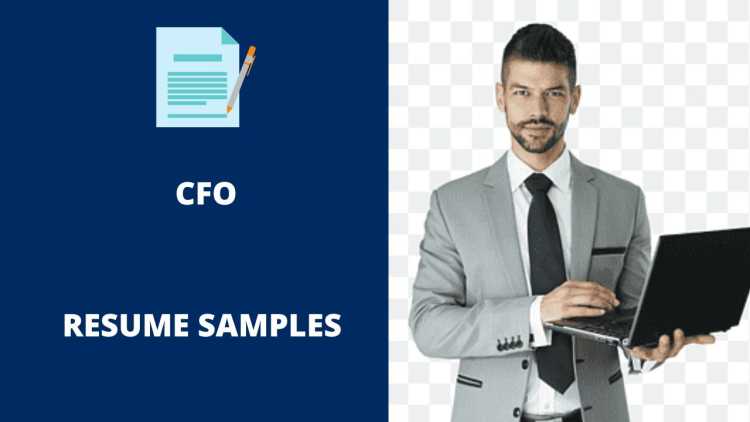 The Best CFO Resume Samples
These are some examples of accomplishments we have handpicked from real CFO resumes for your reference.
CFO
Working as a full-time executive-for-hire in partnership with business owners to help improve their company's financial health and operating efficiencies.
Providing executive leadership along with tactical assistance in day-to-day operations.
Responsible for the following areas; finance, accounting, reporting, administration, strategic planning, process improvement, budgeting, human resources, and IT.
Tenures with companies were not considered consulting projects, but long-term, full-time, employment.
Provided CFO services to publically traded companies at the time of IPO.
CFO
Responsible for all banking relationships, loan compliance documentation, credit agreements, covenant calculations and borrowing base certificates.
Preparation of annual budget and quarterly forecasts, with presentation to board of directors.
Responsible for negotiation of all contracts including insurance, leases and other.
Evaluation of new business opportunities, including merger and acquisition and due diligence work.
Restructured and implemented accounting/finance policies and procedures, e.g., cost accounting, budgeting, and new financial planning systems.
CFO
Established separate company and grew sales from $225M to $500M to become #2 in the field.
Spearheaded key merger with top competitor that more than doubled market share to 48%.
Instituted annual savings of $150K by renegotiating term loan on revolving line of credit.
Established systems, developed reporting matrix and completed the creation of a budget process and recurring budget variance analysis to ensure operating goal compliance.
Developed standard operating procedures, financial policies and forecasting models for revenue, expenses and cash flow analysis.
CFO
Managed all office aspects of multi million dollar contracting company.
Responsibilities include, all human resources functions including payroll.
Billing, accounts receivable, accounts payable, job scheduling and tracking, customer service, accounting record keeping and all other aspects of the corporation.
Eliminated all material weaknesses in internal controls over financial reporting; received multiple awards for outstanding performance.
Advised executive management regarding strategic business initiatives; led a team of five professionals responsible for financial analysis and forecasting.
CFO
Supervised all aspects of the accounting and finance including related accounting services such as budgeting and forcasting of a third party administrator for insurance carriers.
Accounting services provided to insurance carriers included premium refund and agent commission check processing, preparing monthly accounting reports used by carriers to book insurance premium revenue and cash received and related insurance compliance reporting.
Compliance reporting included quarterly ISO Stat and Florida Office of Insurance Regulation QUASR reporting, Annual Florida Hurricane Cat Fund, Premium Tax and Market Conduct reporting.
Created "Best Practices" procedure which resulted in the highest level of productivity ever achieved by finance department; recognized for outstanding performance.
Conceptualized and developed financial models for business operations. Results of these models have allowed a company to expand, downsize, and consolidate operations.
CFO
Built financial budget models for numerous scenarios ranging from full-scale operations to a "light" version designed to get the business started.
Established accounting processes and procedures for interim period, ensuring consistent application for "go-live" period.
Participated in development of business plans and marketing materials designed to both tell the story of what Volta can be, as well as the potential benefits to investors.
Managed operations of a $9 million year-end tax liability; reduced by $500k+.
Managed a $1 million programming budget, increasing the budget by 150%, from $150k to $325k in the first six months of being employed.
CFO
Assisted in development of new products to support diversification iniatives.
Intimated involvement on manufacturing side on all regulatory issues, staffing (6 reporting employees), financial, legal, and operational.
Co-ordinated audits including due diligence by prospective purchasers.
Received excellent feedback regarding accounting procedures and work ethics from the CFO, COO, and CIO; established an excellent relationship with these individuals as well as all other executives.
Equipped planning department with a variety of software and funding options to include financial modeling, dealing with market forces, and extreme conditions.
CFO
Delivered 20%+ cash flow improvement by focusing on collections and improved product quality.
Drove company wide cost reductions resulting in a significant improvement in product cost competitiveness.
Designed new HR programs that improved employee morale from 41% to 72% satisfaction.
Implemented a new ERP (NetSuite) system including complete migration of accounting systems.
Researched, designed, and recommended new business strategies to maximize return on investment.
CFO
Managing inventory, sales, shipping, and company finances.
Provided effective customer service, fast response times and marketing strategy.
All company tasks, responsibilities and employees are led as well as managed effectively to keep business afloat and expanding.
Monitored operations to ensure profitability and ensure that corporate goals were met.
Managing Director to the Colonel in charge of financial planning, analysis, monitoring, and control.
CFO
Responsible for planning, budgeting, implementing, managing and controlling all financial-related activities of the Credit Union.
This also included direct responsibility for accounting, finance, forecasting, and strategic planning.
Serve as a member of the Executive Team and support the strategic priorities of the credit union.
Reported to regulatory authorities and to the Board, worked directly with auditors/examiners on year-end and comprehensive audits.
Supervised systemwide expenditure review, financial management of accounts receivable, inventory purchases and disbursements, expense coding and billing, computer operations, and software maintenance.
CFO
Established Full Cycle accounting system including polices and procedures as well as internal controls.
Established KPI metrics and performance dashboard to guide strategic performance improvement.
Implemented new revenue cycle system to improve cash collections and reduce days in A/R.
Established denial recovery process to improve conversion of denied claims.
Implemented staffing standard to improve labor efficiency ratio across the organization.
CFO
Implemented cash to accrual conversion for 22 related companies, trusts, foundations etc.
Implemented Black Diamond reporting system enabling external investors to track investments through MountianStar.
Implemented an executive graphic reporting system, establishing key tracking metrics.
Sourced and secured a 24MM line of credit to support business expansion.
Consolidated company reporting structure to simplify reporting, institute monthly reporting and make managers more accountable.
Wrap Up
You need to make sure your resume stands out amongst the other candidates. It is the first impression that employers have of your work experience and skills. Use the samples above to put together a resume that best suits your needs and helps you get the job you want.