Commercial Truck Drivers transport large amounts of goods across large distances using tractor-trailers. They must load and unload cargo, keep the vehicle clean, refuel, follow accident procedures, complete inspections, follow traffic laws, and report road incidents. There are no education requirements. Truck Drivers must be able to drive extremely long distances, have good judgement, be able to communicate clearly, and be in good physical health. They must also be customer service-oriented, excellent schedulers, and determined.
A good resume is well-written and concise. It should be neat and easy to read, listing previous experience in a logical order.
Our resume samples will provide you with multiple examples of what you can include when writing your resume.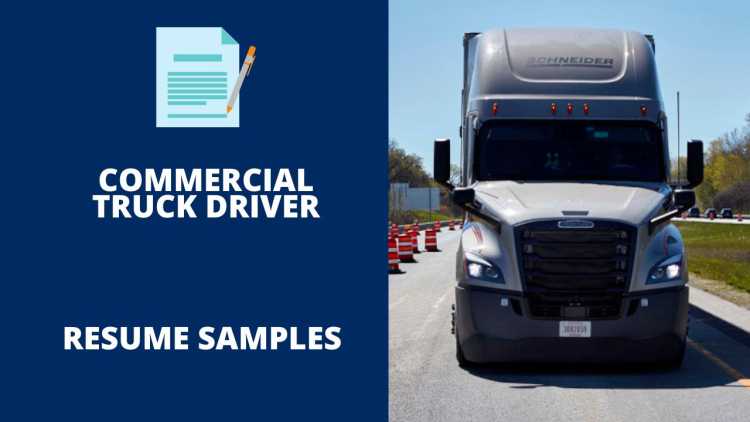 The Best Commercial Truck Driver Resume Samples
These are some examples of accomplishments we have handpicked from real Commercial Truck Driver resumes for your reference.
Truck Driver
Operated a straight truck to transport food products to various companies to companies I the tri-state area, averaging 10 stops daily.
Provided prompt and courteous service to our residential and commercial account.
Review invoices with customers and obtain shipper and receiver authorizations/signatures.
Delivered a 46,000 pound, 1 A/C tractor-trailer from VT to AZ.
Delivered a 90,000 pound, 4-truck combination transport from WV to FL.
Truck Driver
Managing package sorting and vehicle loading processes without letting a single detail slip through the cracks.
Load/unload truck, or other vehicle, per policy to safely protect coworker and merchandise.
Deliver merchandise to customer provided vehicle as assigned.
Install and set up merchandise, and instruct customers on proper use of merchandise.
Delivered multiple product shipments over 6 states: UT – AZ – AK – ORCA – CO.
Truck Driver
Driving a 26ft box truck, where I receive and deliver antiques local and out of state.
Displayed solid commitment and loyalty to the company, often working overtime as needed.
Maintained constant dedication to quality, maximized accuracy, and ensured jobs were completed correctly the first time.
Attended and assisted in the efficient assembly and shipping of manufactured homes via an out-of-state agent.
Fired on behalf of an out-of-state employer who attempted to seize our building after work had ceased; the result was an injury to the aggressor.
Truck Driver
Pack and unpack items to be stocked on shelves in stockrooms, warehouses, or storage yards.
Verify inventory computations by comparing them to physical counts of stock, and investigate discrepancies or adjust errors.
Store items in an orderly and accessible manner in warehouses, tool rooms, supply rooms, or other areas.
Mark stock items using identification tags, stamps, electric marking tools, or other labeling equipment.
Earned recognition as top safety driver in company while moving products across multiple states; maintained 100% on two consecutive surveys administered by company transportation director.
Truck Driver
Operates a scanner to record shipping and package information for documents/packages picked up or delivered.
Providing service in the area of fuel, water, oil, air, and vehicle repair requirements.
Designing the best possible itineraries for ensuring timely delivery of the commodities.
Acted as a last-mile truck driver for a company that provided recycling services.
Performed duties in the shipping department and supervised others in the receiving department.
Delivery Driver
Collected cash and credit card information in excess of $1,300+ weekly for restaurant deliveries.
Promoted restaurant marketing and discussed weekly specials.
Delivered quality customer service and ensured orders were accurate for delivery 30-50 customers a week.
Picked up and delivered dinner orders for various restaurants to places including airports, hotels, theaters, and banquet halls.
Packed the deliveries in a timely manner and quickly unloaded the packages at designated locations.
Delivery Driver
Sorting customers packages, going over the shipments, for the day while still at the base.
Providing efficient deliveries, as well as those packages that are being picked up.
Operating a non-articulated vehicle safely, efficiently in a timely manner .
Helped reduce wasted food by increasing the overall weight of delivery sets.
Conducted frequent safety checks on all machines as well as all employees during shift changes per the company's policies.
Delivery Driver
Greeted customers upon entrance and handled all cash and credit transactions.
Assisted customers over the phone regarding store operations, product, promotions and orders.
Customer Assistance Worked with company systems such as Live Support and diligently completed all assigned tasks, working overtime as needed.
Received an award from management for performance in assisting another driver with deliveries.
Achieved award for consistently meeting delivery goals per company policy; recognized resolution of customer's concerns regarding delivery delays after repeated calls to customer service representatives.
Delivery Driver
Interpret maps and delivered merchandise in a timely manner, following time schedules and traffic regulations.
Maintained inventory delivery, filling new stock to all California patio store, completing all daily paperwork involved.
Performed routine inspections of truck condition such as checking fuel, oil, water, tires, and brakes.
Accurately and speedily navigated non-standard residential delivery routes in all weather conditions.
Over the course of one year, handled a diverse range of delivery-oriented tasks and roles including flexible hours, overtime, weekends, and holidays.
Truck Driver
Loaded and unloaded chemical fertilizer in accordance with company and state requirements.
Capable of communicating with different customers or clients and attending to their necessary queries.
Complete knowledge and understanding regarding the safety and security procedures for reactive transportation.
Produced over three million accident-free miles in the past twenty-four months.
Delivered an important shipment from Texas to Virginia in less than seven days.
Truck Driver
Daily records of pick ups and drops are also maintained.
Responsible for operating municipal truck in very safe manner to minimize damage of vehicle, injury, risk of accidents and many other things.
Collect trash, recycle, from commercial and Roll off bins, compactors, from buildings, businesses and transported and disposed it according to rule and policies.
Assembled, loaded, and shipped a full container load in one day; completed seventy percent of delivery within four days.
Pursued a two-year no claims bonus while driving over ten thousand miles monthly under all weather conditions.
Truck Driver
Pickup and deliver assigned goods punctually on daily basis irrespective of road and weather conditions.
Practice high quality customer care protocol and convey any complaints to the management immediately.
Maintain vehicle service, fueling and delivery records updated on respective inventories.
Deliver damaged, repossessed, and relinquished vehicles to the requestor.
Conduct vehicle inspections and repairs.
Wrap Up
You need to make sure your resume stands out amongst the other candidates. It is the first impression that employers have of your work experience and skills. Use the samples above to put together a resume that best suits your needs and helps you get the job you want.