Community Service Workers provide support to disadvantaged clients. Their duties include writing notes, supervising food banks, monitoring daily progress, helping establish recovery goals, resolving counseling issues, and conducting community gatherings. To become a community service worker, you must obtain an Associate's degree in human services. Community Service Workers must demonstrate empathy, time management, patience, communication skills, interpersonal skills, a friendly demeanor, and organizational skills.
A good resume is well-written and concise. It should be neat and easy to read, listing previous experience in a logical order.
Our resume samples will provide you with multiple examples of what you can include when writing your resume.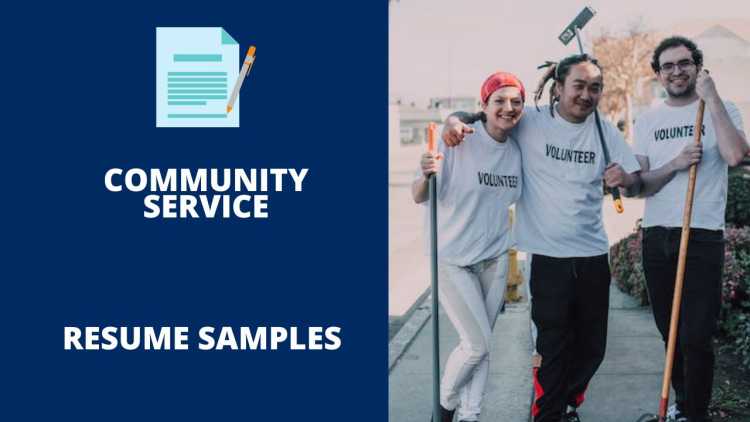 The Best Community Service Resume Samples
These are some examples of accomplishments we have handpicked from real Community Service resumes for your reference.
Community Service Worker
Assisting participants with their check in process while providing them with the proper paperwork that correlates with their appointment.
Interviewing participants to ensure demographics, health history, household income and all other identifying information is correct.
Measuring height, weight and iron levels for adults and children 10 months through 5 years old.
Managed volunteers and other office personnel. Provided one-on-one guidance to volunteers, staff, and donors.
Maintained the fiscal responsibility for materials and services for the charity organization.
Community Service Worker
Managed receptionist area, including greeting visitors and responding to telephone and in-person requests for information.
Updated patient accounts with information on a daily basis.
Conducted needs assessments and referred clients to financial, medical, social, and community assistance and services.
Maintained up-to-date and accurate program files and records in a confidential manner.
Purchased materials needed on behalf of the charity by ordering from catalogs or visiting local stores.
Community Service Worker
Working as a community service worker I deliver outstanding customer service which ensures a positive participant experience.
While maintain the highest level of confidentiality of all participants I am responsible for determining program eligibility, issuing WIC benefits and scheduling appointments.
Being crossed trained in various WIC duties I am skilled in obtaining blood samples, participant's height and weight as well as plotting growth charts.
Supervised a team of volunteers during special events such as First Days of School, Back to School picnics, Senior Day, etc.
Brought in 100% profit on transactions with local merchants through negotiating discounts for bulk purchases.
Community Service Worker
Provided proper upkeep of sidewalks, driveways, parking lots streets and other ground features.
Clerical work in office when needed and attend to community centers when there's functions ongoing.
Assisting any and all Mayoral task in substitute for the Mayor in his absence or by his instruction.
Schooled in business principles through developing a Board Member Sales Structure; successfully formed a Board of Directors by assisting with fundraising drives and annual meeting planning and preparation.
Led volunteers to provide over 1,600 hours of community service during 9 months of volunteering at locations throughout the city.
Community Service Worker
Performs receptionist duties, promptly greets and check in participants in a courteous manner, answers telephone and schedules appointments.
Enters participant's information on Texas Wins, inputs participant's benefits onto their Lone Star Card.
Performs Laboratory procedures including obtaining information for diet recalls, collecting finger blood samples, obtaining height & weight on adults, children and infants according to state WIC policy and procedures.
Determines income and residency eligibility, records information on appropriate forms and fills out forms completely and accurately.
Spiritual development: guided and assisted individuals in their daily walk with God by teaching them about the relationship between spirituality and faith through prayer, meditation, Bible study, and Bible reading.
Community Service Worker
Performed various clerical duties such as posting records, answering telephones and securing information from clearly indicated sources.
Performed receptionist duties for an assigned office or department; provide information and directions; refer callers and visitors to appropriate personnel.
Maintain records, logs and files in an assigned office; locate materials and information in records and files as required.
Distribute applications for services and other departmental forms; assist the public in completing required forms.
Promoted teamwork: guided volunteers to work in harmony with one another by greeting them at the door and directing their tasks.
Community Service Worker
Assisted staff in developing and implementing various services with other staff, community members and other agencies in regards to mental health.
Assisted staff with ongoing projects and presentations to ensure people receive appropriate services, referrals, and information.
Maintain and file confidential records of outreach services provided to the community and perform clerical duties as needed.
Achieved award for meeting customer satisfaction guidelines from clients who had applied for a loan from a charity or nonprofit organization.
Successfully administered finances: controlled over $845,000 in cash and credit relationships; earned the outstanding quality award for supervision of accounts receivable and disbursements.
Community Service Worker
Responsible for screening new mothers of newborns with identified risk, referring families with identified risk to appropriate service providers as needed and collecting and entering demographic and other information on families of newborns for the commissions€™s evaluation.
Responsible for documenting and entering case notes to the system for future evaluation or patient care references and collaborating with other health providers to better serve the new mothers.
Responsible for conducting follow up calls to ensure that new mothers were receiving the appropriate in home services.
Worked with and inspired individuals and families. Worked with the homeless, recovering drug addicts and alcoholics, the disabled, the elderly, and others in need.
Generated cash donations through direct sales of personal hygiene products, gift baskets, and cosmetics to fund multiple projects throughout the surrounding communities.
Community Service Worker
Assisted in providing health and mental health education information to the community on topics appropriate for local needs.
Assisted staff with different presentations and personal contacts assuring people receive needed and appropriate services, referrals, and information.
Assisted staff with outreach services to the community by assisting in identifying groups, agencies and organizations and areas of services/resources.
Drafted fundraising plans for various private events by developing relationships within special interest groups such as sports teams at local universities.
Established a database of potential clients through networking within several national organizations that provide services to people with a variety of conditions.
Community Service Worker
Provided information and referral services for general assistance, counseling, medical assistance, and/or mental health services.
Develop an individual or family case plan to accomplish identified goals.
Monitor progress towards goals and recommends continuation or termination of services.
Screen and interview applications for eligibility for various programs, financial assistance or other services, which may include conducting assessments and evaluations for eligibility.
Participated in several community events such as school fundraisers, building clean-up days, and other non-profit activities.
Community Service Worker
Cultivated and sustained positive collaborative relationships with the community and partnering agencies.
Identified potential grant and other funding sources and developed grant proposals and other funding applications.
Facilitated community outreach to provide inclusive services to the community, including those with disability.
Represented the church by working as a volunteer in parishioner recruitment and retention programs.
Coordinated and supervised a program promoting dialogue among staff members at the Church of Christ's international headquarters to foster cooperative relationships.
Community Service Worker
Provides information and referral services for general assistance, counseling, medical assistance, and/or mental health services.
Develops an individual or family case plan to accomplish identified goals. Monitors progress toward goals and recommends continuation or termination of services.
Screens and interviews applicants for eligibility for various programs, financial assistance or other services, which may include conducting assessments and evaluations for eligibility.
Contributed to numerous charities and civic organizations by assisting with fundraising events, fund drives, and special projects.
Developed and taught youth/senior workshops to raise funds for homeless children of both genders, with or without their families.
Wrap Up
You need to make sure your resume stands out amongst the other candidates. It is the first impression that employers have of your work experience and skills. Use the samples above to put together a resume that best suits your needs and helps you get the job you want.