A communications specialist manages the public image of an organization or company. Their duties include communicating with media outlets, arranging public appearances, managing social media accounts, examining public opinion, building and maintaining their company's brand, and ensuring any pertinent company-wide messages are distributed to all employees. A bachelor's degree in communications or public relations is typically required to work as a communications specialist. Successful communications specialists are good oral and written communicators, develop interpersonal relationships easily, are computer literate, social media literate, can created and edit content, are well organized, and pay attention to detail.
A good resume is well-written and concise. It should be neat and easy to read, listing previous experience in a logical order.
Our resume samples will provide you with multiple examples of what you can include when writing your resume.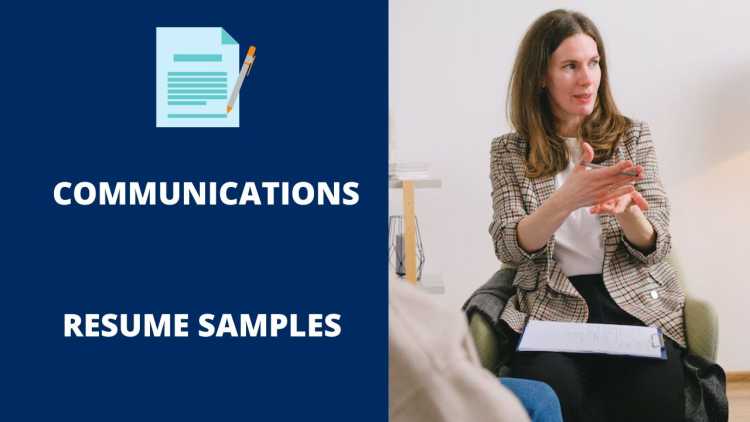 The Best Communications Resume Samples
These are some examples of accomplishments we have handpicked from real Communications resumes for your reference.
Communications Specialist
Plan, design and distribute the district calendar and information packet to over 20,000 families and district staff.
Assisted executive management in the creation and preparation of the annual district budget, hire paid staff and execute a wide range of district projects and events including academic symposiums, concerts and sporting events.
Planned and coordinated approximately 50 concerts for example: Charlie Puth, FloRida, R5, Fifth Harmony and many more.
Furthermore, an average of 3,500 people attended each concert and generated over $10M in combined gate revenue.
Reduced the error rate of a marketing campaign from 20% to 5% through the cooperation and coordination of staff.
Communications Specialist
My responsibilities include answer all incoming emergency and non emergency calls from citizens, dispatching police,fire and ems crews to correct locations, and greet and assist citizens at the communications window.
Other tasks include entering and removing warrants, accepting bonds,cash, and money orders and jail release paperwork on current inmates.
Also, keep all inmate paperwork organized and ready to deliver to court.
Developed holistic marketing campaigns and promotions in the areas of Food & Drinks, Communication Network Installation, Entertainment, Video Game Rental, and other related industries.
Created and sponsored consumer events that attracted thousands of people at an annual event bringing in close to $400,000 from sponsors.
Communications Specialist
Signed for and worked with $1,000,000 worth of radios and satellite communication equipment resulting in zero losses over a 2-year period.
Monitored complex radar systems to support allied nations from ballistic missile attacks along with maintaining consistent communications with other units across the Middle East.
Performed gate guard duties to secure and protect sites of operations.
Tracked data and coding throughout overseas deployment with secret radio systems and tracking personnel count along with travels all over the country.
Was responsible for creating and developing advertising/marketing materials for an annual consumer event more than 20 times over the past 5 years where I grew to manage over ​40 Media Agencies.
Communications Specialist
Updating and communicating with partners and volunteers through social media portals.
Updating the organization's website using Joomla CMS platform.
Creating a newsletter for the Board of Directors and partners of The Health Collaborative.
Co-Created videos that showcased events put on by The Health Collaborative.
Successfully managed a large individual clientele base of approximately 300 individuals in multiple industries including residential and commercial service providers, dealerships, and dealerships-related companies such as Insurance agents & brokerages with daily interaction with their staff on Office Administration accounts.
Communications Specialist
Maintained accountability and serviceability of $335,912 worth of communications equipment, resulting in 100% retention over a 3 year period.
Received commendatory awards for excellence in planning, establishment, and maintenance of communications networks during inter-agency operations.
Maintained accountability and serviceability of secret, encrypted communications equipment, avoiding any loss of integrity or security over a period of 4 years.
Developed numerous award-winning public relations campaigns.
Wrote and edited copy for a monthly, local business-to-business magazine: Collaborated with editor and page designer to produce a high-quality product that earned many local ad awards.
Communications Specialist
Served as the primary point of contact for incoming media calls, including requests for meetings and interviews with organization executives and field experts.
Planned and launched innovative, creative and effective communications campaigns.
Created and implemented external and internal communications strategies for key organization initiatives.
Coached management on communication tactics with staff and coalitions regarding organization changes.
Established and maintained effective working relationships with clients, vendors, co-workers, and staff.
Communications Specialist
Managed advertising, social media, and communications for members; increased Facebook page likes by 203% in one year.
Increased website visits by 30% with bimonthly newsletter and real data information on social media.
Designed print ads for Texas Coop Power Magazine and local newspapers; created mass emails, direct mailings, and press releases with updates for print and broadcast media outlets.
Organize events and promote cooperative programs and products with members and public to increase awareness.
Built the company's professional reputation as an expert source of information regarding the development of media relations strategies.
Communications Specialist
My duties required me to receive, open and computer update incoming mail.
I would type pre-formatted suspension letters to the applicant's by our Adjudication Department and mail out daily.
Handling documents with high security and maintaining storage integrity.
I would make applicant follow-up status calls, the courier data corrections and payment upgrades.
Set records for 1st quarter revenue generation from new media in company history; exceeded revenue projections by over 1%.
Communications Specialist
Partners with Field Operations and Asset Protection to gather information regarding in-store issues and determine a course of action.
Drafts reactive media statements with direction from in-house counsel as needed.
Approves press materials, opinion editorials, letters to the editor and press releases provided by external public relations and lobbying firms.
Developed and developed interactive websites for many local businesses utilizing HTML, CSS, JavaScript, Flash, PHP, and other tools.
Wrote responsive email campaigns including newsletters, press releases, and business card campaigns.
Communications Specialist
Managed ongoing computer hardware and software issues, including dissemination of unclassified and classified information.
Provided troubleshooting for software systems and system hardware on areas such as IP conflicts, TCP/IP routing, satellite signal acquisition, data path transmission and related irregularities.
Experienced with Cisco routers and switches as well as related hardware and software systems.
Responsible for implementing network system installations, changes and upgrades.
Worked with clients to develop paid ad/marketing strategies to help them increase sales.
Communications Specialist
Responsible for media relations efforts including the execution of press events, responding to media inquiries, and developing and maintaining relationships with media contacts, which resulted in multiple earned media placements.
Plan and execute press events, respond to and proactively pitch reporters, and craft appropriate messaging for media spokespersons.
Implemented and developed media training for company leadership and designated spokespersons.
Oversee the design and production of collateral materials including coordinating and managing print projects, creating content in Adobe Creative Suite and writing and proofing materials.
Directed and implemented direct mail campaigns by researching customer data, developing direct mail promotions based on the research findings; created sales lists; wrote sales letters; developed call list scripts to be used by the media buyer each day.
Communications Specialist
Managed the planning, development and maintained the implementation of the media action to raise awareness of the event.
Served as person of contact for all media related issues.
Worked independently to develop communication material, including but not limited to press releases, fact sheets, and media advisories.
Reduced graphic design and copy production costs by 50 percent without compromising standards or quality.
Executed integrated marketing campaigns for clients in the publishing industry utilizing "word of mouth" and guerrilla marketing tactics to reach targeted consumers.
Wrap Up
You need to make sure your resume stands out amongst the other candidates. It is the first impression that employers have of your work experience and skills. Use the samples above to put together a resume that best suits your needs and helps you get the job you want.