Social Media Marketing Managers provide online support to companies. Their duties include handling inquiries, promoting brands, creating media content, establishing customer relations, maintaining a social media profile, and staying informed on industry developments. To become a social media manager, you must obtain a Bachelor's degree in marketing or a related field. Social Media Marketing Managers must demonstrate writing skills, an attention to detail, organizational skills, multitasking skills, analytical skills, customer service skills, and adaptability.
A good resume is well-written and concise. It should be neat and easy to read, listing previous experience in a logical order.
Our resume samples will provide you with multiple examples of what you can include when writing your resume.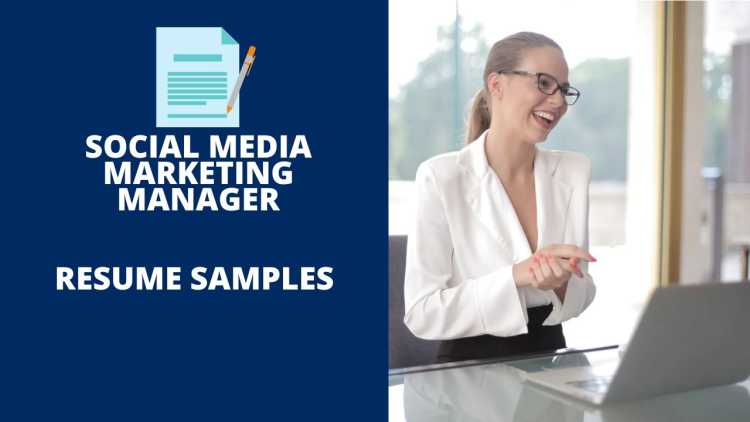 The Best Social Media Marketing Manager Resume Samples
These are some examples of accomplishments we have handpicked from real Social Media Marketing Manager resumes for your reference.
Social Media Marketing Manager
Responsible for regularly evaluating the success of our marketing efforts and critiquing our marketing strategy as needed.
Responsible for income tax preparation for individuals and companies.
Identifies potential tax credits, liabilities, also ensures accurate and complete returns are filed in a timely manner.
Completes tax forms in accordance with policies and in compliance with legislation and regulations.
Recognized as the top social media marketer in three successive years for four high-visibility brands.
Social Media Marketing Manager
Oversee all social media channels (Facebook, Twitter, Instagram, YouTube and Snapchat) while maintaining all digital and print marketing.
Engage fans by generating conversation, responding to daily social media trends, informing the public of Flying Squirrels related news, and updating our social media accounts and website following each home game with final scores, game summaries and photo galleries.
Conceptualize, created and implement all paid social media ads while abiding by sponsored content regulations.
Multiplied social media exposure for celebrity clients to produce over 100 million user actions across online communities.
Quantifiably boosted return on investment up to five times by implementing proprietary social media marketing tactics.
Social Media Marketing Manager
I have designed and implemented social media marketing campaigns for Facebook, Twitter, YouTube, LinkedIn, Pinterest, Instagram, and Tumblr.
I have created email marketing campaigns using Mail Chimp, Soundest, and Market Hero.
I have created and designed profiles on various social media sites.
I have maintained profiles by posting messages, comments, likes, updates and tweets daily.
Obtained over 1 million likes and followers, including 500,000 Facebook fans and 150,000 Twitter followers for client products; generated approximately $1 million in revenue within one year of contracting.
Social Media Marketing Manager
Utilized audience avatars to created targeted branding messages and content that strongly resonates with our audience.
Coordinate with a local advertising agency to created the 'skins' for future templates based on current successful messages.
Used growth hacking mentality of strategic and unrelenting testing of methods, voice and execution channels.
Constructed custom strategies for niche companies based on both market data, competition research, and customer feedback with a focus on achieving measurable results within a specified time frame.
Managed and maintained the Facebook, Twitter, and LinkedIn accounts for a company.
Social Media Marketing Manager
Creating and implementing social media and communications campaigns to align with marketing strategies.
Use of additional social media channels to develop innovative promotional marketing strategies.
Content Writing ranging from creative writing on social media accounts to technical writing on creating and finalizing in-depth instruction manuals from scratch.
Designed and implemented strategies to develop brand awareness and maintain social media growth.
Trained staff on how to use social media in promoting business goals and objectives.
Social Media Manager
Managed social networks for media properties in the music and entertainment industries including Buzznet, Idolator, and Trendchaser.
Generate social media monitoring reports via SproutSocial, Facebook Insights, RivalIQ, and Twitter Analytics.
Implement strategies for using social media channels for marketing purposes.
Worked closely with social media search engines to ensure that accurate information was available.
Coordinated a coordinated marketing campaign which enabled the company to maintain six years of consistent growth in the online advertising market without the use of online advertising dollars.
Social Media Manager
Drive strong organic social media strategy; increased twitter followers more than threefold organically.
Created a hub and spoke social media model that extends to the regions, verticals, partner marketing, recruiting/talent, communities and more.
Generate Share of Voice and social media reports for the Board and senior management.
Maintain & evolve social media guidelines by working with teams such as IR and Legal.
Created, launched and managed social media marketing campaign including Facebook, Twitter, Google+, YouTube, Pinterest, Instagram (a new emerging channel), a website (provided by Social Media Agency), and LinkedIn.
Social Media Manager
Managed social channels to increase followers, engagement and site referrals.
Built and executed innovative social media strategies through competitive research, platform determination, benchmarking, messaging and audience identification.
Generated, edited, published and shared daily content (original text, images, video) that build meaningful connections and encourage community to take action.
Promoted the campaign via featured stories published on the agency website and other internet news sites.
Managed media buying campaigns; acquired national ad space on Google and Bing search results for multiple keywords allowing high traffic value at a low cost.
Social Media Marketing Manager
Increased Instagram, Twitter, Facebook and blog engagement by 60% using social media listening tools to determine the most effective marketing strategies and campaigns.
Led a team of 4 Social Media Care Specialists to provide excellent customer service on major Social Media platforms including Customer Care Forum.
Designed editorial content strategy; curated and segment editorial content to increase engagement and channel growth.
Trained the agency team to build web applications with WordPress – a free platform that allowed ease of customization.
Developed and successfully implemented social media strategy to provide timely and relevant content across multiple platforms.
Social Media Marketing Manager
Responsible for writing blog and social media content and press releases for launch of site.
Responsible for working with bloggers to secure advertising space.
Scheduled and created daily social media posts to Facebook, Instagram, Twitter, Pinterest.
Implemented actions for lead generation – increasing newsletter sign ups by 10%.
Handled numerous projects by keeping the plan flexible and on schedule. Accomplished the project by generating ideas, organizing workflow, inspiring teamwork, facilitating meetings and answering questions.
Social Media Marketing Manager
Manages and creates content across all social media platforms including Instagram, Facebook, Twitter, and Pinterest.
Manages all influencer relations to host collaborations.
Creates and designs all email blasts using programs such as Adobe Illustrator and Photoshop.
All email blasts are then sent via MailChimp programming. Manages and plans all photoshoots.
Develops and analyzes all marketing campaigns.
Social Media Manager
Produce original video and photographic content for multiple social media accounts on Snapchat, Twitter, Instagram, Facebook, and YouTube.
Coordinate with social influencers to advance brand awareness for clients.
Copywriting, newsletter campaigns, analytics reports, market research, promotional campaigns.
Drove production of valuable content on time; communicated with clients through face-to-face meetings to capture business objectives, recorded session results in a spreadsheet for easy reporting of results.
Coordinated cross-functional teams to develop creative briefs that align with client business goals.
Wrap Up
You need to make sure your resume stands out amongst the other candidates. It is the first impression that employers have of your work experience and skills. Use the samples above to put together a resume that best suits your needs and helps you get the job you want.