A Brand Ambassador promotes a company's brand in a positive way in front of a market. Their duties include doing product demos, maintaining positive communication with buying offices, sharing customer feedback, raising brand awareness, marketing brand via word of mouth, referring friends to the brand, and posting about the brand on social media. Educational requirements for a brand ambassador are at least a high school diploma, but many employers request an associate's or bachelor's degree. Skills needed to be a brand ambassador are friendliness, communication skills, social media proficiency, attention to detail, creativity, high energy, flexibility, and strong networking skills.
A good resume is well-written and concise. It should be neat and easy to read, listing previous experience in a logical order.
Our resume samples will provide you with multiple examples of what you can include when writing your resume.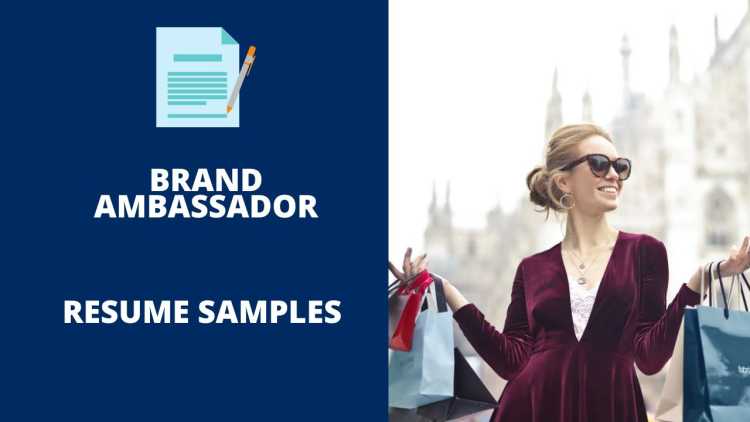 The Best Brand Ambassador Resume Samples
These are some examples of accomplishments we have handpicked from real Brand Ambassador resumes for your reference.
Brand Ambassador
Meeting and making a connection with customers, asking questions and listening to shoppers' needs, then giving options and advice on meeting those needs.
Transforming causal customers into clients.
Inspiring the customer to buy, celebrating the purchase, and creating a lasting positive impression of myself, the brand, and the purchase.
Authorized new events and promotions in the local community while maintaining the image, reputation, and integrity of the National Company.
Developed effective relationships with employees related to events, seminars, and clientele.
Performed tasks masterfully, intelligently, and with innovation.
Brand Ambassador
Engaged with customers about the benefits and advantages of Wilson Sports Equipment in in order to generate sales that resulted in 10% monthly increase.
Conducted in-store visits to 6 stores to merchandize, take inventory, and take location photos of Wilson Sports products for 5 different sports.
Exhibited new Wilson Sports Equipment products to store associates and customers in 6 different stores.
Managed the Wilson Sports equipment product inventory to ensure that all products has been down-stocked to the retail floor.
Achieved a high percentage of successful event planning due to exceptional dedication and persistent hard work.
Brand Ambassador
Generate sales by engaging with customers to provide advice on fit and style.
Increase brand loyalty and sales potential by continually meeting brand credit card sales goals.
Train and develop new employees in cashier etiquette, register functions, and cash handling.
Achieve Platinum Circle and BRC Champion status every month in the company's incentive program.
Used advertising and marketing to promote nonprofit organizations as a brand ambassadors.
Brand Ambassador
Brand awareness, positive product impressions and increased sales through product demonstration, customer engagement and effective communication of brand talking points.
Excellent presentation skills and the ability to expertly articulate product features and benefits.
Set-up, sampling and complete demonstration ownership and product representation with an emphasis on cleanliness, organization and the ability to follow instructions.
Timely and accurate event reporting, submission of paperwork and online training.
Used social media platforms to promote organizations through customer interactions, stories, and images.
Brand Ambassador
A person who represents a brand to targeted customers in order to increase awareness, created a specific image, generate sales opportunities and build customer preference is a brand ambassador.
Brand ambassadors are sometimes full-time employees of a company or part-time project hires to work a specific event.
Duties include: counting inventory, responding to emails, entering data, input data into excel spread-sheet, answering inquiries, filing, collecting payments.
Communicated in short-form writing grounded in emotions, values, and persuasion.
Conducted market research for companies to maintain the commercial advantage of their client's brand name.
Brand Ambassador
Professionally distributes marketing materials throughout town and campus.
Increases pre-leased percentage of property by promoting tours.
Maximizes efficiency by setting personal goals to accomplish tasks.
Confidently articulates promotional agenda to local residents and businesses.
Improves visual and cultural workplace environment through attitude and performance.
Brand Ambassador
Brand awareness, positive products impression and increases sales through product. demonstration, customer engagements and effective communication of brands talking points.
Excellently presentation skills and ability to expertly articulate products feature and benefits.
Build effective relationships with store management & staff.
Developed strategic branding plan for global product launch.
Built reputation and name recognition through marketing, advertising, public relations, social media, and events.
Brand Ambassador
Promoted brand awareness through executing and managing on/off premise marketing promotional events.
Interact with the public to reinforce the company's mission, brand and marketing campaign.
Foster relationships with external and internal clients.
Celebrated the creativity and uniqueness of youth culture by helping to craft campaigns that aligned with brand identity and supported consumers' self-expression.
Researched materials and developed strategies as a team member on multiple advertising products.
Brand Ambassador
Provided utmost customer service with extensive knowledge of product.
Successfully launched new products in an experiential marketing environment and assisted in creating social media content to further enhance brand awareness.
Increased as well as strengthening company revenue with high personal sales record.
Provided client information to external agencies via phone, email, or video conferencing.
Followed up with clients regarding compensation to ensure timely payments and delivery of products.
Brand Ambassador
Generate sales by engaging with customers to provide advice on fit and style.
Increase brand loyalty and sales potential by continually meeting brand credit card sales goals.
Train and develop new employees in cashier etiquette, register functions, and cash handling.
Achieve Platinum Circle and BRC Champion status every month in the company's incentive program.
Agented to multiple events and promotions as an event coordinator; prepared many promotions to attract over 10,000 attendees during this period of time.
Brand Ambassador
Give information and promote a local camping community.
Register people who are interested in potential property purchases and educate consumers on camping tools and accessories.
Small set-up and breakdown of display area and kiosk after and before each shift.
Represented one of the largest companies in the world for over 2 years as a worldwide brand ambassador for various products including shoes, clothing, music, sports cars, tobacco, and alcoholic beverages.
Trained to the fullest extent in the advertising and marketing of a global corporation; prepared for international travel.
Brand Ambassador
Maintain up-to-date knowledge of each client product details and present customers with various samples that help drive store sales of the product during each tasting.
Conduct complete internal makeover of store promotional brand setup that led to sold out promotional items on multiple occasions.
Arrange store signage, giveaway tables, and product displays in a appealing manner.
Planed commercial displays to entice and appeal to customers. While doing tasting events2015-present, I have done branding set ups with tablecloth, signage, branded cups, recipes, giveaways for brands such as Jack Daniels, Skye, Deep Eddy's, Forty Creek, Casamigos, and many more to entice the customers.
Advertised local and national businesses. Influenced over 6,000 consumers to use fitness center services; gained extensive knowledge in advertising and marketing.
Wrap Up
You need to make sure your resume stands out amongst the other candidates. It is the first impression that employers have of your work experience and skills. Use the samples above to put together a resume that best suits your needs and helps you get the job you want.